The 11 Best Tequilas to Drink Right Now
Because 10 just wasn't enough!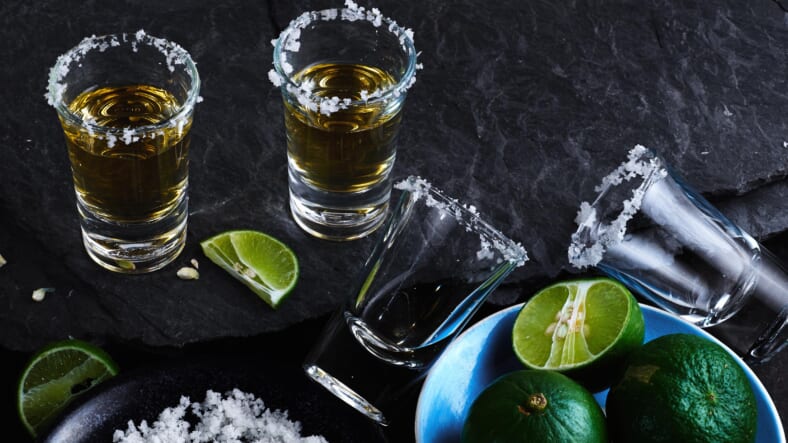 Photo: Getty Images
To all the tequila-hesitant drinkers out there: We're here to convince you that tequila deserves both your respect and a place on your bar year-round—Cinco de Mayo be damned.
Sure, you love whiskey, but good whiskey and good tequila have a lot in common. Tequila is a form of mezcal (the way bourbon is a type of whiskey), and like bourbon, it has a lot of rules. It must be made by roasting and fermenting a particular species of agave, which are essentially giant relatives of the pineapple.
Tequila is fruity, earthy, and tropical by nature, and in cocktails that can be wonderful. But aged in wood it mellows, takes on complex and candied flavors the way whiskey does, and starts to be something really incredible.
We drink tequila year-round, and experts may roll their eyes at only enjoying tequila once a year. But whether you drink bourbon, scotch, cognac or cocktails, there's a reason to relish Cinco de Mayo: It's a great time of year to give a little time to a new spirit. We've assembled our current favorites here. 
Try some of them out, and you might just find that you have a new favorite spirit.
" tml-render-layout="inline
Reposado tequila is supposed to be the perfect balance between unaged and aged spirit. With Corralejo, that means taking on the honey, vanilla, and oak notes of age without losing the peppercorn spice and bright citrus of its Silver cousin. It's ideal for margaritas. $26
Corazón Expresiones Old Rip Van Winkle Añejo
Yes, you read that correctly. Sazerac, the parent company of both Van Winkle and Corazón, took emptied Van Winkle bourbon barrels and aged tequila in them for 23 months. The resulting tequila is robust, but with a creamier texture, and notes of oak and vanilla. $80
With silver tequilas, It's hard to do better than Avión. It took "World's Best Tequila" and "Best Unaged White Spirit" at the San Francisco World Spirits Competition, which means it beat vodka, moonshine, gin, and rum. It's delicious, sure, but it's equally versatile, in margaritas, bloody marys… we could go on. It's only as limited as your imagination. $40
123 Organic Extra Añejo Diablito
If you've never heard of 123 Tequila, it's because someone is holding out on you. Their Diablito release in particular, which is aged for 40 months in Limousin oak, is cognac-creamy and tequila earthy. They only release 2,500 bottles a year (we could call this small batch tequila), so if you get your hands on one, savor it. $150
Patrón's tequilas are great, but where they really excel is with extra-añejo, or extra-aged releases. Piedra is aged for more than three years in both French and American oak barrels. When it comes out, it's the perfect sipping tequila to convert whiskey lovers. $400
Corazón made it on this list twice because, even with a delicious Van Winkle barreled añejo tequila already on the list, we couldn't not talk about their Reposado. It was named best tequila at last year's World Drinks Awards. It's complex, versatile, and delicious in our out of cocktails. $35
https://www.instagram.com/p/9edJ82sqCQ
Drinkers often avoid young or unaged tequila because they remember one brand or another being harsh. Milagro Reposado is the perfect solution. This 3-6 month aged tequila has just enough barrel aging to round out the sharper edges, but still displays that tropical fruit and earthy character that makes tequila so unique. $30
" tml-render-layout="inline
Tres Agaves Añejo is an excellent bourbon drinker's pick. It's aged 18 months in ex-whiskey barrels from Kentucky and Tennessee, and the resulting time gives it a butterscotch and caramel character that really balances out tequila's earthier qualities for someone used to bourbon. It's the perfect introduction to aged tequila. $35
Once a private release for friends and family only, Código 1530 is a strong newcomer on the market. We like their extra añejo Origen, which is aged an incredible six years, and comes out deeply colored and earthy, with notes of vanilla, caramel, dried fruits and baking spices. Add nothing besides ice. $315
Jose Cuervo Reserva de Familia
A few bad nights in college will ruin younger Cuervo for you, but nothing will make you appreciate the brand again like their extra-añejo Reserva de Familia. Aged for a minimum of three years in American and French oak, it's the Cuervo that will make you a fan all over again. $150
https://www.instagram.com/p/BMOGZTWjnjG
Don Julio González created one final product before passing away, and it's this extra añejo tequila. Aged at least two and a half years in American oak barrels, the resulting tequila is amber in color and smooth in taste, taking on a fruity character balanced out by a little vanilla. It's easy to sip, and easier on the wallet than some other extra añejos out there. $125