Serena Williams Is Chasing History
With her Wimbledon win, the Olympics and a bid for her 23rd Grand Slam title at the U.S Open, this is the summer of Serena.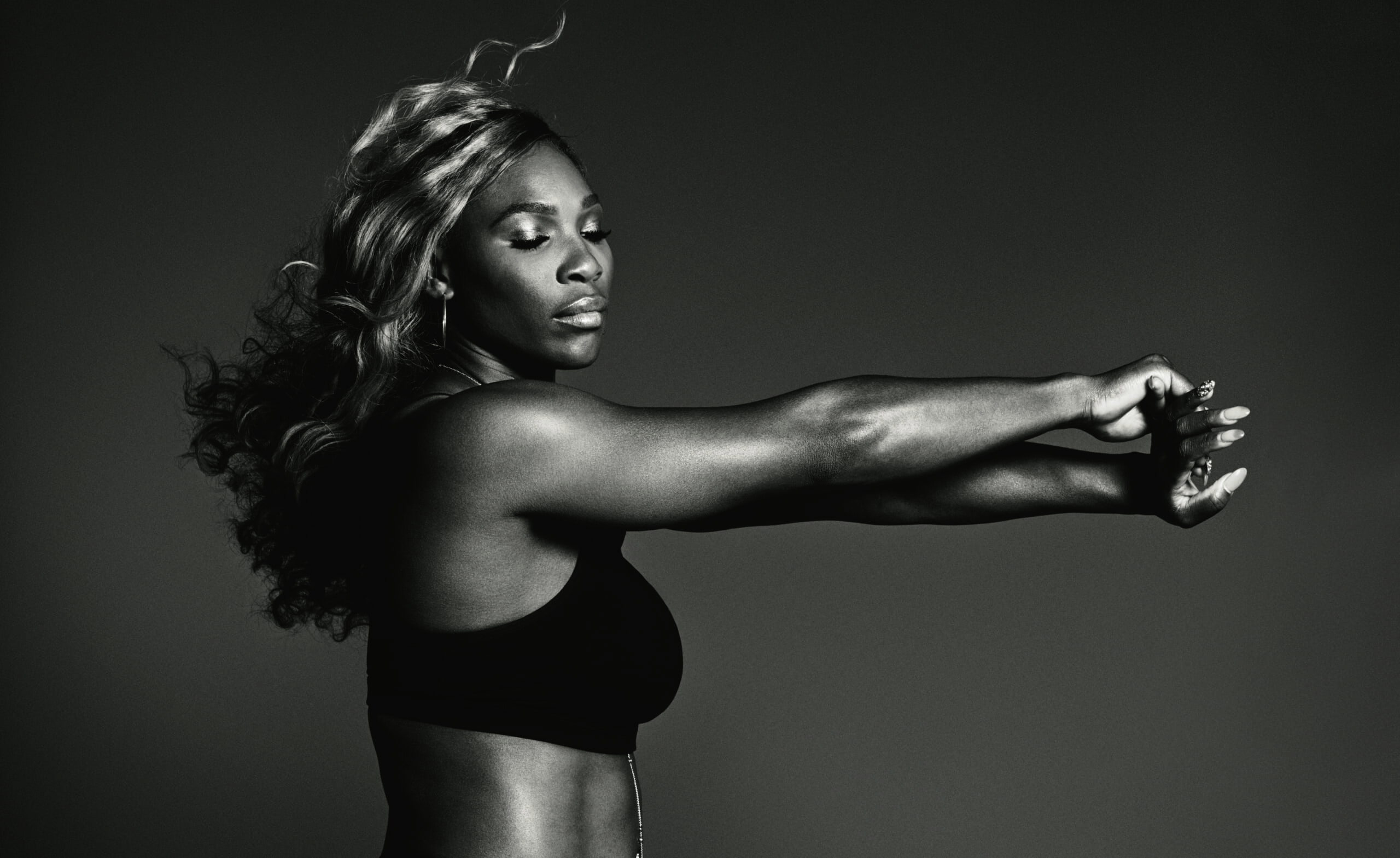 There are times when you're watching Serena Williams play so ridiculously well that you just want to turn away. Not from her, but from the spectacle of Serena dismantling another hopelessly overmatched professional in the early rounds of a tournament. 
There's nothing malevolent about her performance; she's always graceful in victory, but there's no off switch to her athleticism. When Serena plays, Serena really wants to win. "Everyone who knows me knows that I love to win, especially on the big stages," she said after her 44-minute, first-round squashing of Magdalena Rybarikova at this year's French Open.
How badly does Serena Williams want to win? Badder than you do, even if you're ranked 77th and desperate, and also badder than the other top-ranked women she finished off to win 21 Grand Slam tournaments over her 20-year career.
 Serena's quest for more of them has not been diminished by a life in full celebrity: selling her clothing line on HSN, stepping out with Drake, doing charitable work, being a social activist, becoming an artist and basking in the admiration of everyone from Martha Stewart and Sheryl Sandberg to J.K. Rowling and President and Mrs. Obama. 
At 34, she has two more opportunities this year in her quest to catch Steffi Graf's record of 22 Grand Slam titles in the Open Era. She's come close already, losing in the finals of the Australian Open to Angelique Kerber and in the French to rising Spanish star Garbiñe Muguruza—a player very much in her mold. 
When "Mugu" lobbed over her for the winning point, Serena applauded and then vowed to press on. "In Australia, Ann Kerber made 16 errors in three sets, so what do you do in that situation?" Serena said after the French final. "And today Garbiñe played unbelievable. The only thing I can do is keep trying."
And she will. The best player in the world—the best ever, according to the legendary Chris Evert—will stop being No. 1 whenever she decides to, as Martina Navratilova has put it. In winning those 21 Slams, plus four Olympic gold medals, Serena has bested some of the game's greats: Navratilova, Martina Hingis, Lindsay Davenport, Justine Henin, Kim Clijsters, Maria Sharapova and Serena's celebrated sister, Venus. She's also become the world's top-earning female athlete, collecting $29 million in prizes and endorsements in the last year alone.
Although she grew up in California, it's almost fitting that Williams was born in Michigan. She has always exhibited what you might call Detroit muscle on the court, a powerful motor wrapped in a stylish racing body. She has the best serve in the history of women's tennis, clocked at close to 130 mph. But she's not a straight-line smasher. 
Like any agile racecar, she's adept in the corners. Her strength allows her to lash her two-handed backhand from angles that don't seem possible, her trademark grunt signifying the end of the point. Yet her game in the past five or six years has gotten much more sophisticated, and her net play, courtesy of years of playing doubles with Venus, is fine-tuned.
Behind the brilliant shot-making and the thunderous serve, though, is a dimension that isn't as obvious to casual fans. A tennis court in a Grand Slam final is the loneliest place on earth. There is no coach to talk to; your mistakes are witnessed by millions. 
It becomes a mind game, one that so many players lose at the critical moments. As big as her serve is, Serena's mental strength is even stronger. "Perhaps the steeliest, most competitive and focused mind in tennis since Billie Jean King and Chris Evert," says Mark Benerofe, a former Women's Tennis Association board member who has worked with her.
She is the biggest of the big-point players, renowned for finding a way to win. She showed that in the 2015 French Open. Exhausted, coughing and wracked by flu and a high temperature, she basically willed herself into the finals. 
Down a set in the semis, she pulled out a gutsy, three-set victory over Timea Bacsinszky. Then she went the distance in the finals, too, beating Lucie Safarova in three. "That's probably going to be something that always sticks out in my mind, like, Wow, out of all titles, that was crazy that I was able to win this one," she recalled this year.
That drive and competitiveness has led to some fiery moments on the court, but as she has matured, her sense of humor has also become much more apparent. Last year, at a match in Australia, she cracked up the crowd by ordering a double espresso during a changeover. "I'm so jet-lagged," she told the chair umpire, trying to suppress her own laughter. "Is that permitted?" It was, and she rallied to win. She likes to blow off steam with trips to karaoke clubs. Let's just say her karaoke game isn't quite as good as her tennis game.
As a longtime admirer of women's tennis pioneers such as King, Serena has also accepted the responsibility of a leadership role on the tour. She's been an advocate for getting better pay and health care benefits for lower-ranked women as well as demanding equal tournament money with the men. 
Earlier this year, when Indian Wells tournament director Raymond Moore suggested that female tennis players didn't deserve equal billing or the same pay as men, it was Serena who stepped in for the put-away shot, calling the statement a disservice to "every woman on this planet who has ever tried to stand up for what they believed in." Moore resigned soon after.
There's a bit of mythology attached to Serena Williams, that she became a champion despite coming from a disadvantaged background. The reality is that Serena had hardworking parents who were singularly dedicated to giving her and her four sisters every possible advantage they could. 
There was never any question in Richard Williams' mind that his daughters were going to be tennis champions. In her autobiography, On the Line, Serena described how her father came to this conclusion even before she was born. Watching the French Open in 1978, he was astounded to learn that a top player would earn $40,000 that week. He saw no reason his girls couldn't play on that level.
The journey from child prodigy to world superstar would not be seamless for a young black woman in what was a decidedly white sport—especially one as strong as Serena. "Let's face it," said Mary Joe Fernandez in a post-Wimbledon interview in 2014, "you have seen some tough crowds throughout the world." 
Perhaps the worst was in Indian Wells, California, where Serena was subjected to abuse from the crowd in 2001 after Venus withdrew from the semifinal with an injury, depriving fans of the Williams vs. Williams matchup they had anticipated. In the final, Serena was booed, and her father called the N word. She was still a teenager. "It was a horrible feeling to have to live through," she says in the new Epix documentary Serena. "I remember driving home and just crying the whole way. Meanwhile, I'm holding the winner's trophy."
She vowed never to return to that tournament. But in the intervening years, she visited Africa, where she had established schools (emphasizing equality for girls), and met with former South African president Nelson Mandela, jailed for 27 years by racist apartheid authorities. Mandela's remarkable capacity to forgive his oppressors helped change her mind. "I've grown as a tennis player and more importantly, as a human being," she explained in an essay announcing her return to the Indian Wells tournament this year.
That growth was evident at the French Open this summer. During the post-match awards ceremony, she spoke in French, a language she made a point of learning. (After winning in Rome earlier this year, she addressed the crowd in Italian, demonstrating some Roger Federer–like language chops.) Later, she viewed her loss in the finals at Roland Garros as yet another educational opportunity. 
"It's definitely something I want to dissect and see, What can I learn from that and what can I do to get better from it? That's the only way to keep improving," she said. The prospect of Serena Williams improving after a decade of dominating the tour is not something her opponents should look forward to. Because now she wants that 22nd title even more. 
"I've had critics say I will never win another Grand Slam when I was only at number seven," she said in a speech accepting Sports Illustrated's Sportsperson of the Year Award last year. "And now, here I stand today with 21 Grand Slam titles—and I'm still going."