This Amazing Luxury Suite Is the Next Best Thing to Sleeping Inside Fenway Park
Hit a home run in this $1,000 a night Red Sox superfan's paradise.
Face it, unless you're seriously crafty and willing to risk trespassing charges, you'll never get to cuddle up next the Green Monster while dreaming of 35,000 Massholes showering you in cheers. But thanks for Boston's Hotel Commonwealth, you can get close.
As a part of a recently completed, more than $50 million renovation, the hotel has introduced the Fenway Park Suite. And it's awesomely outrageous.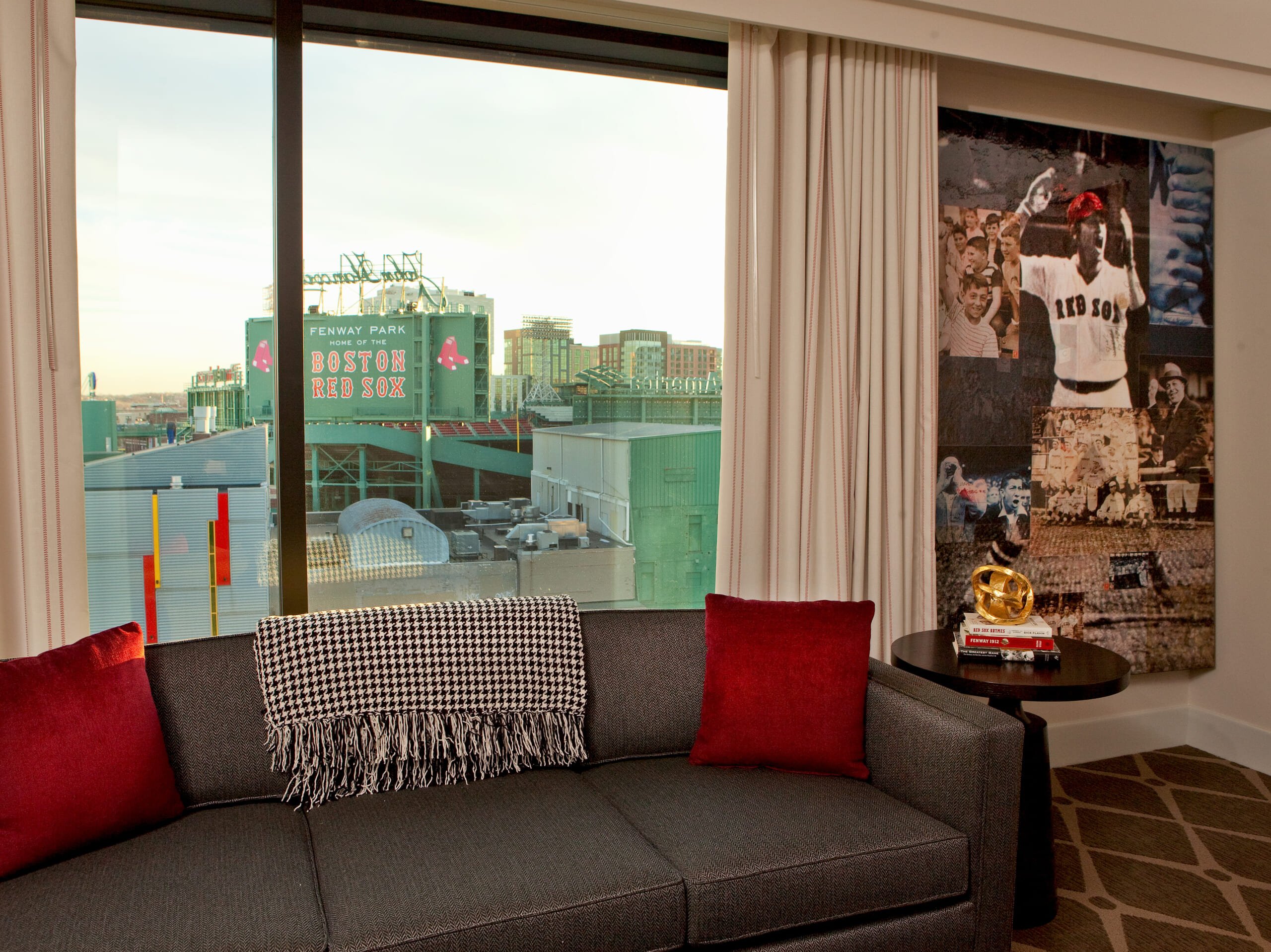 The $1,000 night luxury suite is packed with Red Sox memorabilia nodding to the team's rich history, including actual tickets from Fenway World Series games in 1946, 1967 and 1975, along with a pitching rubber signed by Pedro Martinez and bases signed by Dustin Pedroia, David Ortiz and Jason Varitek. Think of Ben Affleck's man cave. Now remove all the Matt Damon movies posters. That's what this place looks like.
Along with all that baseball memorabilia, Hotel Commonwealth provides a few more novel perks in the Fenway suite. Guests can, upon request, have an actual World Series trophy delivered to their room and take pictures of themselves hugging it. Then there's the turndown service: A little bag of Fenway dirt right on your pillow. If you're lucky it'll be soaked with a Big Papi loogie. This suite is so very Red Sox that even the most dedicated fan wouldn't pick up on every detail. The inclusion of Benjamin Moore's "Green Monster" shade for example.
One perk of springing for this room is that you don't need a ticket to the actual ballpark. The suite's balcony comes equipped with original Fenway seats, a glove and an obstructed view of the stadium. The hotel suggests that if you watch a game from the balcony you might be able to use that glove on a home run ball. But the room is 507 feet from the ball park, so unless steroids make a major comeback, you're more likely to use it to catch tiny booze bottles tossed your way from the mini-bar. No matter, those are more useful than souvenirs anyway.