Throwback Thursday: August 2002 – Beyoncé Knowles
Check out what we were up to in August of '02. Don't worry, we'll leave out our middle school class picture.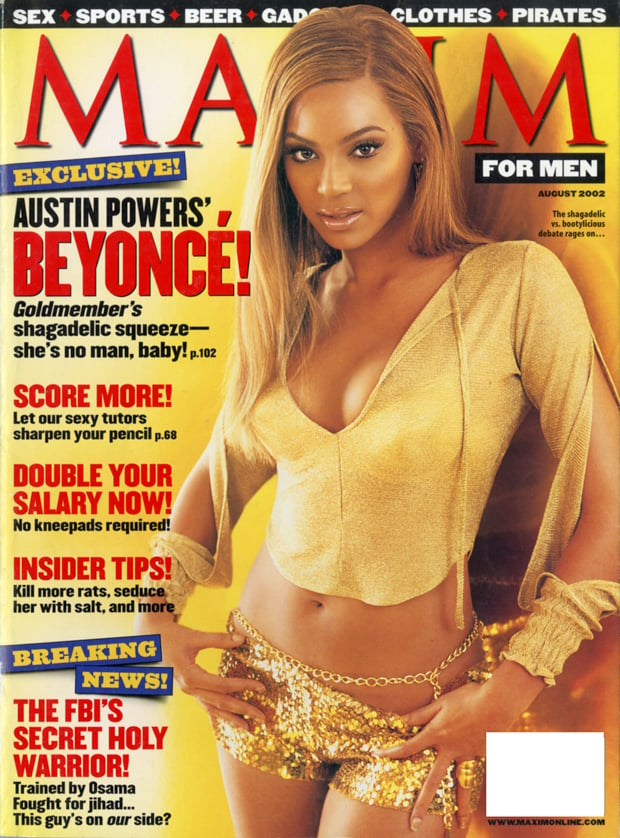 Every week, we send someone stumbling into the dark Maxim archives to see what we were up to way back when. This week we're going back to August of 2002, when Beyoncé wasn't yet a mega star, legal weed was too good to be true, and patterned swim shorts were encouraged (instead of burned).

Cover Girl: Beyoncé Knowles

Where You've Seen Her: In 2002 Beyoncé Knowles was still on the rise to stardom. Not yet shelling out solo hits, the golden goddess was heading up the all-girl group Destiny's Child while simultaneously making her acting debut playing Foxxy Cleopatra in Austin Powers in Goldmember. That same year she turned 21. So, while you were crushing beer cans against your forehead at a frat party, this babe was working up to a-list celeb status. Sigh.

Where She Is Now: These days you can't go anywhere without hearing the singer's name. Not only is she music royalty, she's also married to the most successful rapper of our generation, Jay-Z, with whom she has the most famous celeb offspring, Blue Ivy Carter. After five solo albums – her most recent being a complete surprise – dozens of hit singles, and about a million sold-out concerts, we'd say Beyoncé's doing pretty well for herself. And looking damn good while doing it.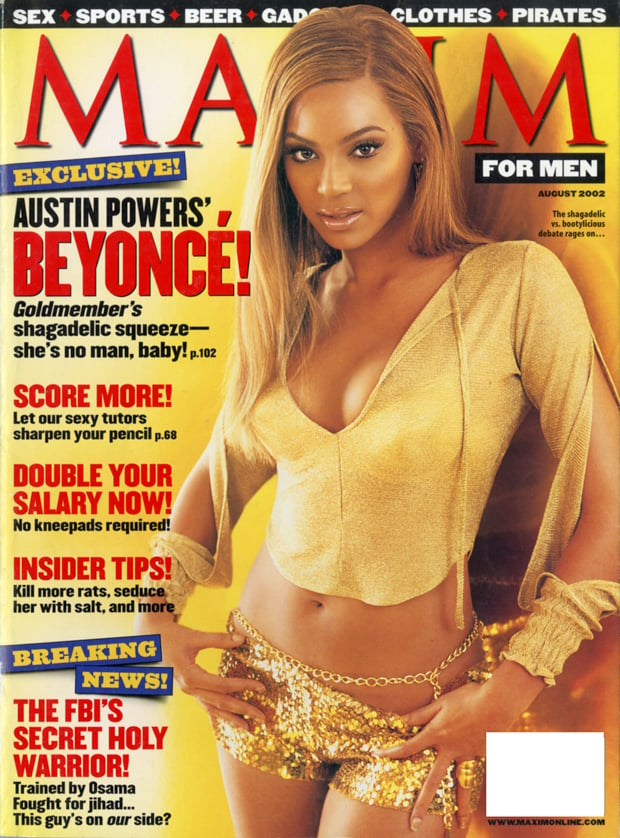 Featuring:

Whack Weed

In 2002, our predecessors were cracking down on pseudo pot dealers like Bill Black, who was claiming to sell legal marijuana. Of course, once you smoked up the $25 tube of NE146, the desired high was never achieved. Bummer. But the best thing about this article is the tagline, which is more than foretelling: "Legal pot? But that sounds too good to be true!" That's exactly what we thought when weed became legal in Colorado, but then we went to Colorado. And it was awesome.

Wave Runners

When the new millennium rolled around, so did a shit ton of new, useless trends. But the most regrettable mistakes were fashion-related, like these pattered swim shorts made every wearer look like a retired businessman going through a mid-life crisis. And what's even worse is that it's almost 2014, and we're still lacking a happy medium between nut-hugging Speedos and these surfer scene print shorts for assholes. Come on society, you can do it!

More of Maxim's Throwback Thursdays:

Throwback Thursday: May 2000 – Kristy Swanson

Throwback Thursday: December 2006 – Angelina Jolie