How This Classic Norton Motorcycle Made Racing History
The 2001 500cc Norton is the last bike two-time world champ and "real James Bond" Barry Sheene rode to victory.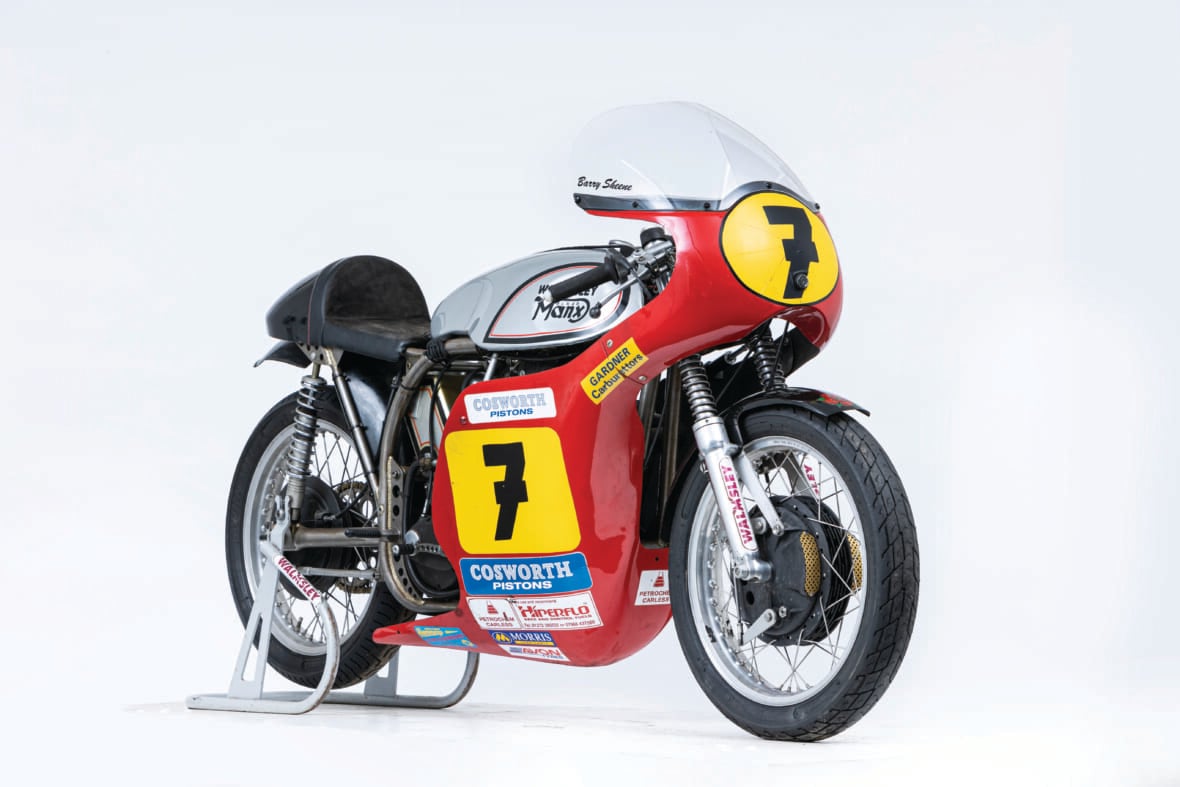 The very last bike the great Barry Sheene rode to victory was recently auctioned by Bonhams in the UK, his 2001 FWD Manx Norton 500cc Racing Motorcycle 'FW02', which was specially prepared for the two-time World Champion and took him to first place in the Lennox Cup motorcycle event at the 2002 Goodwood Revival Meeting. If ever there were a case of two icons working together in perfect harmony, this was it.
This 2001 FWD Manx Norton was a customized version of the latest of Norton's first racing machines built in Birmingham, England in 1927. When Cycle World got their hands on a couple to test in 1962 they found that, "Before the day was out, we had acquired a pretty good idea as to why the Nortons win, and a real appreciation of how skilled, and brave, are their riders."
Their main conclusion about this hair-raising superbike was, "All in all, the Norton Manx is a machine that beggars description. It goes very fast, and it handles like nothing the average street or dirt rider has even imagined could exist. It is, beyond any doubt, one of the best."
The Manx Norton's success was due to its remarkably simple 500cc single cylinder engine known for its power and reliability. The hand built, factory tested motors revved to 7,800 rpm and were so well engineered that Vanwall later lifted the design for their Formula One cars.
Together with its legendary "Featherbed" frame looping around under the engine and back to the headstock, "Roadholder" forks, lightweight aluminum spoked wheels, and fantastic brakes with four drums in front and two at the rear, the Manx Norton racers made formidable competition bikes in the right hands with a level of road-holding second to none. With gearing for the road race that gave them their "Manx" name, these beasts would see more than 150 mph down the mountain at the most dangerous road race in the world, the Isle of Man Tourist Trophy.
As for the chap riding this weapon to victory in the last win of his long and illustrious career, well, back when motor racing was dangerous, and sex was safe, two men stood head and shoulders above the rest of the sporting world as playboy legends in their own time: Formula 1 star James Hunt, and Barry Sheene, who was married to Penthouse Pet of the Month for April 1970 and Pet of the Year in 1971, Stephanie McLean—who once said, "Famous, good looking, what's not to like?" Like real life James Bonds, women wanted them, and men wanted to be them.
All Sheene wanted as a kid was to, "go out and make my mark on the motorcycling racing world, but I don't want to make any marks on the circuit at the same time." He proceeded to drill a hole in his crash helmet, insert a cigarette, and smoke his way across the finish line both literally and metaphorically to the top of the game.
By the mid '70s Sheene was an established contender on the grand prix circuit and mixing in the same circles as Hunt. They became fast friends united by sporting ambitions, and a passionate dedication to sucking the marrow out of life on the way to the top. Steve Parrish, one of Sheene's racing teammates, put it like this: "It was the 1970s wasn't it… short skirts and sex, drugs and rock n roll… You still had a glass of wine the night before and wouldn't be in the gym all day long… your fitness came from driving or riding or whatever you were doing, or shagging."
Meanwhile Sheene's sister has pointed out that, "He was the first of the glamorous world champions. There was George Best in Football, and James Hunt in cars, and Barry in bikes; and they were the three, weren't they? Longhaired, good looking womanizers." Despite a death-defying crash in 1975 testing at Daytona resulting in metal plates and screws holding him together, by 1976 Sheene had won the 500cc Motorcycle World Championship, and his buddy Hunt was the Formula One World Champion.
Keep your eyes peeled for the forever-forthcoming movie Sheene, which we hope will rival Rush (if it doesn't it won't be for lack of material); but meanwhile if you get the chance to buy his iconic last bike, please be in touch—so I can get a leg over and take her for a whirl to attempt the backwards "V" he gave Kenny Roberts as he passed him at 180 mph during the 1979 British Grand Prix.