Live On The Water In These Luxe, Eco-Friendly Floating Homes
Float on.
Futuristic floating homes and even entire overwater cities have been conceptualized many times over, but people really will be living in these dreamy and eco-friendly SeaPods by the end of 2022.
Panama's Ocean Builders is creating the sea-adjacent luxury abodes to solve a problem that plagues many of the world's most desirable locations: a shortage of space.
"Everyday thousands of people all over the world move closer to the top 15 major metropolitan cities which are within 80km of a coastline – a trend that will continue to grow," Ocean Builders CEO Grant Romundt said in a statement.
"With our experience in ocean technology innovation, we knew we could offer a path forward for offshore infrastructure that is both restorative and sustainable. We've been motivated by the opportunity to change and challenge the traditional real estate and tourism models and create first-in-class living experiences that can give back to our ocean environment."
Dutch architect Koen Olthius designed the SeaPod to be both luxurious and green, as what's billed as the "world's first eco-restorative home." The buoyant underwater base, which is comprised of 1,688 cubic feet of air-filled steel tubes, not only pushes the SeaPod 7.5 feet above the water, but supposedly attracts sea creatures and promotes the generation "flourishing underwater ecosystems."
Per Ocean Builders:
When you build a home on the water you actually create a habit for ocean life to thrive. SeaPods are what marine biologists call "fish aggregation devices". This means that anytime you put something in the water that makes shade it attracts sea life. It often starts with barnacles and other life starts to grow on the underwater surface of your Pods. This can lead to coral grow and eventually homes for fish. After a process of years this can grow into a thriving underwater ecosystem. Every SeaPod that goes in the water gets us one step closer to restoring a marine ecosystem.
But above all, the SeaPods need to be a pleasure to live in, a fact that seems ensured by the specs. While modest in size—approximately 830 square feet of living space spanning 2.5 floors includes a master bedroom living room, kitchen, bathroom and a patio—there are a few elements that push the SeaPod over the top.
Over 575 square feet of panoramic windows ensure views from any vantage point. Native software controls everything from lighting to shower temperature and water pressure, while a wearable smart ring allows residents to unlock doors, turn on music and more with a wave at the hand at various touchpoints.
Drones will deliver food, medicine, and smaller items, while autonomous boats can transport up to 440 pounds of luggage, furniture and people while collecting debris and trash.
"We no longer live in a world of impossibilities, Romundt continued. "We are sending people to space and childlike dreams are quickly becoming a reality. We are creating a new real estate asset class and luxury lifestyle that will redefine how and where we live while optimizing the health, safety, and sustainability of the environments that house the Pods and the residents and guests that will ultimately occupy them."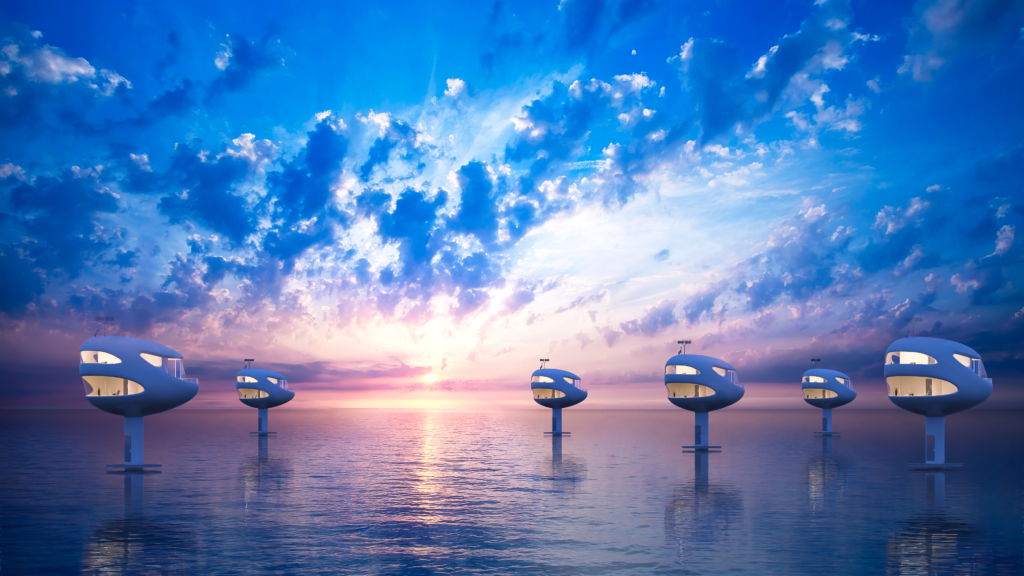 Ocean Builders will have the first 100 fully owned custom Pods in production or delivered by year's end, with plans for 1,000 more in 2023. Visit their website to learn more.