The Top 10 Craft Beers, As Ranked By Actual Beer Drinkers
Celebrate #NationalBeerDay with these killer craft brews. Which is your favorite?
Since today is National Beer Day, it only makes sense that we mark this fabulously foamy holiday with a nod to America's ongoing craft beer renaissance. 
There are now more independent U.S. breweries in existence than ever before, and these indie beermakers are creating some seriously interesting craft brews for drinkers who might want to upgrade their suds game from that usual can of PBR (not that there's anything wrong with drinking Pabst, mind you.)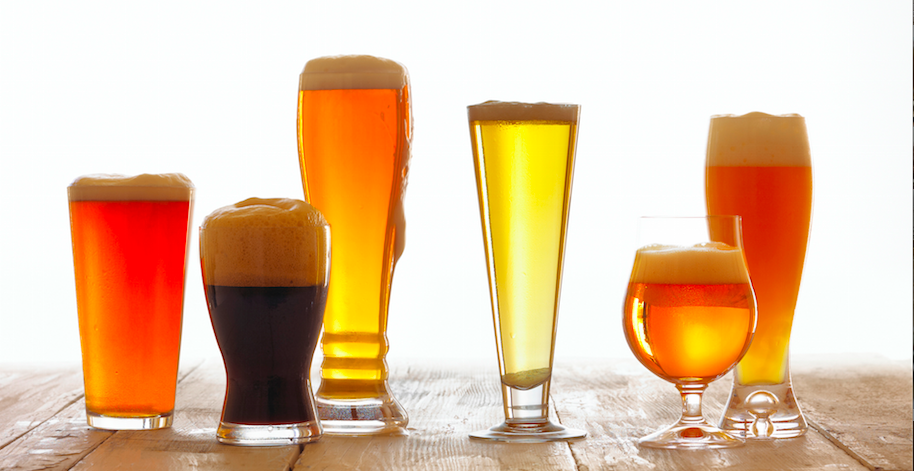 Fortunately, Ranker.com surveyed more than 18,000 people to tap the best craft beers out there, and the results are in. Here, check out the top 10 craft brews to drink right now, according to the very people who love craft beer (and taking surveys, apparently). 
10. Unibroue La Fin Du Monde
Props to our beer-guzzling Canadian neighbors for breaking into the top 10. This Quebec-based beer literally translates as "the end of the world", and after drinking this golden, blonde-leaning ale, we certainly wouldn't mind downing one while awaiting doomsday. 
" tml-render-layout="inline
9. Ballast Point Grapefruit Sculpin IPA
When the brewery actually throws grapefruit in the name of the beer, you know that you'll be tasting some grapefruit, and we're totally OK with that. Ballast Point's IPA flies high in terms of bitterness but stays delicious nonetheless. 
" tml-render-layout="inline
8. Stone Brewing Co. Arrogant Bastard Ale
Bourbon-barrel brewed, the Arrogant Bastard isn't just rocking a great name, it's got a full-bodied flavor to go along with it, thanks to a heavy hit of hops and some sweet raisin overtones. 
" tml-render-layout="inline
7. Harpoon IPA
Fruitier than most of the entries in the top 10, this Boston-based brewery is a solid choice to drink on National Beer Day because it's All-American, meaning they source all their ingredients from within the U.S…If any beer deserves a "USA!" chant before hoisting it, it's Harpoon. 
" tml-render-layout="inline
6. Lagunitas Little Sumpin' Sumpin'
Beer batches with absurd names don't typically get widespread love the way Little Sumpin' Sumpin' did in these rankings. There are big flavors here thanks to the malt in the mix that give it a distinct Bavarian taste that you wouldn't expect to see from a Californian brew. 
" tml-render-layout="inline
5. Goose Island IPA
One of the beers on this list that's fairly easy to find no matter where you are in the country, Goose Island doesn't lean heavy in any direction for an IPA and that makes it accessible to regular beer drinkers and connoisseurs alike. 
" tml-render-layout="inline
4. Lagunitas IPA India Pale Ale
This modern-classic IPA carries the Lagunitas name and that makes it a California phenomenon. Lugunitas has plenty of great beers to their name (see above) but this one is a cornerstone of their renowned brewery. 
" tml-render-layout="inline
3. Stone IPA
Personally, we're not huge fans of citrus in our beers but that's obviously not true for the rest of the beer drinkers out there who voted Stone's cornerstone IPA which is heavy on the citrus and tangerine flavors, as the number three beer on the list. 
" tml-render-layout="inline
2. Sierra Nevada Stout
An American stout that actually gives a pint of Guinness a run for its money, the Sierra Nevada Stout is midnight black and only has the most subtle carbonation. Like most dark beers, there are hints of chocolate, coffee and a distinct smokiness. Unlike most dark brews, this superb stout combines those flavors to make something uniquely excellent. 
" tml-render-layout="inline
1. Dogfish Head 90 Minute IPA
Bow down to craft beerdom's reigning champion, at least according to Ranker's survey. This super-hoppy IPA was the clear favorite among the beer drinkers polled, so we gotta give it props. Its curious name is a reference to the fact that the beer itself is hopped for 90 minutes, just in case you were wondering. As the newly-crowned champ, expect to see even more Dogfish Head clones in the coming months. And maybe that's not a bad thing.
" tml-render-layout="inline