10 Killer Kentucky Derby Cocktails To Drink Right Now
Get pumped for the world's greatest horse race with these seriously cool cocktails.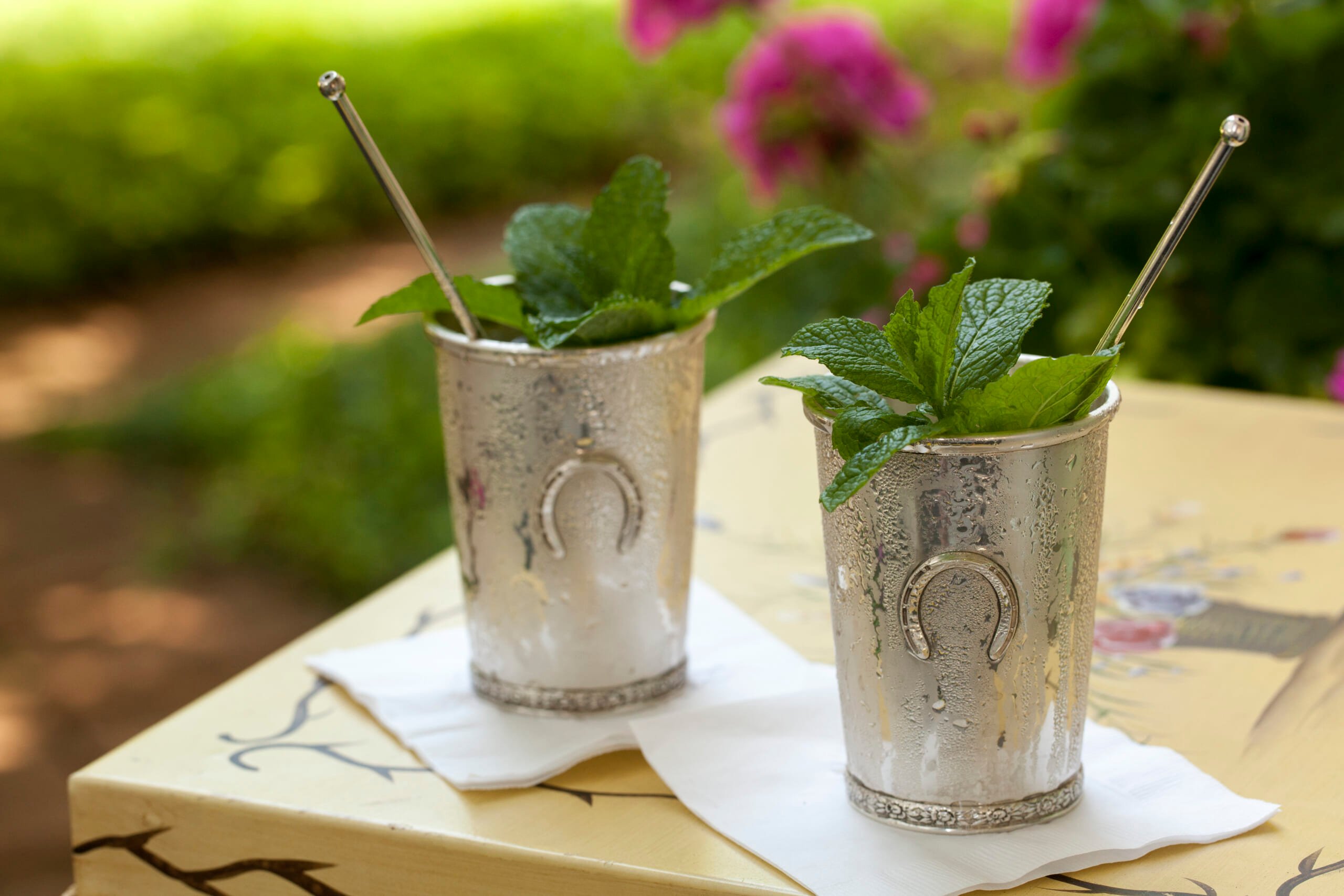 The Kentucky Derby and the Mint Julep: two iconic and inseparable images that tell the story of bourbon and the fastest two minutes in sports entertainment as if they were one. There's just one problem: the horses change every year, so why shouldn't your cocktail of choice? 
We're not saying the classic Julep (Ice, mint, bourbon. sugar) is boring: it's a signature drink and there's a reason it never goes out of style. But this year why not bet on an underdog — why not try drinking something a little different?
There are still some rules. A good Derby cocktail still must be bright, refreshing, and provide at least an opportunity for hydrating in the Louisville sun. A great one will take something classic like the Julep and bring it to a new level without losing sight of heritage and tradition.
We pored over dozens of cocktail recipes (pun intended) to bring you our 10 favorites for any race-watching scenario. Just don't try to finish one off in two minutes.
1. Keeneland Breeze
" tml-render-layout="inline
Louisville may have the international attention every year, but Lexington's Keeneland Race Track has plenty of tradition of their own to share with the world. Our favorite part: the Kenneland Breeze cocktail, a simple and refreshing cocktail featuring Maker's Mark.
1-1/4 oz. Maker's Mark Bourbon
Splash DeKuyper Orange Curacao Liqueur
Spash ginger ale
Orange wedge for garnish
Fill rocks glass with ice. Add Maker's Mark Bourbon, a splash of DeKuyper Orange Curacao Liqueur and a squeeze of fresh orange. Top off with ginger ale. Garnish with an orange wedge.
2. Woodford Reserve Mint Julep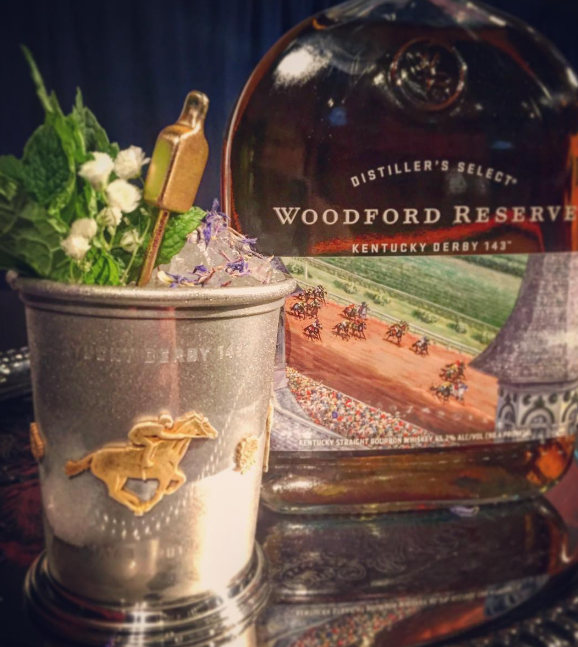 Woodford's $1,000 Mint Julep is the big beverage feature of the Kentucky Derby, and Churchill Downs serves a limited number of them in gilded Julep cups every year. You might not want to drop the cash for the blinged-out cup that accounts for the ridiculous price tag, but here's this year's recipe for your own crafting.
1 12 oz. Woodford Reserve Kentucky Straight Bourbon 
1/4 oz. Pimm's Liqueur
1/2 oz. Elderflower Cordial
1/4 oz. Woodford Reserve Mint Julep Simple Syrup
Dash Earl Grey bitters
Handful of mint
Rub mint around the julep cup, expressing the essential oils. Add remaining ingredients and top with crushed ice. Churn ingredients with a bar spoon distributing the flavor. Top with additional crushed ice. Garnish with a bundle of baby's breath and mint. Sprinkle with dehydrated edible blue cornflowers.
3. Low Country Mai-Tai from Porchlight
" tml-render-layout="inline
Porchlight is one of the best Southerner's escapes in Manhattan, so we had to include one of their cocktails on this list. Their take on a traditional tiki drink is full of good southern booze and flavors, and you'd be smart to break up those Juleps with something so good.
1 oz. Virgil Kane Rye
1/2 oz. Cruzan Black Strap 
1/4 oz. C&K Citrus Absinthe
1/4 oz. Cointreau
1/2 oz. Maple Pecan Orgeat
1/2 oz. lemon juice
2 dashes of Angostura
Whip shake ingredients in shaker, and serve in a tin cup over pebble ice. Garnish with lime husk and mint crown.
4. King Ghidora from Death & Co.
" tml-render-layout="inline
A bright and flavorful cocktail designed by NYC's Death & Co. Bartender, the King Ghidora is a brilliant blend of tropical flavors, Japanese whiskey, and the South's secret ingredient: pimento bitters. Great for enjoying the Derby virtually, from air-conditioned spaces around the world.
1 oz. Yamazaki 12 Japanese Whiskey
1 oz. Banks 7 Rum
1 tsp Marie Brizard Creme de Cacao
3/4 oz. lime juice
1/2 oz. sugar cane syrup
1/2 oz. papaya puree
Dash of Dale Degroff Pimento Bitters
Whip Shake ingredients and pour over ice into vintage double old fashioned glass. Garnish with mint sprig.
5. The Mumm Trifecta
" tml-render-layout="inline
Not all Derby cocktails need to be liquor-heavy, especially if you're looking to toast a winning bet. If you're feeling more celebratory, pop the bubbly and make your Julep-inspired cocktail that way.
4 oz. G.H. Mumm Grand Cordon Champagne
1/4 oz. Sage Infused Honey Syrup*
5 mint leaves
3-4 lavender buds
5 Dashes of Angostura bitters
Crushed ice
Garnish: mint Leaves and fresh lavender
Add the mint, lavender, champagne and honey syrup into a shaker and muddle. Strain into the glassware of your choice. Top with a mountain of crushed ice and add the angostura bitters on top of the ice. Garnish with mint leaves and lavender sprig.
To make the sage infused honey syrup: Add three cups of honey to one cup of hot water and stir until the honey dissolves. Add 6 ripped sage leaves into the honey and stir and let it sit for 2 hours.
6. Thyme Julep
" tml-render-layout="inline
Basil Hayden just released a new limited edition rye, so if you're looking to incorporate a brand new whiskey into your Derby celebration, this cocktail by Frank Liotti really brings out the herbal quality in the latest Basil bottle.
2 oz. Basil Hayden's Rye Whiskey
1 barspoon simple syrup
1 dash Angostura bitters
6 fresh thyme sprigs (one for garnish)
Muddle fresh thyme in a rocks glass. Combine remaining ingredients in a mixing glass with ice and stir until cold. Fine strain into a rocks glass filled with ice. Garnish with a toasted thyme sprig.
7. Grapefruit Julep
" tml-render-layout="inline
A refreshing citrus-heavy vodka cocktail over crushed or pebbled ice is going to get you through any hot day, but if you're also wearing a suit, tie, and maybe a hat, you're going to thank this cocktail for being cold and refreshing.
1 1/2 oz. Ketel One Vodka
1/2 oz. fresh lime juice
3/4 oz. fresh pink grapefruit juice
1/3 oz. pomegranate syrup
8 mint leaves
1/3 oz. honey syrup
Combine first five ingredients in a mixing glass before stirring in the honey syrup. Add ice and shake. Strain into a julep cup or Collins glass filled with crushed ice. Garnish with a large sprig of mint and grapefruit twist.
8. The Stack from The Skylark
" tml-render-layout="inline
We love Negronis, but we're even bigger fans of the bourbon-based sibling Boulevardier. New York's Skylark balances theirs out with more booze in the form of apple brandy. Best for the indoor spectators on Derby Day.
3/4 oz. Knob Creek Bourbon
3/4 oz. Aperol
3/4 oz. Carpano Antica
3/4 oz. Laird's Bonded Apple Brandy
2 dash lavender bitters
2 dash orange bitters
Add all ingredients in a mixing glass with ice and stir to temperature. Strain into a rocks glass over ice. Garnish with orange twist and lavender.
9. The Butchertown Bloody
" tml-render-layout="inline
We're not saying you need to be having a meal-in-a-glass cocktail during the race, but you can't do better than to start Derby Day (or any day) with a good bloody. The apple brandy they use in lieu of vodka might become a staple of your bar after this cocktail, Derby and beyond.
2 oz. Copper & Kings Un-Aged Apple Brandy
4 oz. Tomato Juice (we prefer a quick puree of Muir Glen Fire Roasted Toma UItoes, Sacramento Tomato Juice or a combination of both)
1 oz. spice base*
1 tsp. ground horseradish
Celery
Olives
Peppers
Citrus
Meat
Base: 4 oz. Bourbon Barrel Foods Worcestershire Sauce, 1 oz. lemon juice, 4 tsp Frank's Red Hot, 1/2 tsp. fennel seed, 1/2 tsp celery salt, 2 pinches ground black or pepper melange, 2 pinches mustard powder, 2 pinches cayenne pepper, celery bitters to taste. (Spice Base will keep for up to two weeks sealed and refrigerated.)
Add Ingredients to shaker tin, fill with ice and roll from shaker to pint glass and back to incorporate ingredients. Strain into Pint Glass over Fresh ice. Garnish with celery, olives, peppers, citrus and meat.
10. Kentucky Derby from The Brown Hotel
" tml-render-layout="inline
The Brown Hotel is an iconic Louisville institution, but you don't need to stay there to have one of their best drinks. Their take on the classic Brown Derby cocktail (no relation to the hotel) is done with sorghum syrup mixed in with bourbon and grapefruit juice.
1 1/2 oz. Four Roses bourbon
1/2 oz. sorghum syrup
2 oz. fresh pink grapefruit juice
Grapefruit twist
In a mixing glass, add bourbon, honey syrup and grapefruit juice with ice. Shake. Strain into martini glass and garnish with grapefruit twist.