The 10 Hottest Locals-Approved Spots to Party, Play and Pig Out In Montauk This Fall
The eastern tip of Long Island turns up the heat when summer ends.
Photo: Getty Images
Even though Labor Day is in the rearview, there's a hard-partying beach town that keeps the fire of summer burning deep into fall. That place is Montauk, Long Island, and the time to get there is right now.
Just a few miles past the rich and snooty Hamptons, rustic and laid-back Montauk has long been a destination for in-the-know surfers, foodies and revelers. It's getting more popular every season, however, making it all the more necessary for savvy visitors to ditch the overrun tourist traps and hit the joints locals love. Luckily, we found a guide to help us do just that.
Johnny—don't bother asking his last name—is a Long Island native who has been been spending summers in Montauk since the '60s. He's also a house driver for Lincoln Black Label, a VIP program that's linked up with one of the hottest spots in town, the iconic hotel/club/restaurant Surf Lodge.
https://www.instagram.com/p/BYBtnNohS0c
We spent a weekend in Montauk with Johnny behind the wheel, as he chauffeured us to spots that no tourist would ever know about. The life-long local was more than happy to share all his secrets with us—that is, except for his last name. Listen up.
1. Get a room at Surf Lodge.
https://www.instagram.com/p/BWc–Zuhnfd
OK, so maybe the secret is out on this one; Surf Lodge is packed with beautiful people almost every weekend. But here's a tip: Sitting in the backseat of Johnny's Continental will ensure that you'll be allowed behind their velvet rope—a place you definitely want to be. ("The ratio of girls to guys is 6 to 1," he told us. "You do the math.") Short of that, you'll need to book a room.
Located along beautiful Fort Pond, the boutique property is close enough to town that you can walk, but far enough away that you'll feel like you're in your own private compound. Each of the 19 waterfront suites comes with a private balcony, a shady hammock, and the chance of hearing legends like Jimmy Buffet perform right outside. 
2. Grab a local IPA at the Montauk Brewing Company.   
https://www.instagram.com/p/BY1fTzMlhQ4
There's a craft-beer revolution going on, and Montauk Brewing Company is a vital part of it. Though the tasting room is really just the brewery's tiny front yard, hops-lovers squeeze in polo-to-polo to sample their Watermelon Session Ale, Hop Blonde Ale, and—our favorite—the Wave Chaser IPA. Be smart, order a flight, and sample them all.
3. Make like a grandma and check out the lighthouse.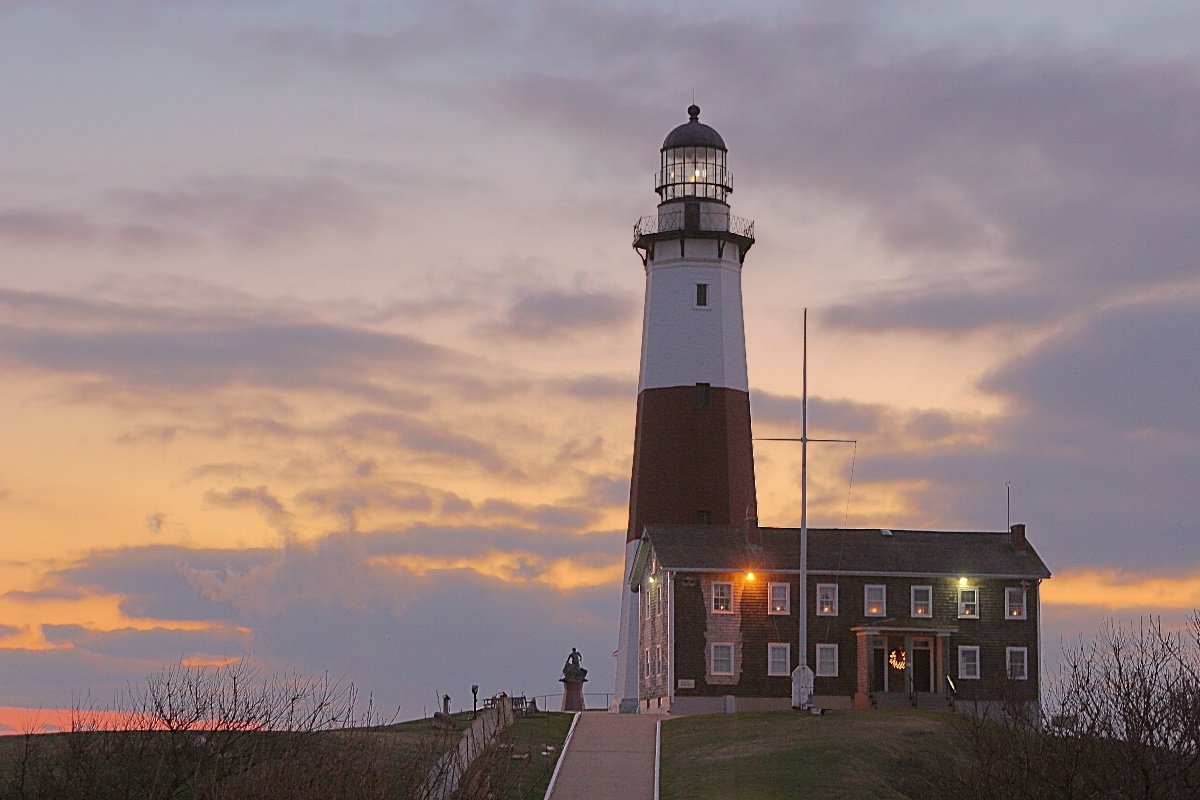 Is Maxim really telling you to go see a friggin' lighthouse? Yes, with one stipulation: bring a girl, a joint, or—better yet—both!
4. Eat a lobster roll at Duryea's Lobster Deck.
https://www.instagram.com/p/BHIT9JGj0B_
Full disclosure: We ate lobster rolls at a far more famous spot along the main road to Montauk, and Johnny pretty much threw a shitfit when he found out: "Whaddya eating there for, that place is for tourists! Duryea's is the best!" While our rolls were good, we trust Johnny that these are better. 
5. Watch the sunset at the Montauket.
https://www.instagram.com/p/BU0QgB1lR-k
You don't need a girl or a joint for this one; just get there with enough time to secure an outside table and order whichever Montauk Brewery beer you liked best. Then sit back and watch Mother Nature put on a show that puts Hamilton to shame.
6. Scarf down the Blue Crab Claw Tagliatelle at The Crow's Nest.
https://www.instagram.com/p/BIC_Wx2BwNo
Trust.
7. Hit the waves at Ditch Plains. 
https://www.instagram.com/p/BY3by9_hlVJ
As a surfer himself, Johnny was somewhat reluctant to spill this one piece of intel. Ditch Plains is the locals-only spot, and we can't be responsible for what happens if you show up. There have already been issues with regulars getting pissed off at tourists taking lessons and clogging up the renowned break, so play it cool. And don't tell 'em we sent you!
8. Get a massage at Gurney's Seawater Spa.
Whether your body is beat up from surfing, climbing up a lighthouse, or dancing just a bit too hard, Gurney's Seawater Spa is there to ease the pain. The Montauk Stone Massage is the way to go here, with heated smooth lava stones putting you on the path to complete relaxation. It's totally Zen, man.
9. Party the day—and night, and morning—away.
https://www.instagram.com/p/BF2YqlcH3bu
Here's what you do: Day drink at Lynn's Hula Hut (an Allman Brothers cover band was playing when we were there), Karaoke at Liar's Saloon (you can't go wrong with local legend Billy Joel), then do some late night dancing/grinding/making out at Shagwong Tavern (bonus points if you don't get her name).
10. Cure your hangover with the O.G. Egg Sandwich at Hoodoos.
https://www.instagram.com/p/BYiw3q5Haza
If you've been listening to us, you will be hungover. This sandwich from local-fave Hoodoos—with two runny eggs, thick bacon, guac, and jalapeño relish on a perfectly toasted roll—is the delicious solution.
Now, someone call Johnny and let's hit the next spot…