Here are the 15 Best Damn Barbecue Sauces in America
Finger lickin' good.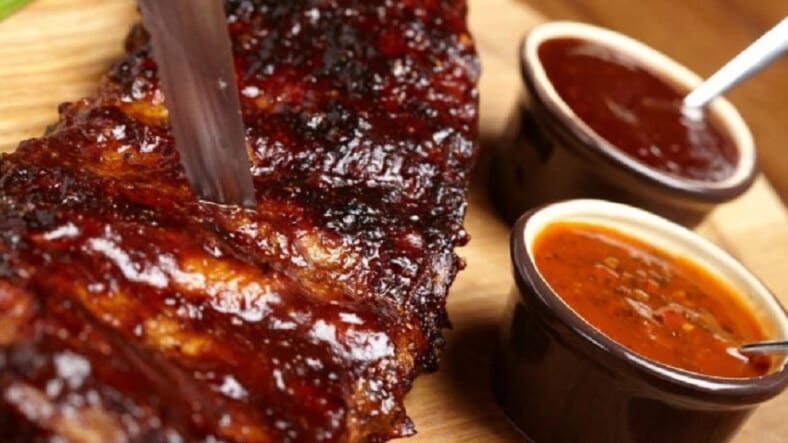 Shutterstock
It's the middle of June but Fourth of July weekend still seems a long way off. It'll be here before you know it, though, and for many of us inveterate meat eaters, that means barbecue season is in full swing.
But don't go anywhere near that grocery store aisle for the sauces until you check out the following breakdown. 
The practically-named Barbecue News holds a couple of events each year for the last 7 years geared toward finding the very best barbecue sauce available. The site's lists focus on sauces applied to the types of meat you're most likely to slap on the grill as the rockets burst in the air and hot chicks hit the beaches clad in red, white, and blue bikinis.
Any old sauce is eligible, from whatever's on the shelf to homemade stuff. 
Broken down by meat choices, here are the top 5 in each category for 2017. We included images, tweets, or Instagrams where we could, but some of these may require a barbecue getaway just to sample them at their home restaurants. (You can see the full lists here.) 
Pork Sauces



1. Roadhouse Blues by 1572 Roadhouse Bar-B-Q 
2. Cherry 'La Bomba' Habanero by Porky's Place
3. Smoky Jon's Original Supreme Gourmet Bar-B-Que Sauce by Smokey Jon's #1 BBQ
4. Veterans Q Original Barbecue Sauce by Veterans Q
5. Sweet Georgia Soul by Southern Soul Barbecue
 
Beef Sauces




1. Full Boar BBQ "Sweet & Spicy" Sauce by Full Boar BBQ, LLC 
2. Smoky Maple by 1572 Roadhouse Bar-B-Q
3. Chief Smoky by Company 7 BBQ
4. Grilla Grills Thick n Bold by Grilla Grills
5. Pa Paw's Killer BBQ Sauce (Medium) by Pa Paw's Killer BBQ Sauce

Chicken Sauces




1. Original Sauce by Historic BBQ 
" tml-render-layout="inline
2. Eroc's Black Cherry & Mango by Eroc's
3. Burntout BBQ — Sweet Mama by Burnt Out BBQ Co
4. Steele Grillz Sweet Hawaiian by Steel Grillz BBQ Sauce
" tml-embed-width="500″ tml-embed-height="626″ tml-render-layout="inline
5. Pa Paw's Killer BBQ Sauce (Medium) by Pa Paw's Killer BBQ Sauce
Of course there are 15 more sauces on the full lists, but the above should be more than enough to keep the backyard barbecue lover busy with taste tests till August, at least.
h/t BroBible