16 Will Ferrell Characters, Ranked By Incompetence
Is Frank Ricard a bigger idiot than Ron Burgundy? Check our comprehensive ranking of Ferrellian fools to find out.
Former SNL star Will Ferrell has one of the most successful film careers of all the sketch show's alums. His characters, by and large, share one trait: They're woefully incompetent. Whether he's cast as a man-child or a news anchor, what ties Ferrell's characters together is a particular talent for screwing things up. The upcoming Get Hard (opens March 27) pairs him with Kevin Hart, who's prepping Ferrell on surviving prison. It doesn't go all that well. So we've ranked every character the mop-haired funnyman has played based on their level of competence (or lack thereof). For our Official Will Ferrell Incompetence Rankings, we only chose roles where he was one of two main leads. 
16. Harold Crick, Stranger Than Fiction (2006)


A rare Ferrell drama, he plays a boring IRS agent who discovers someone's in his head and narrating his life. This is the most responsible any of his characters have ever been.
15. Jack Wyatt, Bewitched (2005)


This is a straight rom-com adaptation in which he's playing a successful actor, so there's not that much room for him to screw up.
14. Nick Halsey, Everything Must Go (2010)


Ferrell plays a salesman in this adaptation of a Raymond Carver short story, and his incompetence is fairly gut-wrenching and played out for drama rather than laughs.
13. Cam Brady, The Campaign (2012)


His George Bush role on SNL was considerably funnier than this 2012 flop. But mishaps happen in any political campaign, and Ferrell's character is not spared.
12. Steve Butabi, A Night at the Roxbury (1998)


What is love? It's Ferrell bobbing his head rhythmically back and forth with Chris Kattan in this SNL skit adaptation. He's a bit of a goon, but eventually ends up with his own nightclub.
11. Armando Álvarez, Casa de Mi Padre (2012)


Ferrell speaks excellent (okay, it sounds excellent to us) Spanish throughout the whole film, but he looks like just about the last person to get in a war with a drug lord.
10. Chazz Michael Michaels, Blades of Glory (2007)


When you name your character Chazz Michael Michaels, you know he's going to have a few issues. That said, even though he's a bit of a doofus, he's an excellent ice-skater.
9. Rick Marshall, Land of the Lost (2009)


This dinosaur-themed film starred Ferrell as a paleontologist whose career was ruined because of an interview he gave to Matt Lauer. Somehow not difficult to believe.
8. Jackie Moon, Semi-Pro (2008)


This outrageous comedy, set in the '70s, stars Ferrell as a successful singer who buys and joins a basketball team. He's a terrible player and even attempts to wrestle a bear, at one point.
7. Phil Weston, Kicking and Screaming (2005)


Five words: Worst Kid's Soccer Coach Ever.
6. Allen Gamble, The Other Guys (2010)


Ferrell is the perfect guy to star in a buddy cop comedy, and he and his partner are constantly disrespected since they live in the shadow of the more handsome, badass pair in the office. Guess who ends up saving the day?
5. Ron Burgundy, Anchorman: The Legend of Ron Burgundy (2004) & Anchorman 2: The Legend Continues (2013)


Although he's a much-admired news anchor, it all falls apart when he has to work for a woman. He also can't really read a teleprompter correctly, hence his infamous "Go Fuck Yourself, San Diego!" gaff that leads to his subsequent firing.

4. Ricky Bobby, Talladega Nights: The Ballad of Ricky Bobby (2006)


First things first, his NASCAR driver character has two first names. Never a good sign. But after an accident, he's so convinced that he's paralyzed that he stabs himself in the leg.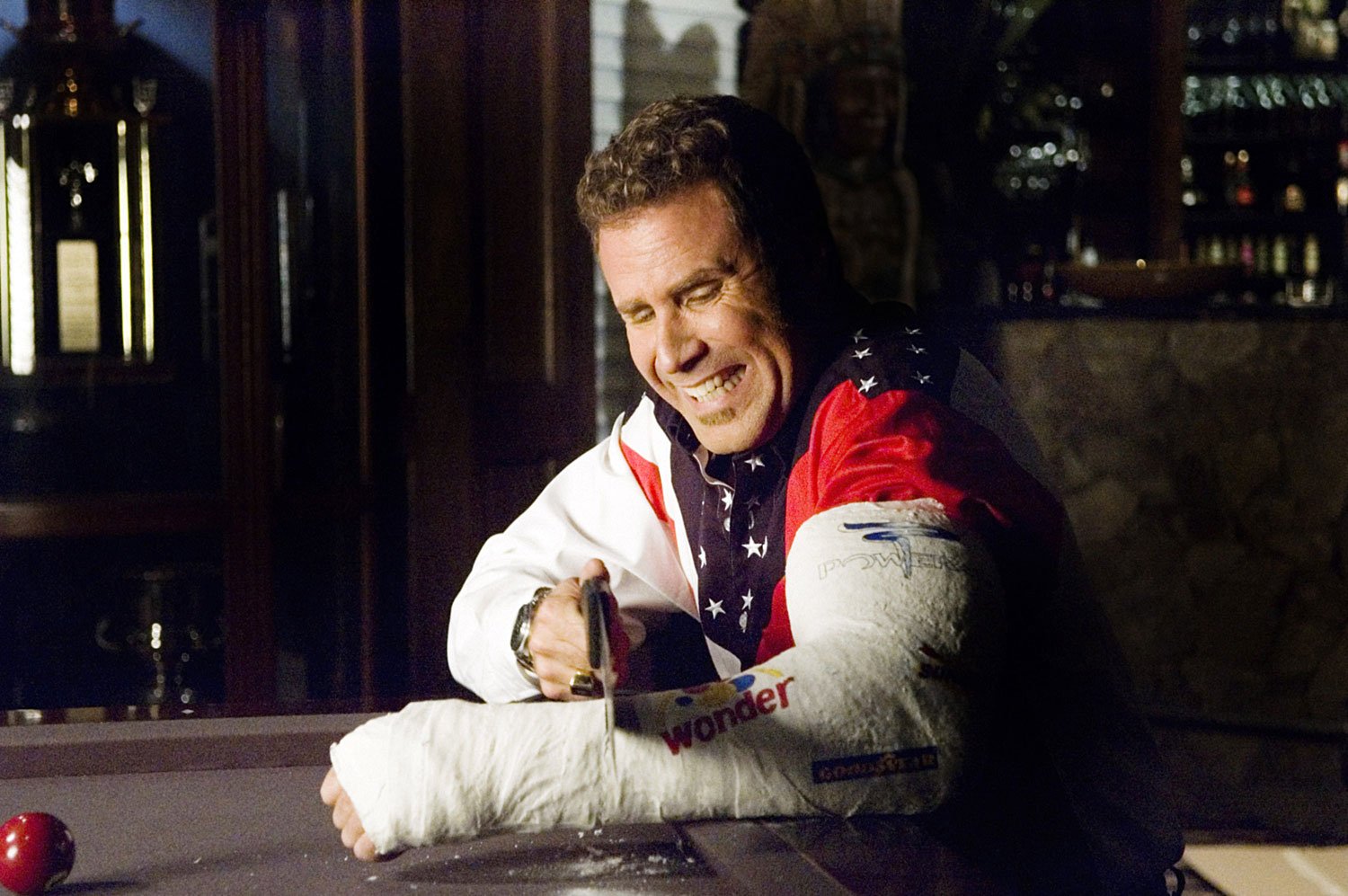 3. Frank Ricard, Old School (2003)


The reckless, messy incompetence of your average frat boy, in a grown man's body. Remember the streaking scene?

2. Buddy the Elf, Elf (2003)


Watching the robust Ferrell prance around in elven clothes and act like a small child running through New York City was a delight (though it's still sort of strange that he had a kid of his own by the end).
1. Brennan Huff, Step Brothers (2008)


The greatest depiction of man children to ever grace the silver screen, Ferrell and John C. Reilly played middle-aged men who still live at home and possess the maturity of 8-year-olds. From the prolonged fart at the job interview (during which they insist on wearing tuxedos and interviewing as a team) to the boat crash they sustain while filming "Boats 'N Hoes" – the team made for Ferrell's most incompetent role of all time.
Photos by Warner Bros. ; DreamWorks/Everett Collection ; New Line/Everett Collection ; DreamWorks/Everett Collection ; Columbia Pictures/Everett Collection ; Sony Pictures/Everett Collection