20 Classic Shows You Should Binge-Watch
Clear your schedule for the next several years.
With the loss of Breaking Bad and Mad Men, and the apparent lack of new ideas for future series, it may feel like the Golden Age of Television is having a bit of a dry spell. So what better time to go back and watch (or rewatch) some of the most influential TV shows in history? Whether you'd like to revisit a show you might have been too young and naive to appreciate the first time, or want to fill in a gap in your TV repertoire, we've got you covered.
Twin Peaks


If you haven't already seen David Lynch's surreal murder drama, the time is now: The Showtime reboot has already begun filming and could air in 2016. Some people think only season one is worthwhile, but you might as well watch them both — it won't take too long. Available on Netflix. 



The Sopranos       


Widely considered to have permanently changed the TV landscape, The Sopranos is the original prestige cable drama and gave us a prototype for the oft-imitated male antihero. Even if you saw it when it first aired, a Sopranos binge-watch from start to finish is well worth your time. Available on Amazon and HBO Now.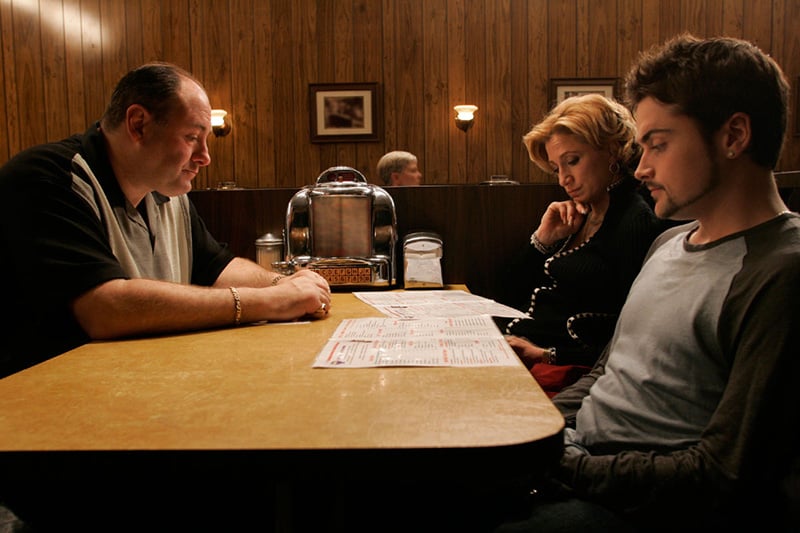 Roseanne


Although Roseanne in some ways looked a lot like the other multi-camera family sitcoms of the time, it was actually pretty groundbreaking in its honest and enlightening portrayal of blue-collar America and how two working parents who can't always be around their kids try to raise them to be good people. Living paycheck-to-paycheck is insanely stressful, but having a sense of humor about it can keep you from going insane. All nine seasons are on Amazon, and season one is on Netflix.
Buffy The Vampire Slayer


Joss Whedon transformed a somewhat silly feature film into a massively successful cult hit with its own spinoff, Angel. This high school melodrama meets battle for good vs. evil managed to strike exactly the right offbeat tone and made a megastar out of the adorable Sarah Michelle Gellar.
The Wire


David Simon's police drama brought Baltimore's inner city crime and drug problem to the national consciousness. The Wire is a hybrid of serial and anthology, with each season focusing on a different major case. If you can't watch all six in a row (it's a lot to take in) I'd recommend season's 2 and 5 to start. But ask someone else and they'll probably have a different opinion! Available on Amazon and HBO Now.
Futurama


Matt Groenig's cerebral animated sitcom is a mashup of The Simpsons and The Jetsons and The Office and something entirely unique. A few episodes are almost heartbreakingly sad, and the show pushed the envelope in enough ways that Fox almost didn't want to let the series go to air without considerable edits. The network eventually gave in, but Futurama bounced around with a lot of fits and starts until it finally ceased airing in 2013.
Cheers


Even if you've never seen the show, you know the theme song, and you know that the barroom sitcom launched the careers of Ted Danson, Kirstie Alley, Woody Harrelson and Kelsey Grammer. The motley crew of functional alcoholics with little in common beyond a desire to connect in this unforgiving world ranged from postman to professor; though the action rarely ventured outside the bar, so many of life's highs and lows were represented here. Available on Hulu and Netflix.
Star Trek


You don't have a snowball's chance in hell of any nerd cred if you can't geek out with the Trekkies. But we don't recommend trying to get through all eight different incarnations at once. Start with the original, and then move to The Next Generation. By then, you might be hooked! Available on Hulu and CBS.



Freaks & Geeks


Judd Apatow and Paul Feig teamed up for this throwback teen drama about the struggles to be yourself and fit in at the same time. Through Freaks & Geeks was tragically cut short after only one season, it helped launch the careers of James Franco and Seth Rogen and its cult fan base continues to grow a decade and a half later. Available on Netflix.
Columbo 


I included Columbo on this list to promote a half-baked theory that Columbo's wife, who is often spoken of but never seen, is NOT REAL. Nope — she's an invented character he uses in order to help gain trust and familiarity during investigations. Either, way, Columbo is a true detective classic: Each episode feels like a feature film onto its own. Don't miss the one with Johnny Cash! Available on Netflix.
Law & Order


You haven't lived until you've done a hungover New Year's Day-long binge of Law & Order on TNT while eating takeout onion rings in your bed. And if you ever have an entire year to kill, you can watch the entire 20-season run on Hulu. I can't believe someone hasn't done this yet and written a book about it. What are you waiting for? Available on Amazon.
Knight Rider


Before Baywatch and drunk burger binges, David Hasselhoff was Michael Knight, a former detective who was given a new lease on life (and a new face) by a billionaire benefactor after a near-fatal shooting. He becomes a high-tech crimefighter with the help of KITT, his artificially intelligent Pontiac Grand Am. Available on Amazon.
The West Wing


Arguably Aaron Sorkin's very best work, The West Wing was a realistic but still-comforting behind the scenes look at the inner workings of a Democratic White House and the personal lives of its staffers. I still wish Martin Sheen would run for President. Available on Netflix. 
Friday Night Lights


One of the most successful film-to-TV adaptations ever, Friday Night Lights made everyone wish Coach and Tami Taylor would adopt us. Who knew it was possible to care this much about small-town Texas football? Available on Netflix, but feel free to skip season 2 — definitely the lowest point, and the very weird thing that happens could leave a bad taste in your mouth.



The Wonder Years


The turbulent sixties told through the eyes of an innocent but angsty pre-teen (an adorable Fred Savage). Best known for a perfect series finale and for introducing Winnie Cooper to the world. Available on Netflix.
CHiPS


More style than substance, the adventures of highway patrolmen Ponch and John are hilariously low-stakes, and CHiPS still stands out as one of the very few feel-good cop shows in television history. Available on Amazon.
Battlestar Galactica


If you've seen Portlandia, you know the danger of binge-watching Battlestar Galactica. This 1978 sci-fi drama about a group of outer space dwellers in search of planet Earth was only given the greenlight after the success of Star Wars. The original didn't quite succeed, though — and in an unusual case, the 2004 reboot is superior. Sadly, since Netflix dropped it, streaming is very limited — Syfy offers only a few select episodes. You'll have to go back in time and get the DVD set. Worth it.
Three's Company


This late seventies/early eighties sitcom about an unconventional living arrangement offers smart cultural commentary in a slapstick package. Available on Amazon.



Miami Vice


Often parodied for its over-the-top eighties fashion, the plotlines of this surprisingly dark cop show were no joke, and detectives Crockett and Tubbs were often reminded of the futility of trying to crack down on the dangerous drug trade. Available on Hulu and Netflix.
Parenthood


Even though it only wrapped up last year, Parenthood can still be considered a classic — and since it took a couple of seasons to gain in popularity, there's a good chance you haven't seen the whole thing. It's impossible to get enough of the Braverman family: This show (very loosely based on the Steve Martin movie) probably could have lasted another ten years. Available on Netflix.