5 Reasons You Need to Watch 'Animals'
Move over, Pizza Rat.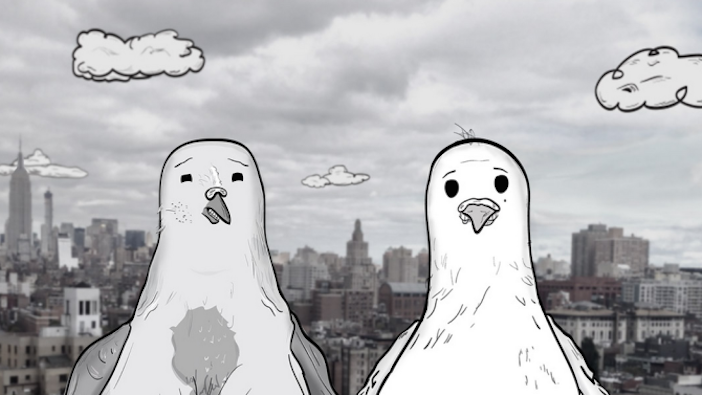 Rodents (and cats and dogs and pigeons) are people, too — at least in the clever, offbeat, and slightly sad new HBO animated series Animals. Brought to you by the Duplass Brothers producing arm, Animals was created by young up-and-comers Phil Matarese & Mike Luciano. Originally scheduled for a February 5th release, we just found out today that the premiere episode will be available online a day early, on Thursday. Here are five reasons you should watch:
1. Animals Is a Who's Who of Your Favorite Comics
One of the most fun parts of watching network television is guessing the celebrity behind the voiceover in the commercial (hint: John Corbett is the correct answer 40% of the time). On Animals you can do this in every episode, all episode long. Whether it's Aziz Ansari as a purebred dog supremacist or Ellie Kemper as a smitten terrier, the voices behind the Animals give all the characters an extra dose of personality. 
2. You've Never Seen New York City Quite Like This
New York City is almost certainly the most filmed city in the country, if not the world. But it's a completely new city through the eyes of these pigeons and rats and mice — often the same animals that we barely tolerate as an unwelcome admission fee to living in the greatest city in the world. But Animals reminds us that it's their city, too, even if the pigeons think a certain landmark is a "big green lady with the ice cream thing." And you thought it was hard being in the creative class. 
3. No Joke: It May Convince Some People to Rethink How They Treat Their Pets
Being a pet in New York City is no walk in the park, except for designated off-leash times that we already suspected might be pretty scary. (Have you ever been to East Meadow before 9 a.m. on a weekday? It's mayhem.) On Animals, a first-time visit to the Union Square dog run is likened to a first day in prison, and a neglected pregnant pup makes a heartbreaking confession that her daily multi-leash walk is the best part of her day. Animals is a comedy above all, but it really does make you think about what our pets might be going through as we force them in and out of routines that serve our purposes more than theirs. 
4. The "Cats" Episode Is an Instant Comedy Classic
Full disclosure: It's possible (likely) that some Animals episodes will grab you more than others. But whatever you do, don't miss "Cats," the third episode in the series: It's about a pair of overprivileged cats with a very strange relationship who are visited by a neighbor cat who is in desperate need of a litterbox. Or so it appears. We won't spoil it for you, but we will say it's about time we saw catnip being smoked out of a bong. 
5. A Running Theme Is About Parenting and Childbearing Anxiety  —Among Male Characters
We've seen countless TV shows and romantic comedies and dramas about stressed-out moms and women anxious about their biological clock. But Animals might be one of the first shows that addresses parenting wistfulness and angst through the POV of its male characters. You know your subconscious is trying to tell you something if you confuse a ping-pong ball with an egg.
" tml-embed-width="600″ tml-embed-height="400″ tml-render-layout="inline
Animals premieres on HBO on February 5; and on HBONow on February 4.