6 Mouthwatering Mint Julep Recipes Perfect For The Kentucky Derby
Who's up for some bourbon?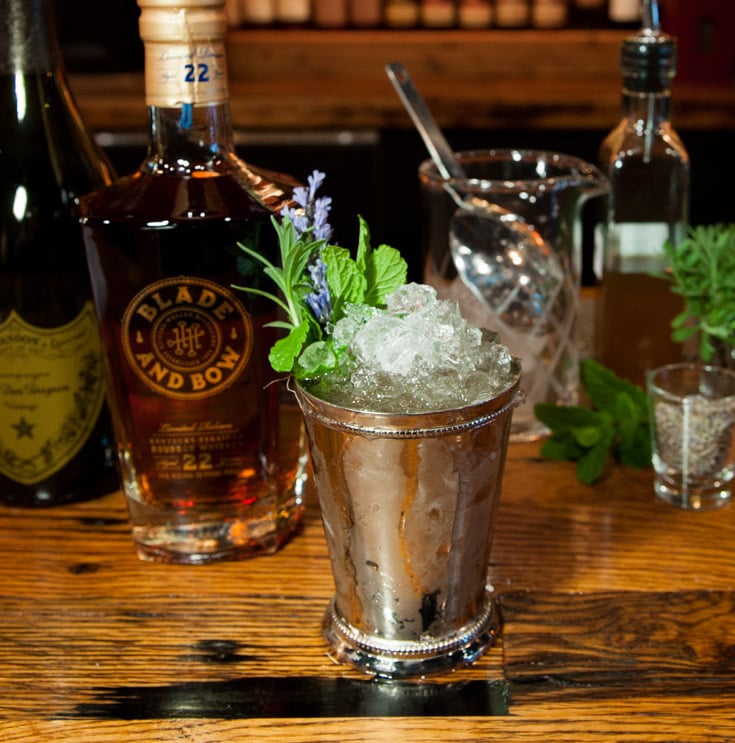 It's known as "the most exciting two minutes in sports" but of course there's much more to the Kentucky Derby than just a bunch of horses running hell for leather at Churchill Downs. Mastery of the classic Mint Julep is a must, but we've culled five creative takes from top bourbon brands, and one bubbly wild card. Bottoms up:
1. Thoroughbred Special
Ingredients: 1.3 oz. Blade and Bow 22 Year Old Kentucky Straight Bourbon Whiskey ; 1/2 oz. honey simple syrup; 5-7 mint leaves; sparkling brut to finish.
Directions: In mixing glass, add mint leaves and honey simple syrup. Gently muddle ingredients to express essence of mint. Add freshly cracked ice and Blade and Bow 22 Year Old. Stir well. Crush lavender infused ice, and pack into julep cup. Fine strain spirit over crushed lavender ice in Julep Cup. Top with sparkling brut. Garnish with sprig of lavender and mint.
2.  Woodford Reserve 2016 Kentucky Derby Mint Julep
Ingredients: 2 oz Woodford Reserve Distiller's Select; .75oz toasted pecan orgeat syrup; fresh mint; caramelized pecan crumbles for garnish; edible copper flakes.
Directions: Rub fresh mint around julep cup. Combine ingredients with crushed ice and swizzle in glass. Add more crushed ice, garnish with mint bunch, caramelized pecan crumbles and edible copper flakes.
Woodford is offering a $1,000 version of the drink in a special cup to benefit charity.
3. Vinceremos Julep
Ingredients: 1.25 oz. I.W. Harper Kentucky Straight Bourbon Whiskey; 3/4 oz. Amontillado Sherry; 1 tsp. Ginger Syrup; 8 Mint leaves and 3 fresh mint sprigs. 
Directions: Lightly muddle mint and ginger syrup, add other ingredients and top with pebble/crushed ice in a julep cup. Swizzle briefly and top with more ice. Garnish with three mint sprigs and straw.
4. Maker's Mark Strawberry Julep
Ingredients: 2 parts Maker's Mark Bourbon; 2 fresh strawberries; 1 part simple syrup; 6 mint leaves; 1 part fresh lemon juice.
Directions: Muddle strawberries, mint leaves and simple syrup in mixing glass. Add Maker's Mark and lemon juice and fill with ice. Shake well and double strain into a martini glass. For a nice twist get a bottle of Maker's special American Pharoah edition dedicated to the first-ever winner of horse racing's fabled Grand Slam. 
5. Basil Hayden's Derby Day Julep
Ingredients: 4 parts Basil Hayden's Bourbon; 4 chopped Strawberries; 10 Spearmint Leaves; 4 Lemon Wedges; 1 part Water; 2 tbsp. Brown Sugar
Directions: Muddle brown sugar and water in pint glass until sugar dissolves.Add chopped strawberries, lemon wedges and mint leaves and muddle well. Add Basil Hayden's and shake. Add ice and shake once again. Strain cocktail over crushed ice and garnish with a mint sprig and strawberry.
6. The Mumm Julep
Ingredients: 3 ounces of G.H. Mumm Champagne; 1/2 ounce Martell Cognac; one sugar cube; 6-7 mint leaves
Directions: In a julep tin or rocks glass, add mint leaves and sugar cube and a splash of water. Gently press mint leaves with a muddler to release oils. Add Cognac, Champagne, crushed ice and stir gently. Top with more crushed ice to mound. Garnish with a mint bouquet and strawberry.