$848 With Insane Clown Posse
We gave $848 to the Insane Clown Posse. One homeless shelter, one SWAT team, and a lot of bikinis later, things started to get weird…
We gave $848 to the Insane Clown Posse. One homeless shelter, one SWAT team, and a lot of bikinis later, things started to get weird…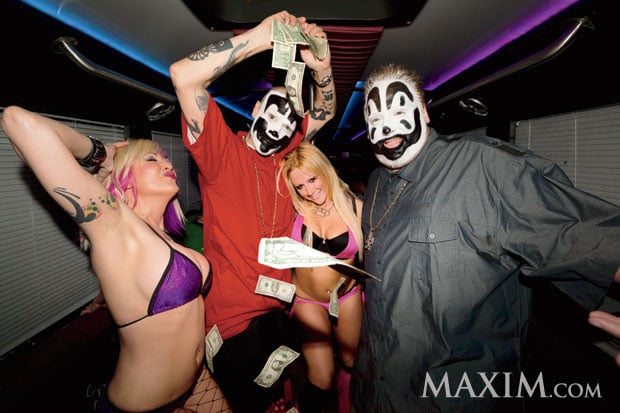 PHOTOGRAPHED FOR MAXIM BY DAVID LEWINSKI | LICENSED TO ALPHA MEDIA GROUP 2012


On a neon-lit party bus on the outskirts of Detroit, a plump, bearded juggalo looms through a thick, humid fog of weed smoke, unwraps the stripper's thighs from 'round his neck, and bellows, "Yo, is there a window up in this bitch?" The larger of the two men in clown makeup at the back of the bus leans forward, grinning. "Life don't get no better than this, man! One day this'll all be history, but right now we're fucking doing it!" A chorus of "Whoop, whoop!" greets this sentiment as 20 hardcore ICP fans prepare to party down with their circus-themed heroes. This, people, is Clown Town.


The larger clown, of course, is Violent J, and his quieter companion is one Shaggy 2 Dope. Together they form the Insane Clown Posse. Born as Joe Bruce and Joey Utsler, respectively, the pair has been unleashing their brand of carnival-style hip-hop since 1991, selling over six and a half million units in North America alone. Fully aware of their reputation for bringing chaos wherever they go, we've asked them to spend $848 of Maxim's money, just to see what happens. The answer, naturally, is madness.
PHOTOGRAPHED FOR MAXIM BY DAVID LEWINSKI | LICENSED TO ALPHA MEDIA GROUP 2012
Earlier, in the conference room of their own label, Psychopathic Records, I gave them the cash, which they matched with $848 of their own, bringing our grand total to $1,696. Since the group is known as much for their die-hard fans—the juggalos—as for their actual music, it's appropriate that they've opted to share their night with them, sending an open invite to join ICP on what they're calling the first annual Juggalo Day.
"Being a juggalo is total freedom to be yourself," says J, as the bus full of Faygo (the Detroit-produced soda that's sprayed relentlessly into the crowd at ICP's live shows), fans, models, and strippers pulls away from the Farmington Hills, Michigan office and heads toward our first stop. "When you admit you're a clown right off the rip, you can fuck up, slip onstage, and bust your ass, it don't matter. What are you gonna say about us that we don't say about ourselves already? You wanna say I'm fat? I'm fat! Fuck it, I'm a scrub—that's how I ride."
PHOTOGRAPHED FOR MAXIM BY DAVID LEWINSKI | LICENSED TO ALPHA MEDIA GROUP 2012
Shaggy, proudly pulling up his shirt to reveal the scrub life tat on his belly, nods in agreement. "For a lot of juggalos, this family is closer than their real family. It's crazy like that." As he says this, he pulls out the first of tonight's spending money: $300, all in singles—a gift for the fans. It's money well spent: Within seconds the bus is plastered in $1 bills, as the juggalos make it rain for the girls dancing in the aisle. In the ensuing mayhem, as everyone falls over each other to scoop the cash off the Faygo-sticky floor and throw it up in the air again, no one seems to notice the stripper who quickly crouches down, grabs a few handfuls of bills, and shoves them down the side of her furry knee-high boots. Considering she later spends at least 10 minutes of the evening bending over while Shaggy tries to score a field goal by flicking a paper football made of singles up her ass, it's probably fair to say she earned it.
PHOTOGRAPHED FOR MAXIM BY DAVID LEWINSKI | LICENSED TO ALPHA MEDIA GROUP 2012


At 7:45 we pull up at our first stop: the Hope Hospitality and Warming Center, a homeless shelter where—as a surprise treat for the residents—ICP are planning on performing a short gig (as a condition of getting a ride on the bus, ICP have also requested that every fan present bring two new Snuggies and a bottle of Faygo to donate). Executive director Elizabeth Kelly is delighted by the whole event. "It's a great opportunity to bring fun things into the lives of people who are in the middle of a lot of stress. They were very excited when I told them who was playing. Some of them have been waiting on the ramp since 3 p.m!"
The anticipation is well rewarded: Despite the makeshift stage in the half-empty hall, ICP bust out with enough energy to shake a packed nightclub, accompanied all the while by a gang of confetti-hurling clowns and zombies. "We may not all have a home," yells J, "but we're all in the fucking house tonight!"
PHOTOGRAPHED FOR MAXIM BY DAVID LEWINSKI | LICENSED TO ALPHA MEDIA GROUP 2012


Their attitude is infectious, and before long all but a few appropriately confused old geezers have crowded to the front. One homeless guy who looks somewhat worse for wear clambers up on the stage, grabs a plastic crown from the head of a fan, and proceeds to shake his ass for the rest of the set.


Afterward the guys are grinning ear to ear. "I wanna go on a tour of homeless shelters!" enthuses Shaggy. "All right, so there's not much money in it. But there'll be a lot of Snuggies handed out!" As the fans pile back onto the bus, the pair quiet­ly step back inside and discreetly donate $1,000 of our party fund to the shelter. For all the crassness and violent bluster of their reputation, ICP can be classy when they want to be.
PHOTOGRAPHED FOR MAXIM BY DAVID LEWINSKI | LICENSED TO ALPHA MEDIA GROUP 2012


The next planned stop is a nearby warehouse, where the group have set up a pro wrestling show, a few live music acts, and an evening of "fowling," a sort of cross between football and bowling that we're all keen to experience. Sadly, this is all any of us ever learn of fowling, because as we're en route, a call comes through from ICP's manager: In a turn of events that could only happen on a night like this, the party has just been raided by a heavily armed SWAT team. No joke: The cops rolled in deep and put the place on lockdown.


Unsurprisingly, the night comes to a screeching halt. The news spreads through the group like a game of telephone, and before long people are asking if it's true that local cops saw the 300 juggalos waiting outside and immediately sent in the National Guard. The bus pulls up in a parking lot, and several juggalos sidle off to a nearby liquor store while J and Shaggy try to figure out what the hell happened. Frantic phone calls are made as people around us mutter darkly about the fact that the FBI considers juggalos to be a gang, which, hilariously, the FBI actually does. "What the fuck is that about?" exclaims Shaggy when I ask him about this. "Juggalos ask me about it, and I tell them, 'Are you in a gang? No? Then there's your answer. 'We're not in a fucking gang!' "
PHOTOGRAPHED FOR MAXIM BY DAVID LEWINSKI | LICENSED TO ALPHA MEDIA GROUP 2012


The raid turns out to be unrelated to ICP, but regardless, Juggalo Day has been derailed. To make it up to the fans, J and Shaggy take them to Greene's Hamburgers—ICP's favorite snack stop—and spend a further $156 buying a mountain of food for them. In an apparent tribute to the monumental weirdness of the evening so far, J hits the jukebox, and suddenly, without even the faintest whiff of irony, an entire diner full of juggalos join together in singing "How Deep Is Your Love" by the Bee Gees. The sole non-juggalo patron looks around in bewilderment, drops his half-eaten burger on his plate, and turns to the waitress. "Yeah…can I just get my check, please? I think I'd really like to get out of here."
PHOTOGRAPHED FOR MAXIM BY DAVID LEWINSKI | LICENSED TO ALPHA MEDIA GROUP 2012


After dropping off the juggalos, we stop briefly at one of J's houses—the walls of the den festooned with nunchuks and samurai swords—to regroup, then head to the Pony Express Saloon, a local bar where the waitresses wear tiny orange bikinis. We're there less than 10 minutes before a bearded, flat-cap-wearing hipster douchebag starts giving the group shit, hassling J at the jukebox and loudly phoning his friends to ask if they "want to come down and help [him] fuck with some celebrities." For ICP it's not exactly a new experience, and they elegantly respond by spending the final $240 on a round of drinks for the entire bar, hipster douchebag included. "We're the most hated band in America," shrugs J. "We're easy targets." I ask them what they'd like to say to the haters, and their response is disarmingly simple. "Thank you!" grins Shaggy. "If everyone loved us, it wouldn't be shit to our story," nods J. "You know, our best years might happen after we die. People don't recognize how cool something is until it's gone. If we got hit by a bus tomorrow, what else in rock'n'roll is going on anywhere that's like the juggalos?"
PHOTOGRAPHED FOR MAXIM BY DAVID LEWINSKI | LICENSED TO ALPHA MEDIA GROUP 2012


Considering what they've just said about their detractors, I ask what they thought of Saturday Night Live's parody of their infamous song "Miracles." They both beam with pride. "It was awesome, man!" shouts J. "All those guys came to our show in New York. That's the greatest shit ever." Shaggy agrees: "What better com­pliment? It's like 'Weird' Al doing a cover of your song!" I ask if they have a favorite line, and as one they holler, "Fuckin' blankets, how do they work?" and immediately crack up laughing.
PHOTOGRAPHED FOR MAXIM BY DAVID LEWINSKI | LICENSED TO ALPHA MEDIA GROUP 2012


For two guys who've spent the better part of their lives dressed as clowns, it's funny how few people credit them with a sense of humor, or even self-awareness. If there's one thing they know, it's how to manage their reputation—one that will always attract the curious, the disaffected, the exuberant, and the just plain weird. And God knows, there are a lot of record-buying folks out there who fit those categories. As we hug our goodbyes in the parking lot at the end of the night, J neatly sums up the entire enterprise: "People don't hate on you unless you're doing something fantastic," he says, climbing into his SUV, the still-thick clown makeup turning his earnest expression into a look of comical innocence.


"If you're making no noise? Man…you don't want that kind of hate." And with that, the circus finally leaves town.
PHOTOGRAPHED FOR MAXIM BY DAVID LEWINSKI | LICENSED TO ALPHA MEDIA GROUP 2012