Andrew Lincoln Is Done With 'The Walking Dead' After Season 9
Get ready to say goodbye to Rick Grimes.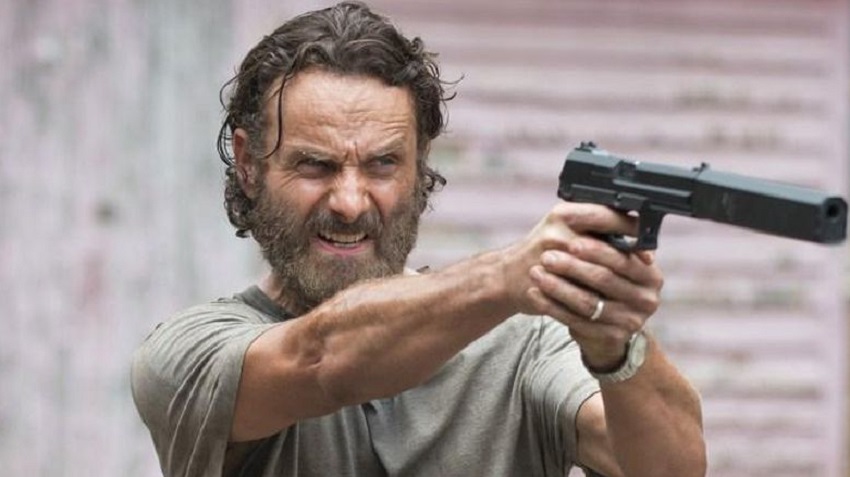 AMC
It sounds like Rick Grimes will be done at the end of Season 9 of AMC's zombie drama, The Walking Dead. Actor Andrew Lincoln, reports Collider, will battle his way through just a few more episodes, then he's out.
How Grimes finishes his long journey isn't known, but viewers won't get too much of him before the end, as Collider indicates he's only slated for six more episodes.
Any time a popular show loses its lead, the whole thing is in danger—fans can feel let down and slowly begin turning away. That said, Walking Dead has some strong actors in the ensemble, and Collider reports AMC is considering putting co-star Norman Reedus's (Daryl Dixon) character in the lead—and paying him well to stay.
While other members of the ensemble look iffy, Lincoln's exit could be the biggest blow. On social media, fans had consistent reactions. 
if andrew lincoln is really leaving after season nine, then the walking dead should end with season nine. you CAN'T do the walking dead without rick grimes.

— edy 🎃 (@edylue) May 29, 2018
I love this show SO much. But Andrew Lincoln is THE show. We have been following him since the very first episode. I can't imagine the show without Rick Grimes.

— The Walking Dead (@TWDFamilyy) May 29, 2018
So, yeah, big changes are on the way. It's likely that Lincoln is just tired of being stuck with the role and the American accent. A TV series is a major time commitment, locking actors out of other work. 
But will the audience really stick around? 
The network will just have to wait and see.
[Collider]