Pornhub Reveals Most Popular 'Avengers: Endgame' Searches Before Blockbuster Debut
One Avengers superhero easily outpaced the rest.
(Photo: Marvel Studios)
Avengers: Endgame created an utter explosion of traffic on Pornhub in the days leading up to the Marvel blockbuster's record-breaking debut.
According to recently released stats from Pornhub Insights, the research team that tracks that analyzes the website's viewership, the number of "Avengers"-related searches surged by an astounding 2,191 percent in the week before the blockbuster hit theaters.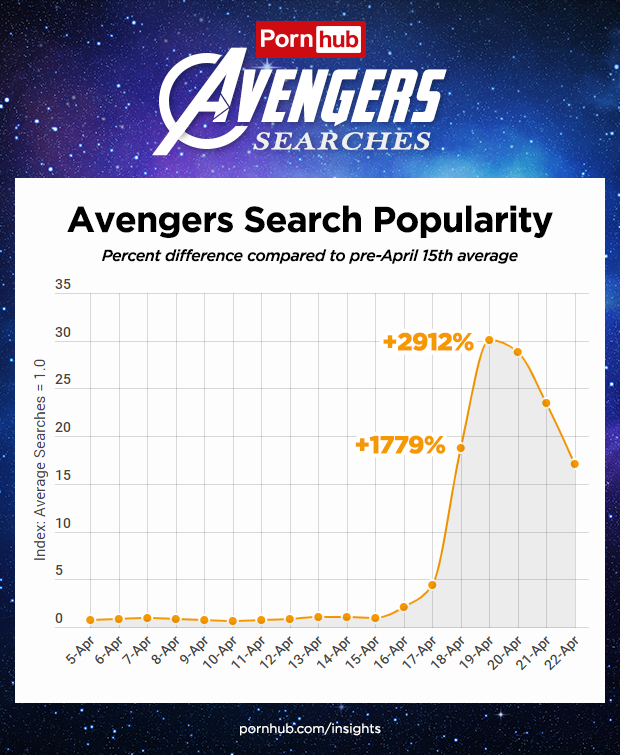 That translates to an additional 2 million hits over a seven-day period, not including the normal number of "Avengers" queries on Pornhub.  For comparison's sake, the release of 2018's Avengers: Infinity War sparked a 356-percent increase in related searches. 
Pornhub Statisticians also provided data on the popularity of individual characters. A second graph, below, shows that Captain Marvel was by far the most-searched superhero, while Black Panther and Spider Man rounded out the top three after a considerable drop-off.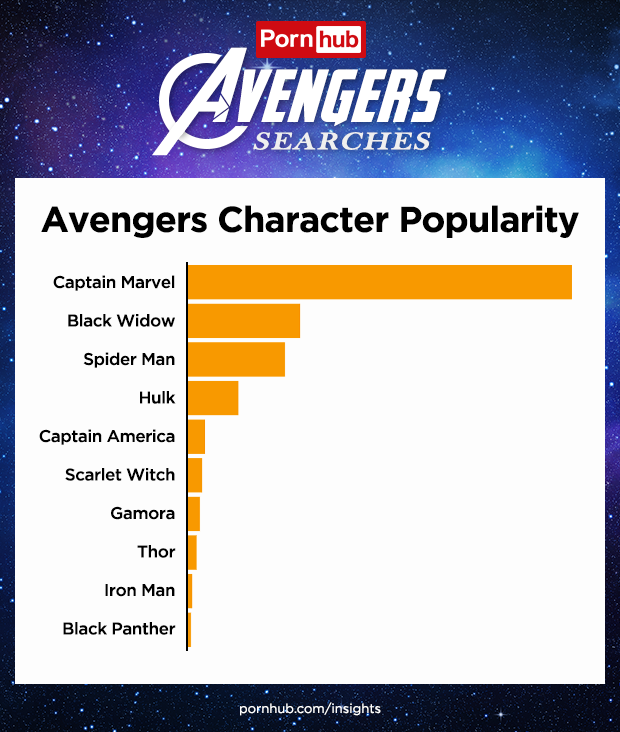 Of course, Avengers: Endgame proved to be ridiculously popular on the silver screen as well. 
Bolstered by rave critical reviews, the franchise finale shattered the record for the biggest opening weekend of all time, with an estimated $350 million ticket sales domestically and $1.2 billion globally. 
According to Fox News, it surpassed projected sales by around $100 million and dethroned Avengers: Infinity War, which had previously set the record at $257.7 million 
Pornhub's servers just might break if they ever decide to make an all-female Avengers movie.