Why Axl Rose Fronting AC/DC Might Actually Happen
This could be amazing.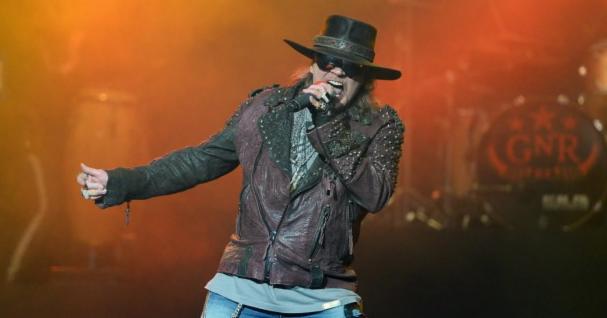 When reclusive Guns N' Roses frontman Axl Rose was spotted by TMZ leaving AC/DC's Atlanta rehearsal studio Monday morning, those widespread rumors that he would be replacing AC/DC singer Brian Johnson for the remainder of the Australian hard rock band's U.S. tour came closer to ringing true. 
Axl Rose — Back in Black Hat … In Studio with AC/DC!! (PHOTOS) https://t.co/W7taDIbxx7

— TMZ (@TMZ) March 28, 2016
" tml-render-layout="inline
After Johnson was advised by doctors to immediately stop touring or risk total hearing loss, it was quickly announced that the last 10 dates would feature a guest vocalist. And when Atlanta radio DJ Jason Bailey announced that according to his sources, Axl replacing Jonson was "all but a done deal that Axl will front AC/DC for the 10 remaining shows," a few days ago, everyone focused in on the 54-year-old Rose, whose actual band G'NR just announced a 21-city US tour this summer. 
Meanwhile, as the internet rumors raged, ex-AC/DC guitarist Malcolm Young's son Ross Young stoked the speculation further by saying that the news was "true" and that Axl "can and he will", reports the London Independent.
 Technically speaking, Rose's fantastic multi-octave range makes him a more than qualified to replace Johnson, but whether AC/DC fans will like it or not is an entirely different issue. Plus, Rose isn't exactly known as a stand-up guy when it comes to appeasing an audience. 
No official confirmation of Rose's status as a fill-in has yet been made, but if it happens, it'll surely make for some pretty interesting AC/DC sets. Let's just hope Axl doesn't throw a hissy fit and piss of an audience who didn't pay to see him in the first place. 
Still, we'd be kind of curious to hear Axl belt out AC/DC's catalog. For a taste of what it might be like, check out Guns covering "Whole Lotta Rosie" back in 1987.