It's Official: Axl Rose Will Get His Scream On For AC/DC
Sure. Why not?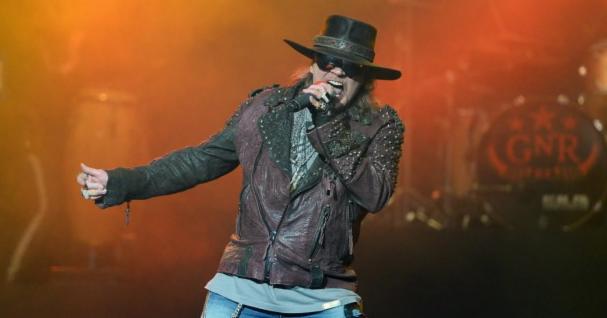 AC/DC made the rumor official late Saturday: Axl Rose will join the band with the biggest balls of them all for their world tour. The "Rock or Bust" tour was put on hold in March after longtime AC/DC lead vocalist Brian Johnson learned he might be losing his hearing. 
Now it picks up again in May with the ginger terror from Guns N' Roses at the mic. Here's the statement in full from AC/DC's website: 
AC/DC band members would like to thank Brian Johnson for his contributions and dedication to the band throughout the years. We wish him all the best with his hearing issues and future ventures. As much as we want this tour to end as it started, we understand, respect and support Brian's decision to stop touring and save his hearing. We are dedicated to fulfilling the remainder of our touring commitments to everyone that has supported us over the years, and are fortunate that Axl Rose has kindly offered his support to help us fulfill this commitment. AC/DC will resume their Rock Or Bust World Tour with Axl Rose joining on vocals. The European stadium tour dates begin on May 7 in Lisbon, Portugal and run through June 12 in Aarhus, Denmark as previously announced (see below for full itinerary). Following this European run of dates with AC/DC, Axl Rose will head out on his Guns N Roses, Not In This Lifetime Summer Stadium Tour. The 10 postponed U.S shows will be rescheduled and announced imminently, also with Axl Rose. 
2016 has brought a hell of a career reboot for Rose, touring with two of metal's most legendary bands virtually back-to-back. Though he was certainly never down in the gutter, his public profile dipped pretty far below the radar for years. Now we've been rocked by two announcements in less than a month about him bringing his signature wail to the stage for millions of fans around the world. 
As the BBC reported, AC/DC's Angus Young seemed to make these arrangements official when he took to the stage at Coachella on Saturday, playing a couple of AC/DC covers with Guns N' Roses. 
As evidenced by the video below of Young playing "Riff Raff" with the GN'R crew, it was an epic mashup. AC/DC plus the voice of Guns N' Roses might end up being a pretty killer recipe for some great moments in rock after all. 
https://www.youtube.com/watch?v=fRP29vJ_V3w