Why Axl Rose Is Humbled By His New Gig as AC/DC Frontman
Axl explains the gravity of replacing Brian Johnson in a fascinating video.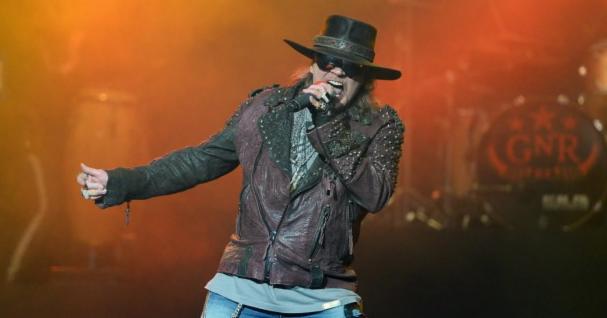 One quality you'll rarely find in any rock and roll frontman is humility. Axl Rose has long been one of rock's finer specimens of a less-than-humble lead vocalist, and beefs with past bandmates as well as just about anybody have only added to his legend. 
That's why Rose's somewhat humble take on his new role handling the mic for rock icons AC/DC — as demonstrated in a video posted Friday on the band's Facebook page is  almost touching to witness. 
" tml-embed-width="560″ tml-embed-height="419″ tml-render-layout="inline
A BBC interview with Rose about his new duties fronting yet another legendary band brought out more of his perspective. He made it clear he reverted AC/DC's long-time lead singer Brian Johnson and that his goal was to do "justice" to Johnson's legacy. 
"I'm happy and excited in one sense," Rose told the British broadcaster, "but I think it would be inappropriate to be celebrating, in a certain way, at someone else's expense."
Rose was also clear on one thing: AC/DC's music can be really challenging to a vocalist. Like their seminal 1980 album, Back in Black. Songs from that album, Rose told the BBC, are "really challenging." 
"I'm not here in any way out of any disrespect to Brian," Rose continued, "I can't take anything away from his singing at all."
AC/DC's old school fans likely agree. But we say give Axl a chance — it's fascinating to see him play the underdog for once.
AC/DC's tour begins May 7th. We'll see how the Guns N' Roses wild man rises to the challenge then.