'Bad Boys 3' Plot Details Emerge With New Release Date and Massive $100 Million Budget
Will Smith and Martin Lawrence will take on a brutal Albanian mercenary.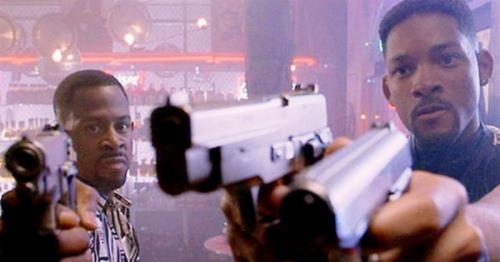 Columbia Pictures
After two years of Bad Boys for Life rumors and hype, it looks like the hotly anticipated third installment is actually happening.
That Hashtag Show revealed the Miami narcs' latest operation with exclusive plot details:
The film will see Lawrence's character Marcus Burnett working as a private eye after a falling out with Smith's Mike Lowery, who is going through a midlife crisis as a bachelor who finally wants to mature, all while dealing with a new a young and cocky partner who is loyal to Lowery but that loyalty is not reciprocated, and finds bond with Burnett when he returns to the fray.


Lowery and Burnett are brought together again when a lean, mean, skilled, Albanian mercenary with a vendetta puts a death order on Lowery and Burnett for the death of his brother. Now the two must work together once again to bring him down. The film's budget is set at over $100 million so expect loads of car chases and explosions.  
Filming is still slated to begin in August, but the release date has been pushed back once again. Entertainment Weekly reports that Sony won't bring the Bad Boys threequel to theaters until January 17, 2020. 
Foreign filmmakers Adil El Arbi and Bilall Fallah are still attached as directors. With a budget five times that of the action-packed original movie, we're expecting great things from Bad Boy for Life.