The 20 Best Video Games of 2018
Gaming had a VERY good year.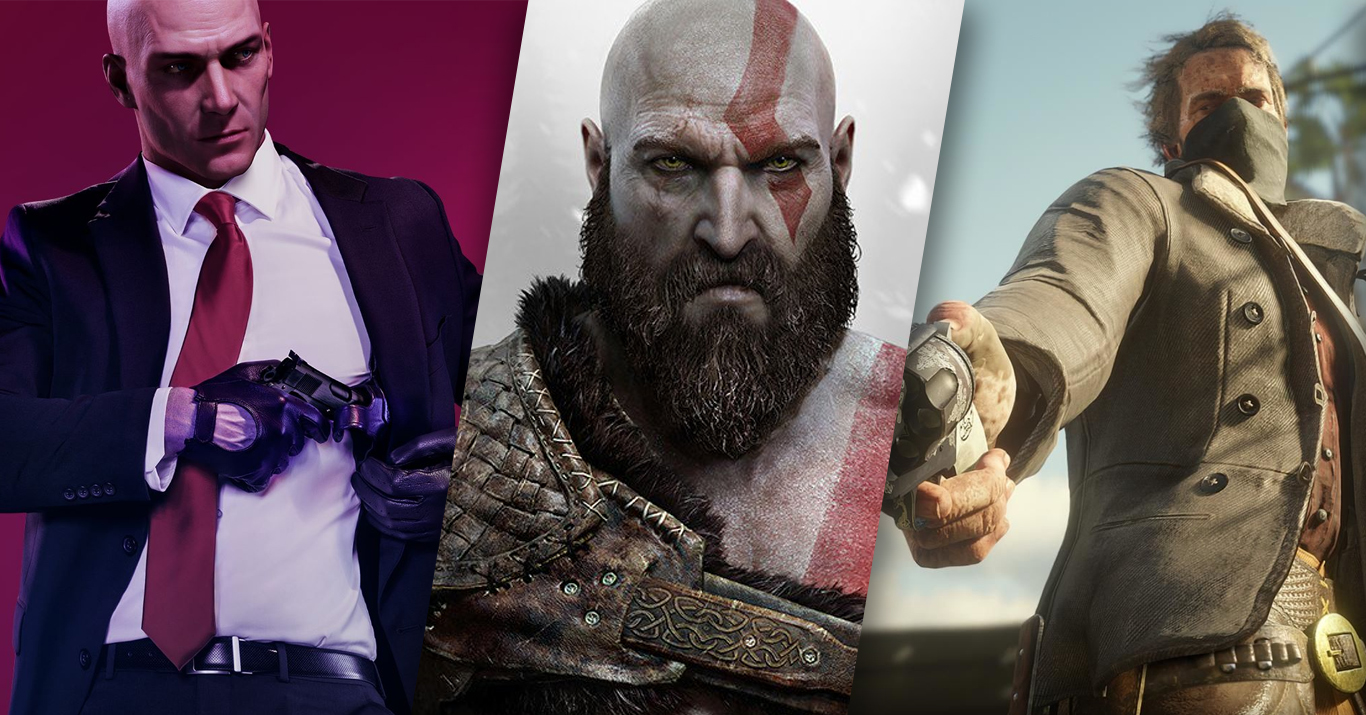 Credit: WBIE/Sony/Rockstar
2018 pushed the envelope for what was capable in video games. Bigger stories, better graphics and more connected experiences than ever were available to gamers and they responded in kind, making blockbuster games even bigger and breaking records in staggering ways. 
Here, the best and most important games (and even a few pieces of hardware) that made 2018 great for gamers. 
20. A Way Out
A sleeper but a great one, The Way Out was a short but memorable experience that could only be played with a partner in crime. Literally, since the point of the game was to break out of prison with a buddy. It was a pioneering achievement that made its teamwork-focused narrative smooth by letting one person purchase the game and share it with a friend completely for free. (Buy)
19. Fallout 76
There's no way of sidestepping the enormous problems with Fallout 76 – from inexplicable gameplay choices to a mass influx of griefers to the downright shitty response from Bethesda about the game's myriad issues – but the fact remains that those sticking it out have found plenty to love in the inevitably overhyped game. It finds a spot toward the back of this list because of that but, make no mistake, Fallout 76 isn't going anywhere for a while. (Buy)
18. Dragon Ball FighterZ
No game featuring Goku and co. will ever go without some well deserved hype. FighterZ nails its combat dynamics, rewards technical skill and invites gamers to perpetually sharpen their timing against the biggest cast of characters ever in a Dragon Ball fighter. Like the show, you either get it or you don't but if you do, it's impossible not to recognize Dragon Ball FighterZ for its excellence on all fronts. (Buy)
17. Sea of Thieves
Expectations ran high when Sea of Thieves debuted in early 2018 but the gorgeous looking game fell flat for many when its version of the high seas felt largely empty and left wannabe pirates without much to do. That's no longer the case, since Rare has punched out its creation with update after update of missions, quests and activities that have helped fulfill the game's initial promises. If you haven't returned – it's included with Xbox Game Pass, FYI – it's worth returning to get your booty plundering on. (Buy)
16. Battlefield V
Electronic Arts was much more understated with Battlefield this year than in years past, shying away from its feud with Call of Duty by ratcheting back its release date in a somewhat ominous way. Still, V debuted and has garnered its usual fervent fanbase that return for the fast-paced multiplayer and a satisfying progression system. (Buy)
15. Call of Duty: Black Ops 4
The year that Call of Duty went Battle Royale is also the year they ditched a solo campaign. After an initial outcry about the omitted game mode and a few tweaks needed for their famed competitive multiplayer deathmatches – the mode that drives COD as an E-Sports staple – the Battle Royale mode has impressed and helped balance Black Ops 4 into being a higher point in the franchise of late. (Buy)
14. Assassin's Creed: Odyssey
Ubisoft's long-running open world action-adventure series' turn at tackling ancient Greece blended in more mythology than usual for the historically minded games. The game was better for it and absolutely worth a turn diving into its high-flying antics. (Buy)
13. Mega Man 11
Serving as a retro reminder that games from yesteryear were cruel to the point of punishing, Mega Man 11 is the perfect blend of challenge, innovation and excellent looking visuals, that modernized a classic from the NES era. (Buy)
12. Pokemon Let's Go Pikachu/Evee
Somewhere in between a traditional Pokemon title and Pokemon Go, Let's Go Pikachu and Evee mark the first title for a console where you gotta catch 'em all. Simple but surprisingly deep, gamers have taken note of the quality found here and it's only amping everyone up for a more traditional Pokemon duo to make it to Switch sooner than later.  (Buy)
11. Monster Hunter World
The Monster Hunter series had made a splash on handheld in years past but its first go on consoles has created an addiction for many people. It's got staying power as gamers have joined in the hunt to pursue fantastic beasts but without all that JK Rowling wizarding world moneygrab bullshit. (Buy)
10. Oculus Go
Distilling the essential VR experience into an easy to use package, the Oculus Go is a standalone, wireless little brother to the Oculus Rift. It's still more than powerful enough to open up virtual reality worlds to casual and hardcore gamers alike. It's an important step in the continuing march of bringing VR to the mainstream. (Buy) 
9. Just Cause 4
Absolutely bonkers from the word go, Just Cause 4 continues the hellzapoppin tradition of the series. Wingsuits, rockets, grappling hooks, explosives and so much more are at your disposal here to wage your own guerilla war against a jungle full of baddies. The game is largely only limited to your own imagination and how big you like your carnage. (Buy)
8. Playstation Classic
https://www.youtube.com/watch?v=kieGhJJRenI
After Nintendo hit paydirt with their mini, retro consoles, Sony decided to throw down with the PSX Classic. It too is a mini, retro console that includes some of Sony's most important games that put the Playstation brand on the map. Unlike Nintendo's offerings, Sony actually knows how to meet demand. If games like Twisted Metal or Metal Gear Solid were an important part of your own gaming history, the Playstation Classic is a must-own. (Buy)
 7. Hitman 2
Taking Agent 47 on another outing to exotic locations to pick off high value targets, the Hitman formula really doesn't get old. This time around, the devs behind the game are leaning harder into the episodic elements with rolling content updates, timed objectives and some awesome celebrity cameos, making Hitman 2 a game that keeps on giving. (Buy) 
6. Shadow of the Tomb Raider
The third game since Lara got a reboot, the new and improved Tomb Raider games are darker, tougher and have deeper stories than ever before. Outstanding graphics create immersive international environments and play out the story is gorgeous cutscenes and Shadow of the Tomb Raider is a stunning, cinematic experience as a result. (Buy)
5. Far Cry 5
A first-person shooting experience through the cult-riddled hills of Montana, Far Cry 5 never strays from the mission of the series but has managed to push it into even crazier territory. The story is good, the combat is tight and the utter chaos happening all around you at all times means you don't want to let 2018 close without snagging a copy. (Buy)
4. Super Smash Bros. Ultimate
Nintendo Switch is a runaway hit. Smash Bros. is a perpetual crowd pleaser. This is, hands down, the game of the year for Nintendo's hybrid handheld system. The huge roster and improved combat that's both easier for newcomers and deeper for veterans is supremely pleasing to every sort of fan of Nintendo's premiere fighter. If only Nintendo could get their shit together with online (seriously, online console play is almost two decades old, how are they still pooching this?) this might be tops for 2018. (Buy)
3. God of War
Kratos' return is a triumphant one. The reboot of the God of War series brought with it changes to almost every element that made the series feel new and wonderful. Sony is proving over and over that they have master storytellers under their umbrella and every single one of their exclusive characters are benefitting from it. God of War put us through the ringer, attached us to its cast, challenged us with its combat and left us wanting more. (Buy)
2. Spider-Man
With an all-time favorite character comes great responsibility and Sony's approach to the video game treatment of Spidey was done with pitch-perfect reverence, from the character itself to the NYC environment he swings in. 
The story here was fleshed out in outstanding detail, the villains were epic, the fighting was visceral and, whether you were blasting through the campaign or puttering around the neighborhood looking for some petty crime to fight, there wasn't a moment that wasn't fun. With more content coming in the way of a season pass of episodes (two of which have already dropped) we hope Sony's partnership with Spider-Man continues for a long time. (Buy)
1. Red Dead Redemption 2
When Rockstar launches a game, it's easy to see it as Game of the Year potential. When that game has an ultra-deep, 80 hour campaign that captivates audiences from overarching story to the minor details, it feels like a sure thing. 
When, a month later, Rockstar opens up an enormous online component in that same game where you and your friends can play cowboys together, Game of the Year is a lock. If you have played RDR2 then you already know. If you haven't played Rockstar's latest epic, one can only assume you don't own a video game console. (Buy)