Here's When You'll See The Biggest, Bloodiest Battle In 'Game Of Thrones' History
"There is a battle that the creators intended to be a historic moment in television."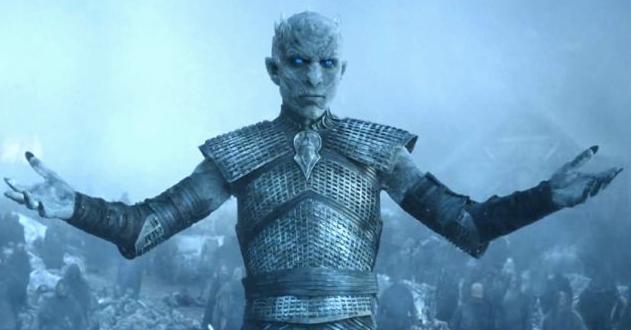 One thing we already know is that the final season of Game of Thrones will be huge, basically a series of nearly movie-length episodes rather than regular episodes. That might be hubris for another TV series, but it's a fit for GoT. Also a fit: massive, ultraviolent battle scenes that are destined to push the limits of what we've seen on TV before.
And actor Vladimír Furdík, best known as the blue-skinned, ice-bejeweled Night King, recently revealed that the show will not only outdo itself, but also maybe blow away every other TV battle scene.
Furdík was speaking at a Hungarian fan convention when he let the cat out of the bag and basically gave GoT obsessives a kind of timeline as to major plot events. Mashable reports:
Since Game of Thrones has the habit of letting the penultimate episode of the season be the most dramatic (see episodes "The Rains of Castamere," "Battle of the Bastards," and "Beyond the Wall" for reference), fans had expected the fifth episode of the six-part finale to feature the battle-to-end-all-battles.

But, according to Furdík, we won't have to wait quite that long. Speaking at a fan convention in Hungary, the Slovakian actor said that the battle will take place in the middle of the season. 

"In the third episode of the last season, there is a battle that the creators intended to be a historic moment in television," said Furdík, according to Hungarian site SorozatWiki. Mashable had a native speaker of Hungarian verify the translation of the quote.
There you go—episode 3 is where major stuff goes down. 
This is fairly big, as Thrones leaks go. There just aren't that many. Mashable caught one in February, fan photos showing Winterfell on fire, and Maisie Williams, it turns out, totally spoiled the 2019 premiere date—or date range, at least. 
Otherwise so-called leaks or spoilers have basically been actors hinting at where their roles might go and describing their emotional reactions. Not too scintillating. 
The promise of the greatest Thrones battle ever, perhaps the greatest to ever air on any show—that's enough to get the attention of even the most casual fan. 
We'll finally know just how intense and deadly Season 8 truly is when Game of Thrones premieres in April 2019.