Celebrate The Birth of The Bikini With 7 Sizzling Movie Moments
From 'Fast Times' to 'Spring Breakers', ring in the bikini's 70th birthday in cinematic style.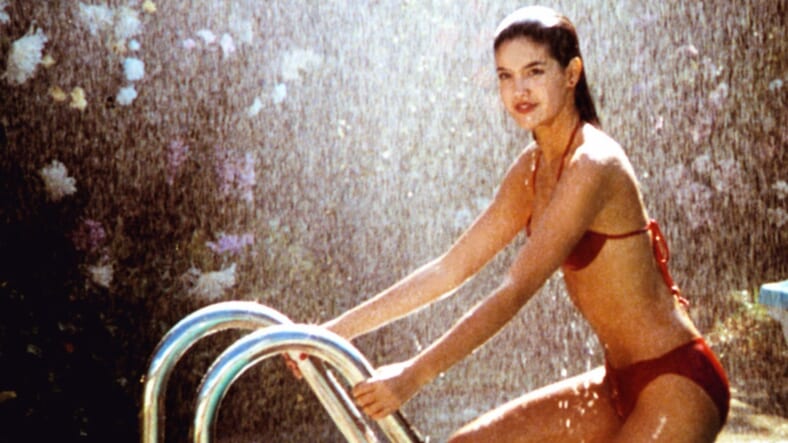 It feels impossible to imagine a time before the bikini–a crude era deprived of pool parties, tan lines, and the tiniest swimsuits on the beach. 
So today we celebrate the bikini in all its two-pieced glory for its 70th birthday.
First invented in France on July 5, 1946, the bikini took a decade or so to catch on. Many saw the skin-baring outfit as daringly immodest, but they in time became de rigueur on beaches the world over (with no small thanks to their ubiquity in Hollywood movies).
So grab your SPF and celebrate the bikini's 70th birthday with seven great moments on the big screen.
7. Selena Gomez, Ashley Benson, Rachel Korine, and Vanessa Hudgens in Spring Breakers (2012)
Director Harmony Korine's entire movie, which purposefully tarnished the G-rated reputation of its female cast, plays like a sordid ode to the bikini.
6. Kate Upton in The Other Woman (2014)
The lackluster comedy was rightly panned by critics, but we'll never forget a white bikini-clad Kate Upton making her epic big screen debut. 
5. Halle Berry in Die Another Day (2002)
A knife-toting Halle Berry paid homage to Bond babes before her, most notably Ursula Andress, in Die Another Day.
4. Denise Richards in Wild Things (1998)
What else would Denise Richards wear for her famous make-out scene with Neve Campbell?
3. Salma Hayek in From Dusk till Dawn (1996)
Salma Hayek charmed this snake, and audiences everywhere, with her sultry striptease in Robert Rodriguez's cult classic. 
2. Phoebe Cates in Fast Times at Ridgemont High (1982)
In what has to be the most paused scene in VHS tape history, Judge Reinhold fantasizes about Phoebe Cates stepping out of a pool in glorious slow-mo before removing her red bikini. You'll never hear The Cars' "Moving in Stereo" the same way again.
1. Ursula Andress in Dr. No (1962)
The bombshell Swiss actress, who played Bond girl Honey Rider, brought two pieces to the mainstream with this iconic beach scene that paved the way for the bikini's world domination.
You've lived a full life, bikini. Here's the to next 70!