Help the Smashing Pumpkins' Billy Corgan Celebrate the Big 5-0 With Their 10 Most Rocking Tunes Ever
Despite his old age, he's still just a rat in a cage.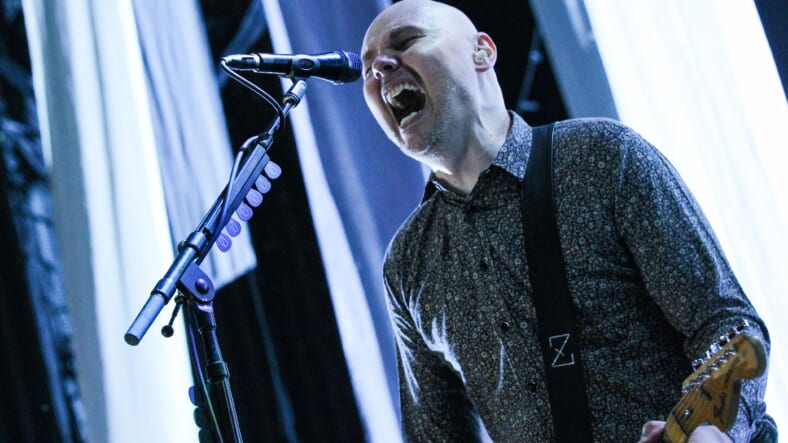 Photo: Getty Images
This may be hard to believe, but the brooding front man of the Smashing Pumpkins the world knows as Billy Corgan is 50 years old today.
It's been nearly 25 years since their first album, Gish, was released in 1991, thus beginning the Chicago-based outfit's path to becoming one of the most revered rock bands of the '90s.
Though their sound has evolved drastically over the years under the ever-changing direction of Corgan's lead, we'll always have the soaring-but-strained vocals and grungy riffs that have cemented the Pumpkins into rock history. 
Help Billy celebrate his big day, and check out our list of the top-ten greatest Smashing Pumpkins tracks below. 
"Today" (Siamese Dream, 1993)
A bright, major tonality coupled with sarcastic lyrics left many listeners unaware of this hit-song's depressing subject matter. Regardless, its catchy chorus and playful opening riff have made it favorite Pumpkins track. 
"Siva" (Gish, 1991) 
With D'Arcy Wretzky-Brown's distinctive bass groove and an overall sound reminiscent of contemporaries such as Pearl Jam and Nirvana, it's no surprise that legendary grunge producer Butch Vig co-produced this single along with the rest of the band's debut album. 
"Bullet with Butterfly Wings" (Mellon Collie and the Infinite Sadness, 1995)
While the lyrics like are undeniably weird as hell, the almost-poppy power chord progression of the chorus surely helped make "Bullet" one of the most recognized songs from the Pumpkins' discography.
"Disarm" (Siamese Dream, 1993)
The addition of symphonic bell chimes and a string ensemble only add to the viscerally dark lyrics and tonality of "Disarm." It remains one of the band's biggest hits, often marking an occasion for fans to sing along at live shows. 
"Cherub Rock" (Siamese Dream, 1993)
With a suspenseful intro that gradually grows louder and harder throughout the first 30 seconds, there's no mistaking this fan favorite when the sludgy main riff kicks in. 
"Landslide" (Pisces Iscariot, 1994)
Who knows why Corgan decided to cover Stevie Nicks folky contribution to Fleetwood Mac, but we're sure glad he did. The perfectly-executed fluctuations in the vocal melody add a much-needed element of nuance that wasn't at all present in the original 1975 recording. 
https://www.youtube.com/watch?v=ReUq5B3XT8g
"1979"  (Mellon Collie and the Infinite Sadness, 1995) 
Although the album's producer originally pushed to drop "1979" from Mellon Collie, Corgan reportedly took the song from a couple chord changes and a wordless melody to its final form in just four hours after being told it wasn't good enough to make album's cut.
"Zero" (Mellon Collie and the Infinite Sadness, 1995) 
One of many hits from their diamond-certified album, "Zero" is a quintessential Pumpkins tune. It's got it all with hard-hitting riffs, thoughtful lyrics and Corgan's distinctly abrasive singing style. 'Nuff said. 
https://www.youtube.com/watch?v=PaTLgvBRjV8
"Tonight, Tonight" (Mellon Collie and the Infinite Sadness, 1995) 
Accompanied by a wonderfully trippy video, this song is perhaps one of the best examples of Corgan's versatility as a songwriter. An easy-listening melody and noticeably softer vocal performance make it worth listening to more than once.
"Mayonaise" (Siamese Dream, 1993)   
Again with the strange song titles, the whistling guitar melody in the song's intro gives way to yet another awesome riff that warrants some serious head banging..