'Bravo Team' Is the Hyper-Realistic Tactical Shooter That Drops You in a War Zone
Online combat has never been more in-your-face.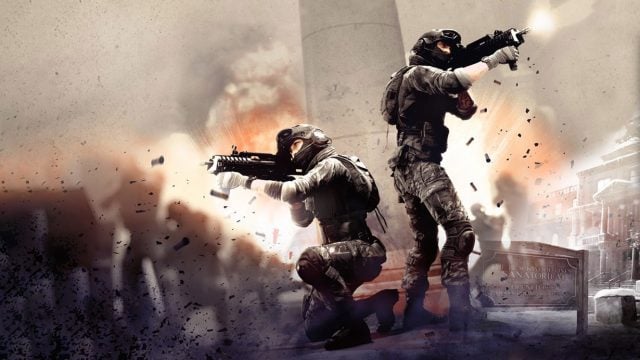 Credit: Sony
The best VR tactical shooter and a battle royale with a touch of the Hunger Games are delivering our video game fix this week. 
Bravo Team
When Playstation showed off their spec ops shooter this past E3, people lined up to shoot their way through a war-torn bridge in teams of two. Now that the game is officially launched, people all over the world will be able to take on level after level of the game's highly strategic shooting simulation on their PSVRs, solo or with a friend. Bravo Team is set against the backdrop of a combat ravaged Eastern Europe and puts players into deadly situations, made even more real by the PSVR's highly immersive virtual reality and Playstation's awesome and accurate VR Aim controller that means you'll rarely take your finger off the trigger. 
Every level is a veritable Hogan's Alley where you'll not just test your tactical skills for movement and gaining purchase against your enemies, but also your snap aim and reaction time. The campaign is a glorious upgrade to the old-school side-by-side arcade shooters, leveraging Playstation's online play to keep actual teams playing Bravo Team together. For those looking to take a break from the long haul, Bravo Team also offers up a Score Attack mode where you can hone your shooting skills and compete on an independent level. 
As Spielberg's Ready Player One is set to hit theaters at the end of the month and our VR excitement is steadily ramping up to match it, Bravo Team is the VR experience we're digging into this week to keep that fever pitch going. (Buy) 
Honorable Mention
Darwin Project
Gamers around the world are fully caught up in the current battle royale phenomenon of games like Fortnite and Player Unknown's Battle Grounds. Throwing its hat in that same last-man-standing ring is Darwin Project, a game that matches ten lone wolves aiming to be the sole survivor in a fight to the death against each other and the elements. 
Traditional means of combat are all present in Darwin Project, so players can go about their typical strategy of simply killing each other with weapons but stranding other players in extreme weather can also do the trick here if you're clever. Adding to the layers of the game is the fact that, in addition to the ten competitors in the arena itself, an 11th player, the show director, can actually try to influence the game's environment. It's a page taken straight out of the Hunger Games, and it's an even more interesting twist when you realize that Darwin Project will also let audiences who are watching live streams influence obstacles in the game by voting on certain elements like where attacks are targeted or which zones will suffer their wrath. 
Players everywhere will have to channel their inner Katniss when Darwin Project is released on March 9th.(Buy)