'Breaking Bad' Fans Think Bryan Cranston And Aaron Paul Are Tweeting Hints About the Movie
Something is happening "soon."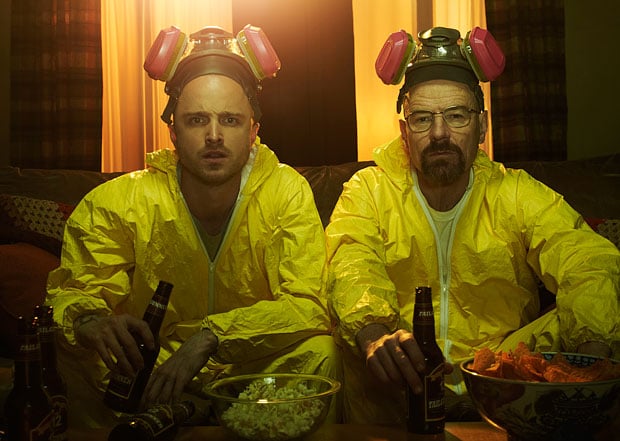 AMC
One thing that is certainly consistent between Breaking Bad and its prequel, Better Call Saul is that the actors and crew on the shows are great about keeping things under wraps. They've done that pretty well with the movie they're supposedly making right now, code-named Greenbriar.
They aren't afraid to drop hints, though, and fans of the first show in particular are certain that's what Bryan Cranston—the late, great Walter White on Bad—and Aaron Paul, a.k.a. Jesse Pinkman, were doing regarding Greenbriar when they posted the following identical Twitter updates.
https://twitter.com/aaronpaul_8/status/1143565015426854912
So it's a pair of mules, apparently, and one word: "Soon." 
Get it? Mules, as in "drug mules," maybe? Or asses, as in "badasses?"
Naturally fans want to know what's up—whether this is a hint regarding Greenbriar. 
While the movie reportedly takes place immediately after the events at the end of Breaking Bad and Walter White died in the series finale, there's always the chance that there are flashbacks or dream scenes for remaining characters—and primarily, that's Jesse Pinkman. 
From The Hollywood Reporter, some key details about the movie:
Sources tell The Hollywood Reporter that the feature-length movie will be a sequel revolving around Aaron Paul, who will reprise his Emmy-winning role as Jesse Pinkman.

Sources also confirm that Netflix will have first-run rights to the top-secret project, which will then air on AMC. (Representatives for AMC, Netflix and producers Sony Pictures TV all declined to comment.)

As THR previously reported, the Breaking Bad movie will be written by original series creator Vince Gilligan, who will executive produce the project alongside franchise collaborators Mark Johnson and Melissa Bernstein.

Gilligan, sources say, will direct the film, which will follow the escape of a kidnapped man and his quest for freedom. 
Twitter users responding to Cranston and Paul certainly see some obvious hints.
https://twitter.com/MainlyOasis/status/1143565996910882817
We don't know when Greenbriar (sometimes spelled Greenbrier) will drop, but it's reportedly going to both Netflix and AMC, streaming first, then airing at a scheduled time. 
With teases like this beginning to pop up from major actors but no known release date, hopefully we won't have that long to wait.