Watch Comic Bryan Callen Call Out Vegans and Hunters in Exclusive Preview of New Stand-Up Special
The funnyman co-hosts "The Fighter and The Kid" podcast and is a regular guest on "The Joe Rogan Experience."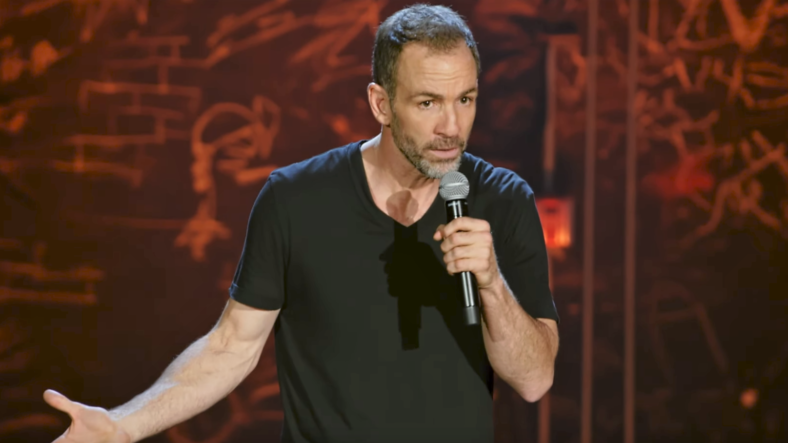 YouTube/Comedy Dynamics
Bryan Callen hilariously breaks down the differences in behavior between political ideologues on the left and right in this exclusive first look at the new trailer for his third stand-up special, Complicated Apes. 
The comic sets up the bit by saying, "The left is rooted in the idea of compassion for the weak, and the right's rooted in the idea of respect for the strong. 
"You've got all of the vegans over here, and all of the hunters over here." 
Without even watching Callen sort activities into different sides on stage, you can probably guess which ones correlate to each group.  
"This side likes yoga and pilates, this side lifts weights and works construction. This side believes in therapy, this side believes in prayer, booze and opiates." 
The 52-year-old comedian also addresses the general paranoia that comes with being the parent of a 10-year-old girl. 
"Any grown man just driving a van around," he says almost incredulously, "should be arrested IMMEDIATELY!" 
Speaking about the inspiration behind his new hour, Callen told Maxim, "I'm arguing for a more forgiving and nuanced definition of the human ape and offering a way out of our current tendency to label and categorize our fellow human." 
"But I'll get you laughing first because I'm not a teacher, philosopher or politician—I'm a professional jackass." 
Callen, an original Mad TV castmember whose acting credits include appearances on TV shows like Entourage, Californication and the first two movies of The Hangover trilogy, co-hosts the hit podcast The Fighter and The Kid with former UFC heavyweight Brendan Schaub. 
https://www.youtube.com/watch?v=hWugDUjm2WU
He and Schaub are also regular guests on The Joe Rogan Experience. Though he's sat across from host Joe Rogan over a dozen times, Callen is fully aware of his reputation for, er, occasionally misspeaking.   
"I listen to how bad I am at listening," he says. I'm wrong every time I open my mouth, but people listen anyway. 
"There was also that time we had 50 Cent on [The Fighter and The Kid]," Callen added, "and I couldn't understand what he meant by everything—and I mean everything—he said." 
Watch Bryan Callen: Complicated Apes on 20-plus platforms including Comcast, DirecTV, iTunes, Amazon Prime Video, Google Play and more via the Comedy Dynamics Network beginning March 12.