Watch 'Call of Duty: Modern Warfare' Multiplayer Trailer Set to Metallica's 'Enter Sandman'
Exit light, enter night.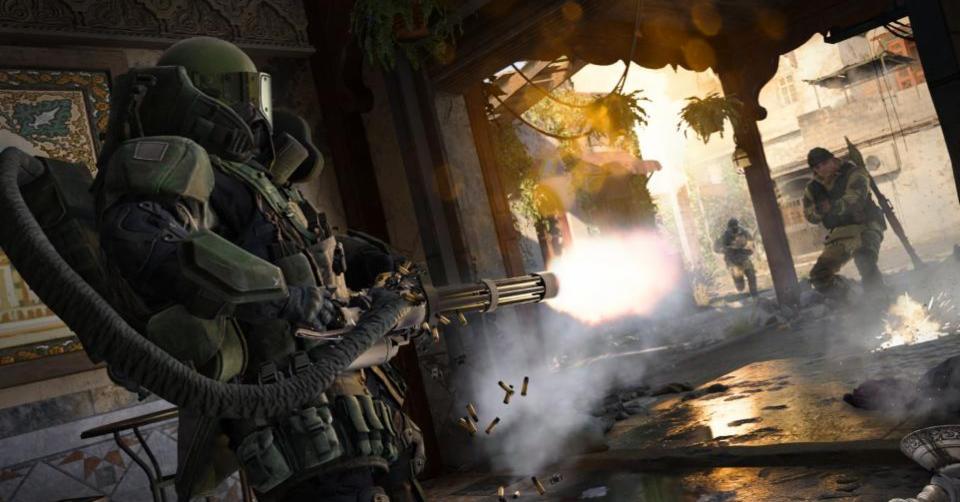 Activision
The new Call of Duty: Modern Warfare multiplayer trailer gave gamers a first look at what's being billed as the "the ultimate online playground" for first-person shooters. And by the looks of it, that's no exaggeration. 
Developer Infinity Ward and publisher Activision made the big reveal at a live stream event in Los Angeles. Even if you're not a fan of the firepower-fueled franchise, it's hard not to appreciate Metallica's monster riffs perfectly timed to explosions and killshots in the "Enter Sandman"-scored teaser. 
Those who are more familiar with past CoD titles will notice that the shown multiplayer modes, which are labeled as different "operations," appear to incorporate tools typically only utilized in campaign modes, such as bomb bots and night vision. And as the still above shows, players will still be able to wreak havoc as a mini-gun-slinging armored juggernaut. 
CNET reports that Modern Warfare multiplayer will also feature new weapons, two-on-two battles in "Gunfight," up to 20-versus-20 traditional death matches, and Ground War, a mode that will support 100-person-plus fights. 
"Our goal is to bring all gamers together from day one to play together," Patrick Kelly, Infinity Ward's creative director and co-studio head, said in a statement. 
Before it drops on October 25 worldwide, Call of Duty: Modern Warfare is available to pre-order now for $79.99. 
PlayStation 4 owners who do so will have the opportunity to try it out in two different beta tests: September 12-13 for early access and September 14-16 for open beta. 
Another early-access beta for cross-console gameplay launches September 19-20 on PC, Xbox One and PlayStation 4 before the open beta kicks off September 21-23.