Watch Brie Larson Fight Aliens in New 'Captain Marvel' Trailer
Out of this world.
Marvel/Youtube
The Eagles-Redskins game that aired on Monday Night Football was thoroughly upstaged by a thrilling new trailer for Captain Marvel. 
Starring Brie Larson, the trailer features a Matrix-style fight between Larson's Captain and an elderly woman, completely badass shots of the character glowing with power as she battles aliens in space, and Samuel L. Jackson's Nick Fury—younger and with both eyes intact—petting a cute little kitty cat. 
Shots of other characters like Jude Law's Mar-Vell (Captain Marvel's mentor) pepper the footage, and we learn the basics of the character's history. After being taken in by the powerful alien Kree, she eventually gains super powers, but is left with a problem anyone who ever watched The Bourne Identity might recognize—she doesn't really remember who she is. And it looks like she may have been a human fighter pilot in her previous life. Here's Marvel's synopsis:
The story follows Carol Danvers as she becomes one of the universe's most powerful heroes when Earth is caught in the middle of a galactic war between two alien races. Set in the 1990s, "Captain Marvel" is an all-new adventure from a previously unseen period in the history of the Marvel Cinematic Universe.
Marvel also dropped a new poster Sunday, and it definitely enhanced the feeling they are launching a new chapter that will continue expanding their fictional universe well after the Avengers storyline has come to a close. 
Speaking of the Avengers, Marvel is reportedly due to release a trailer for Avengers 4 sometime in December as well.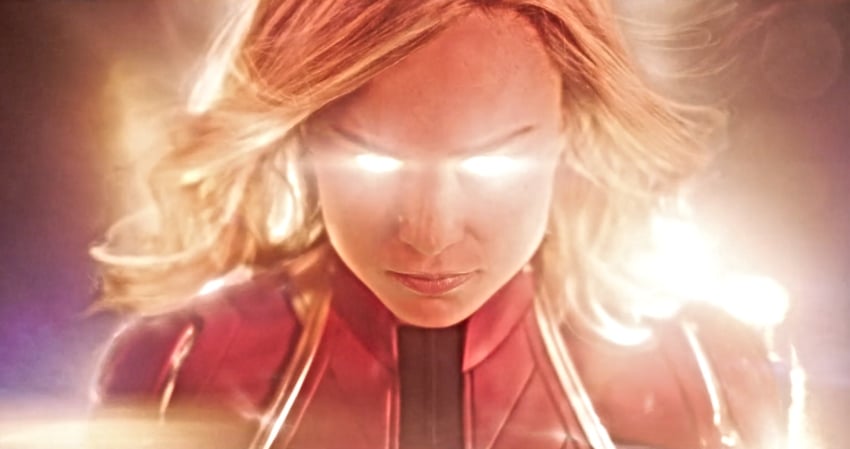 It looks like audiences will finally get to see just how hard Brie Larson's Captain can take the fight to alien enemies when Captain Marvel is in theaters on March 8, 2019.