Check Out David Spade's Hilarious Cameo In 'Cash Me Ousside' Girl Danielle Bregoli's New Video
"The f*ck you got going on with your ugly ass milk?"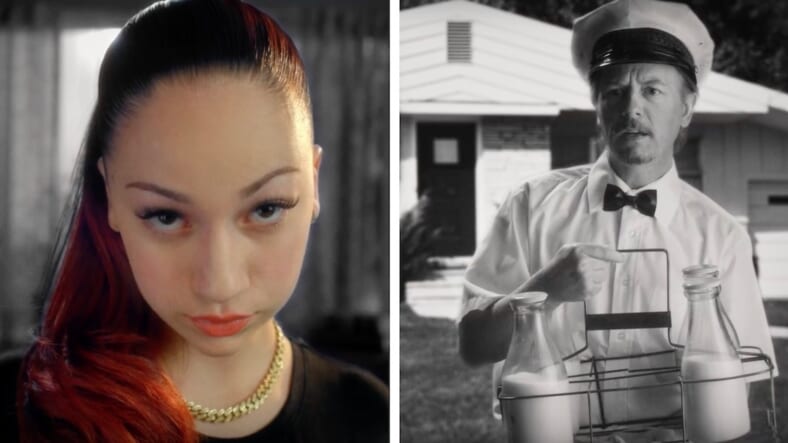 Fifteen-year-old Dr. Phil troublemaker turned rapper Danielle Bregoli (a.k.a. "Cash Me Ousside" girl a.k.a. "BHAD BHABIE") is out with a new video for her jam "Gucci Flip Flops."
She's actually making this hip-hop career work. Lil' Yachty, a real rapper, is featured on the track, and there's even a surprise celebrity cameo.
Her old foe David Spade makes an appearance as an old-timey milkman, who faces the wrath of the dairy-hating "Cash Me Ousside" girl.
"The fuck you got going on with your ugly ass milk, tryna poison me and shit!?" Brigoli says, tearing into Spade. "I don't know where the fuck you got that milk from. Definitely it ain't from no fucking cow."
"She's adorable," says Spade, fleeing her doorstep in the same terror you last saw in Dr. Phil's eyes.
Their feud goes beyond dairy. They previously had some beef after meeting at a restaurant, where Spade said she "stopped being famous 5 minutes" before and Bregoli fired back saying she thought he was a waiter. 
https://www.instagram.com/p/BT1yPI3gw3a
"Cash Me Ousside" girl actually has a multi-million dollar record deal with Atlantic Records so don't expect her "music" to go anywhere anytime soon.