The 'Cash Me Ousside' Girl Could Be a Millionaire By the End of 2017, Because Life Is Not Fair
How bow dah?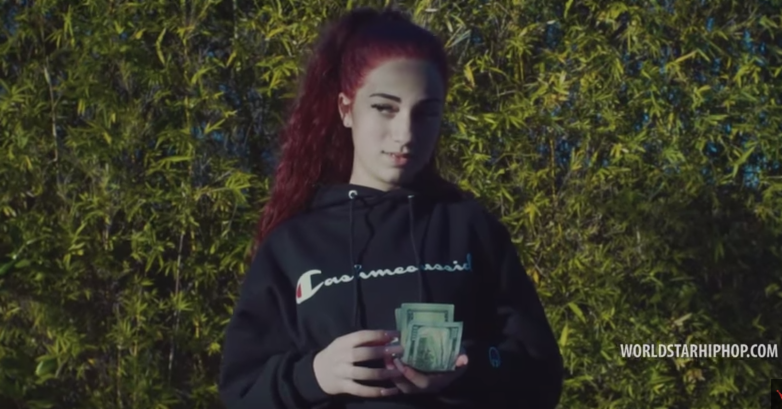 Last month, we reported on the viral shitstorm of a story surrounding professional brat Danielle Bregoli, aka the "Cash Me Ousside" girl, who's making a mind-bending $40,000 for appearances at private parties. 
If you were already struggling to comprehend how a 13-year-old girl could rake in that kind of dough for doing next to nothing other than appearing on Dr. Phil, then brace yourself, because she could be a millionaire by year's end. 
Celebrity Net Worth recently published an article in which they outline a potential financial pathway Bregoli could use to put her in the top .5 percent of the nation's wealthiest well before she can legally drive a car. 
Via Celebrity Net Worth: 
The teen is doing paid product placements on Instagram for Fit Tea and Postmates; and the placements are doing very well. Her Fit Tea video has been viewed a whopping 6.7 million times. Celebrities who have Bregoli's following on Instagram can easily make up to $100,000 a month on product ads, and as much as $50,000 on a single post.  
" tml-render-layout="inline
As outrageous as these claims might sound, they have merit. Business Insider has reported that celebrities can make anywhere from $3,000 to $250,000 per endorsement depending on their following. 
" tml-render-layout="inline
At the top end of the spectrum are megastars like Kylie Jenner who have amassed over 80 million Instagram followers, but stars with a following of 200,000 followers can still earn up to $7500 by placing a product in one of their photos.
While we don't know the exact sums Bregoli has made for her endorsements, we know she has just under 8 million Instagram followers, so Celebrity Net Worth's claim that she could be making as as much as $50,000 on a single post is within the realm of possibility. 
" tml-embed-width="500″ tml-embed-height="627″ tml-render-layout="inline
Additionally, TMZ recently reported that Bregoli is being eyed by big-time Hollywood producers for a reality show which would obviously help "Cash Me Ousside" bank more bucks. 
Danielle's managers tell us they've been contacted by 7 production companies and are scheduling meetings for this week. We're told 4 of the companies are interested in doing a reality show with Danielle and her mom.  
She's also the star of Kodak Black's  music video for "Everthing 1K," in which she's not shy about flaunting her "cash."
So yes, between paid ads, $40,000 private appearances and a potential reality show, Bregoli could easily make her first million this year, all because she uttered six nearly unintelligible words on a daytime talk show. 
It's a crazy world, folks.