Dr. Phil's 'Cash Me Outside' Girl Disses Kylie Jenner in Radio Interview
"Bitch I will whoop every Kardashian ass there is."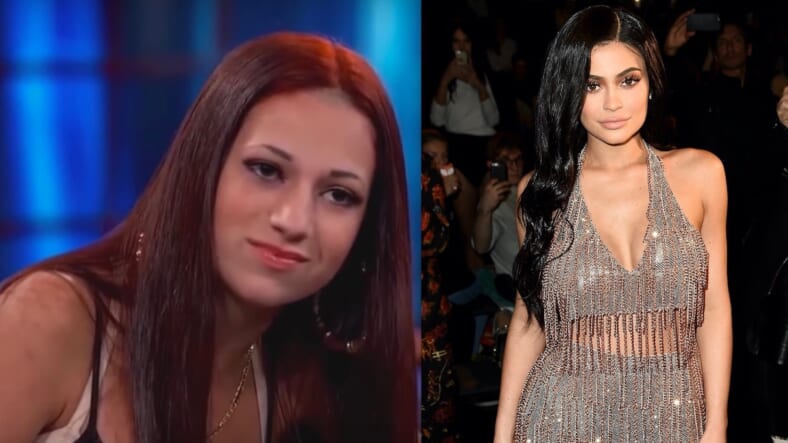 In a case of worlds colliding, 13-year-old Danielle Bregoli (aka "Cash Me Outside" girl) just epically dissed Kylie Jenner in a recent radio interview.
Speaking on The Cruz Show, young Danielle, who shot to viral fame on the Dr. Phil Show, blasted her fellow reality star for being a lowly attention seeker. 
" tml-render-layout="inline
"I don't like her. Like the way that she does shit, like urgh… It seems like she wants attention so bad. Like little bitch would do anything."
What's more, the shade-throwing Internet star demonstrated a precocious aptitude for "body shaming," making fun of Kylie's lip injections and rumored plastic surgeries. 
"How do you go from fucking lips the size of a twig and a body that looks like a fucking paperclip and now you look like a hourglass?"
Danielle is feeling particularly bellicose these days, just having socked an airline passenger in the face. Cash video of the incident, below:
Kylie has yet to respond, or even cash her outside, but Danielle isn't scared. TMZ recently caught Danielle at LAX, where paparazzi asked if she feared a Kylie clapback.
https://www.youtube.com/watch?v=9pIr089trec
"Bitch I will whoop every Kardashian ass there is," Danielle retorted. "Bitch, fuck her, fuck you, fuck your momma, fuck your whole clique."
Well… how bout dah?
https://www.youtube.com/watch?v=Gu10IiXVNBk