Sorry, You'll Never Get To See This 'Raunchy' Deleted Sex Scene From 'Neighbors 2'
Chloe Grace Moretz's wild romp with Zac Efron never made it into the movie.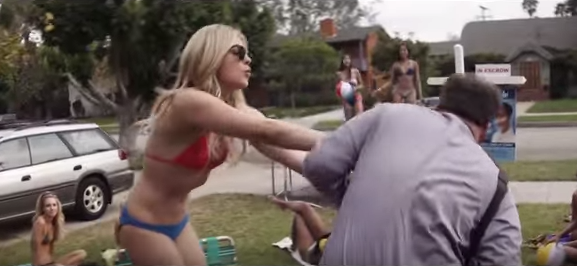 Neighbors 2: Sorority Rising, the sequel to the Seth Rogen-Rose Byrne-Zac Efron comedy about young parents who find themselves living next door to a frat house, opens this weekend with a fresh new cast of sorority sisters who have taken over.
In an appearance on The Talk, sorority queen bee Chloe Grace Moretz explained that while there might be a lot of wild partying in Neighbors 2, there won't be much sex. She did film a scene with returning star Zac Efron — an overgrown frat boy who's stuck in the college mentality — but it didn't make the final cut of the movie.
"I put him in some really compromising positions . . . really changing gender norms," Moretz said. "It was an anti-sex scene because my clothes stayed on. It was only him that was completely undressed. It was pretty raunchy, pretty wild." But ultimately it was scrapped, because "it just didn't fit in in the right way."
We're still looking forward to seeing Neighbors 2, if it's anywhere near as funny as the first. And this one co-stars Selena Gomez.