Chris Pratt Trolls 'Woke Critics' Who Panned 'The Terminal List'
"We didn't make 'The Terminal List' for critics. We made it for those in the arena."
Chris Pratt is taking aim at critics who've panned his new Amazon series, The Terminal List.
The actor stars as James Reece, a Navy SEAL who becomes entangled in a dangerous conspiracy after his entire unit is decimated during a covert mission.
Despite an overwhelmingly positive 94 percent audience score from 3,477 viewers on Rotten Tomatoes, the review aggregating site assigned a 40 percent "Rotten" score based on 55 critical ratings.
On Instagram Stories, Pratt shared an article with a headline comparing the show's popularity to that of Paramount's Kevin Costner-led contemporary western Yellowstone.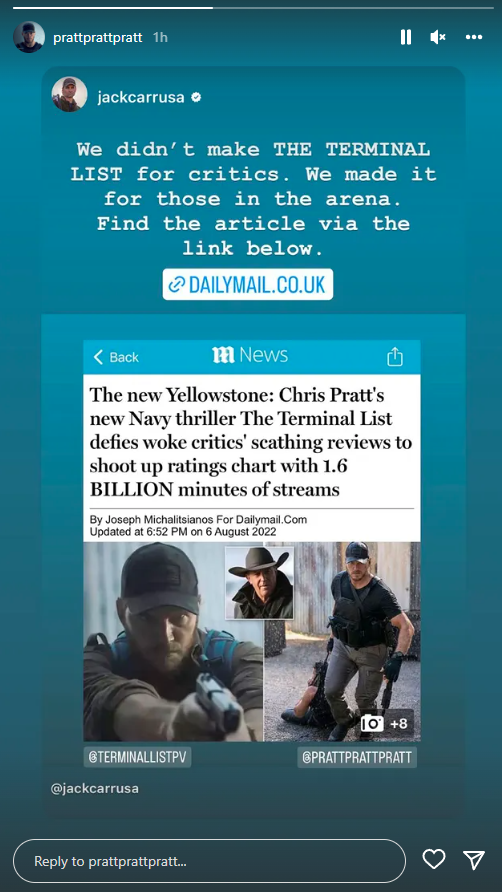 "Chris Pratt's new Navy thriller The Terminal List defies woke critics' scathing reviews to shoot up ratings chart with 1.6 BILLION minutes of streams," the headline read, referencing the 1.6 billion 60-second moments that were watched according to Nielsen.
"We didn't make The Terminal List for critics," Pratt captioned the screengrab. "We made it for those in the arena."
According to the New York Post, Pratt also shared a photo of Dr. Evil from the Austin Powers franchise, again noting the 1.6 billion minutes of watchtime The Terminal List has accrued since its July 1 premiere.
Slate's review describes "The Terminal List [as] a classic American fantasy about the goodness of the SEALs, the corruption of high-level government officials and corporate shills, and the purifying quality of righteous violence.
Another more positive Newsday review synopsis reads, "In the days before the streaming revolution, The Terminal List would have been turned into a big screen summer action blockbuster and over and done within about two hours. Instead, audiences are being asked to stick with it for hours of bingeing."
But over in the audience review section, reviews are glowing:
"Action-packed series with a great story. We need more series like this one that captures that hero figure like Matt Damon as Jason Bourne," one fan wrote.
"Almost fell for the 'top critics' assessment of Chris Pratt's The Terminal List. As usual, the viewers who subscribe and pay the bills were right. This was one of the best shows this year," another said.
"Binge watched this on recent vacation. A throwback suspenseful serial with tons of action. Critics who are bashing this are likely the same ones who now say how great the original 'A Team' and 'Magnum PI' series from the 80s were," another viewer penned. "They live in a vapid echo chamber entirely devoid of heart and reason. Is this the best series ever. No, but as far as streaming series go, this is top notch."
The Terminal List, which is based on a best-selling novel by Navy SEAL sniper-turned-author Jack Carr, also stars Constance Wu, Taylor Kitsch, Jeanne Tripplehorn, Riley Keough, Arlo Mertz, Jai Courtney, JD Pardo, Patrick Schwarzenegger, LaMonica Garrett, Stephen Bishop, Sean Gunn, Tyner Rushing, Jared Shaw, Christina Vidal, Nick Chinlund, Matthew Rauch, Warren Kole, and Alexis Louder.
Watch it now on Amazon Prime Video.