Here's a Closer Look at the New Posters for 'Daredevil' and 'X-Men: Apocalypse'
Superheroes are taking over — and we're not mad about it.
Maybe you aren't the biggest Wolverine fan, and you could probably do without the antics of a masked vigilante, but Hollywood doesn't care. Superheroes are taking the box office by storm, and you might as well start embracing on-screen comic book creations, because they aren't going anywhere. So when's the next time Marvel or DC will bring their characters to life, you ask? 2016 has got you covered.
While there are plenty of options to choose from (from Batman v. Superman: Dawn of Justice or MCU's latest Captain America: Civil War), it's the world focused on mutants and antiheroes that has got our attention. 
Season 2 of Netflix's Daredevil is set to hit computer screens everywhere on March 18th, and while we've seen glimpses of the characters, both new and old, it's the latest poster that has rounded up three of Hell's Kitchen's finest. The trio — Daredevil, The Punisher, and Elektra — make the ultimate dream team, and might be the only people who can save New York City from turning to ash.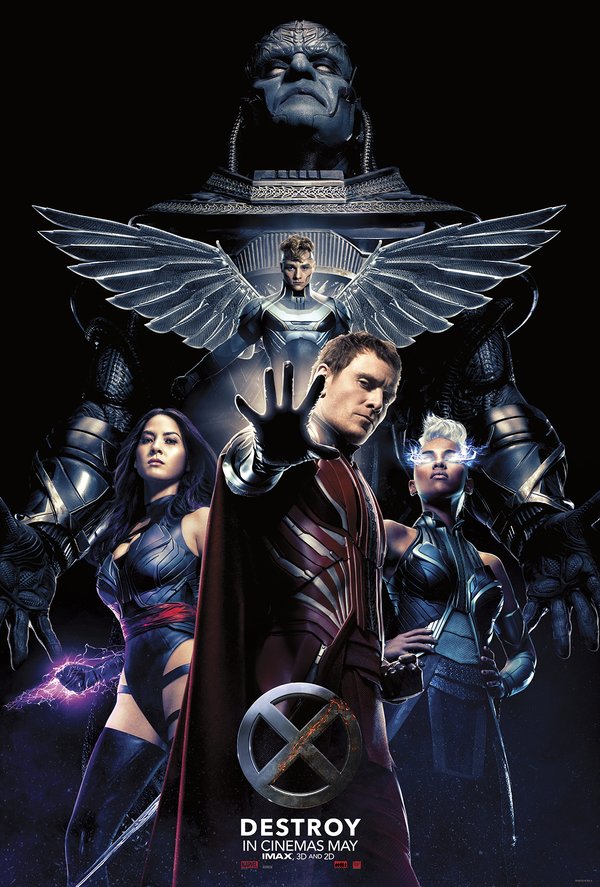 While the latest X-Men installment won't hit theaters until May 27th, heavy promotion has begun that introduces us to the oldest villain to ever walk the Earth, Apocalypse (Oscar Isaac). The film's plot not only centralizes around the unstoppable God, but also on his Four Horsemen: a group of innocent mutants at a rough patch in their life who are recruited to join forces with the X-Men's latest adversary.

In the newest poster, we get a look at the team, made up of Magneto (Michael Fassbender), Psylocke (Olivia Munn), Storm (Alexandra Shipp), and Archangel (Ben Hardy). It's going to take a lot more than mind control to stop these four from putting an end to the world as we know — and not everyone may make it out alive.