Your Best Chance to Win A March Madness Bracket Pool? Flip a Damn Coin
March is just too mad to trust your own judgement.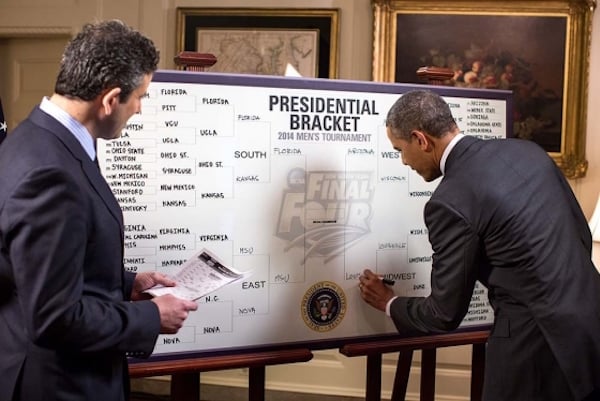 You want advice on how to win your NCAA Tournament bracket pool? You'll hardly have to look. Every hoops fan with a boner for March Madness will have some knowledge to drop. Us too! So here's the best advice you'll get: Just flip a damn coin. 
That's it. Forget about all expert tips. Erase from memory any games you watched this season. Didn't watch any? Even better. You won't have any bias. 
"The person who knows absolutely nothing about the game and doesn't care enough to even make their own selections has the same chance of winning as the basketball fanatic who spends hours on research," University of Michigan professor Dae Hee Kwak said last year. He'd just published a study in the Journal of Gambling Studies that proved what many had long suspected—filling out an NCAA bracket is a crap shoot. 
Kwak reached this conclusion by pitting a coin flip bracket of his own against the well-researched brackets of highly informed fans. The results were clear: "my average scores were better than the average of study participants," Kwak says. 
It's worth noting that Kwak's coin flip bracket was better than average but not the best. That's why we support a modified version of the coin flip bracket. Don't flip for the games pitting one seeds against 16s or two seeds against 15s. The odds are just too strongly in favor of the higher seed winning. But for the rest? Flip a quarter and see where it takes you. 
You're sure to be picking against conventional wisdom in some games, but those are the picks that will vault you ahead of everyone blindly picking higher seeds. And if you don't win, no big deal. You weren't going to win anyway.