Eddie Murphy and Arsenio Hall Confirm 'Coming to America 2' Is Officially Happening With New Instagram Photos
"Yes! YES!"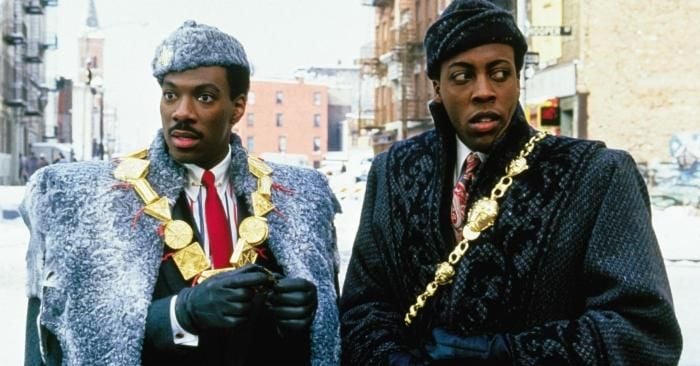 Paramount Pictures
More than 30 years after the original Coming to America hit theaters, Prince Akeem is coming back to America. 
That's right, Eddie Murphy and Arsenio Hall made previous reports official during a costume fitting for the long-awaited sequel to their hit 1988 comedy.
Costume designer Ruth E. Carter, who won an Oscar for her work on Black Panther, shared a photo of Murphy, 58, and Hall, 63, on her Instagram feed Monday.
Both actors posed with Carter's Oscar as she wrote in the caption, "GOOD MORNING MY NEIGHBORS! It's official! Preliminary fitting for Coming to America 2 with Prince Akeem, Semmi and Oscar."
Murphy famously portrayed Prince Akeem of Zamunda, a fictional African nation, who tires of his ridiculously pampered lifestyle and decides to find a bride in America with his best friend and aide, Semmi (Hall) by traveling to Queens, New York
https://www.youtube.com/watch?v=5SC_z2orX00
The Coming to America sequel will be directed by Craig Brewer of Hustle & Flow and Empire, and the script is written by Kenya Barris, creator of Black-ish and the screenwriter of Girls Trip.
A release date has been set for August 2020. Are you psyched or what? 
In the Coming to America clip above, check out a young Samuel L. Jackson, aka Hollywood's most bankable actor, learn the hard way not to rob Prince Hakeem's "McDowell's" burger joint.