Never Mind Their Beer, Now Corona Wants To Sell You Weed-Infused Drinks
Y'all ready for this?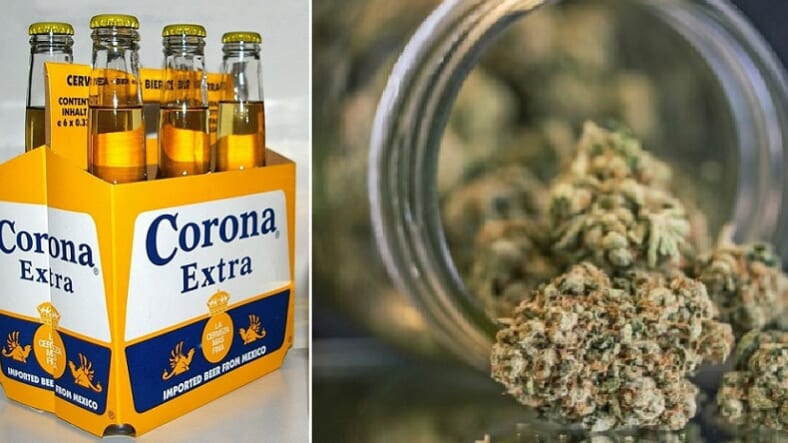 Wikimedia
Big companies that manufacture and distribute booze have not been too friendly to the coming weed revolution. In states where recreational pot is legal like Colorado, California, and Massachusetts, much of the lobbying against cannabis has been funded by alcohol interests.
According to Vice's Motherboard, one major distributor has decided to roll with it. The company behind brands like Corona and Modelo is leaning into weed:
Constellation Brands, Inc. is a New York-based Fortune 500 company that makes and exports beer brands including Corona and Modelo to the US. Constellation has purchased a 9.9 percent stake in Canopy Growth Corporation, a Canadian weed startup, at a price tag of $191 million US.  
Motherboard reports that this is one of the first instances of a major brand in marijuana, and that it could signal a new direction for the industry at large. 
Canopy Growth—the Canadian company—is positioned to start profiting from the huge wave of legalized recreational cannabis across Canada. It becomes legal in Ontario in 2018 then likely will be legal nationwide soon after. 
If Colorado's massive pot revenues are a predictor, Constellation knows what it's doing with this gambit north of the border.
As Motherboard notes, however, the United States is a harder nut to crack nationally for pot. Constellation Brands CEO Rob Sands isn't worried, as he told the Wall Street Journal that his company feels fairly sure broader legalization will happen, and they are "obviously trying to get first-mover advantage."
As for the big question that we can't help but ask on hearing about a beer distributor teaming with a huge pot company: yes, Constellation will reportedly develop "cannabis-dosed beverages" with Canopy.
That sounds like a match made in stoner heaven, and we are here for it.
h/t Motherboard