Conor McGregor Showed Up at a Superfan's Apartment and Yes, There Were Tears
What a guy.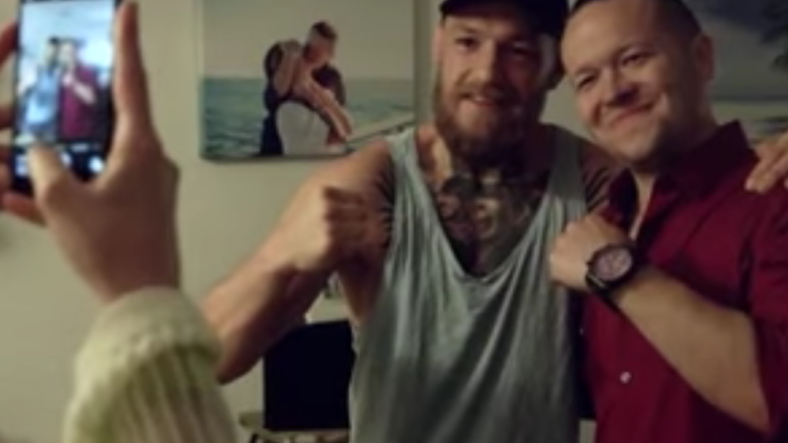 Every sports fan has a different way of handling their obsession. Some of us have a closet full of jerseys and shrines in our man caves. Some of us strive for a detached high-mindedness (yours truly, included). And some of us hone in on one athlete and raise them up like a well-chiseled deity. 
That's the path one Conor McGregor fan in Los Angeles has taken. He displays his admiration for the UFC superstar with a cardboard cutout and Irish flag on his balcony, which happened to recently catch McGregor's eye. So the 27-year-old Irishman paid the guy a visit. 
" tml-embed-width="600″ tml-embed-height="315″ tml-render-layout="inline
That's sweet and it provides a good illustration of where MMA is in America right now. The sport is still exploding and its biggest stars still figuring out life as celebrities. Could you imagine Kobe Bryant or Chris Paul seeing a fan's balcony and going to the dude's apartment? Not a chance. And not because they're arrogant, but because NBA players see their names on the backs of fans every night. A cardboard cutout on a balcony would hardly register. 
But MMA is still new enough that McGregor thinks this kind of thing is "fucking crazy." So he gets excited about it and goes out of his way to meet the guy. That kind of attitude among the sport's biggest athletes is yet another reason why MMA is becoming the most exciting game in town.