The Daily Heat Index: This 'Back to the Future' Porn Trailer is the Best Thing We've Seen All Day
Plus, we watch the first trailer for Fantastic Beasts, and Jennifer Lawrence explains her biggest fear on Late Night with Stephen Colbert.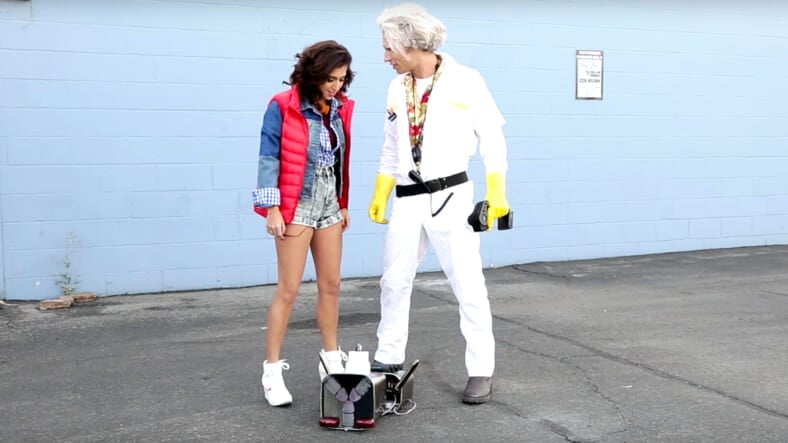 Here's a daily dose of what's heating up the internet:

Fap to the Future Looks Promising
Because you can turn just about anything into a porn parody, the producers over at Wood Rocket turned the legendary time travel trilogy into a NSFW sexual adventure called Fap to the Future, which features  more dildos in the first 30 seconds than you ever thought possible. But let's face it, you're not watching for plot and writing but 'Michael J. Fucks' and 'Cock Brown' to attend the 'Enchantment Under the Semen' dance. The NSFW trailer does a great job at satisfying any Back to the Future sexual fantasies we ever had.. if any. Job well done, Wood Rocket.
JLaw Remembers Her Kentucky Roots
Jennifer Lawrence is a real girl, but the most charming woman in America wants everyone know she's most definitely not perfect. During banter with Stephen Colbert while promoting her new film Joy, JLaw goes on a hilarious rant of outlandish things, including that her "publicist is a nightmare" and that her parents were only backstage "due to a cancelled flight." Oh, and the 25-year old's biggest fear? Having her deep Kentucky accent come back to haunt her. If that's the worst thing plaguing her thoughts, then it sounds like she's doing juuuust fine.
Welcome Back to the Wizarding World
Who knew two words could be so enchanting? Eddie Redmayne's utterance of 'Lumos Maxima' brings back every memory of the Wizarding World we all know and love, and makes the new teaser for Fantastic Beasts and Where to Find Them that much better. While there isn't much revealed in the footage, we do know the basic idea of what will occur come November 2016. Redmayne takes on the role of Newt Scamander, a man on a mission in 1920's New York to return magical creatures back to the briefcase they escaped out of. Sounds simple enough, right? We highly doubt it.