The Daily Heat Index: Oscar-Winner Brie Larson In Talks To Play Captain Marvel
Plus: Emilia Clarke is down with dadbods and 'BrainDead' heads to CBS.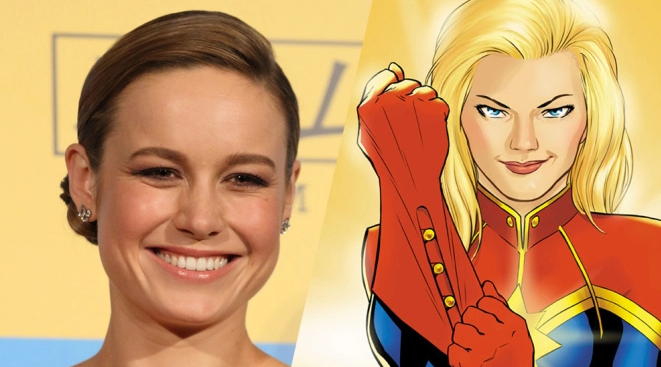 Here's a daily dose of what's heating up the internet:
Brie Larson Could Be a Marvel Superhero
Amidst plenty of smoke and speculation as to which lucky actress would suit up for Marvel's first ever female-led superhero film, it seems the studio has set their sights on an Academy Award-winner to play Captain Marvel. Variety reports that Room Best Actress winner Brie Larson is in talks to portray the lady superhero, securing her spot in the 2019 standalone film as well as a more than likely appearance come 2017's Avengers: Infinity War (no word if her Kree-connected powers will allow for a Guardians 2 cameo just yet). Larson, who can be seen next as a terrified photojournalist in the upcoming Kong: Skull Island, would beat out the likes of Emily Blunt, Ronda Rousey, and Rebecca Ferguson for the part. 
Emilia Clarke's Ideal Man
The Mother of Dragons has had her fair share of suitors throughout the past six seasons of HBO's Game of Thrones, but Emilia Clarke has a message for all your Average Joes out there: She's not about that six pack life. "I want someone who is super smart, can make me laugh, has like a dad bod," she told People. "I don't need no six-pack. Like, I ain't kicking it out of bed for sure, but every character I've been with has been too perfect." Though she openly admitted she'd love to link arm and arm with Leo DiCaprio (if he stopped dating models for a change), the 29-year old admitted she's quite single and ready to mingle. You hear that, fellas?
Washington, D.C. Goes Braindead
If you think today's world of politics was a little wonky, just wait until July 22nd. 10 Cloverfield Lane star Mary Elizabeth Winstead headlines the new CBS series BrainDead as a Capitol Hill staff member who uncovers "bugs" that are devouring the brains of politicians and important White House officials. It seems the best way to respond to our current political issues is with a nice jolt of blood and guts.