The Daily Heat Index: Emilia Clarke Is As Sick of 'Terminator' Sequels As You Are
Plus, Chris Evans and Robert Downey Jr. duke it out over a donut, and the Russo brothers promise a powerful Scarlet Witch come 'Avengers: Infinity War.'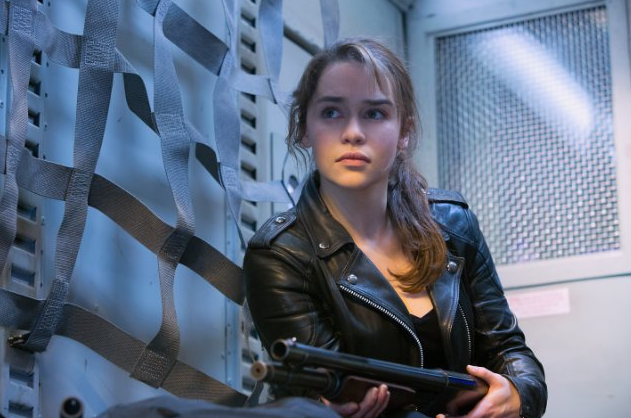 Here's a daily dose of what's heating up the internet:

Sarah Connor Won't Be Back
If Paramount continues to bring about more robots from the depths of the future, mankind is going to need to find itself a new savior. Emilia Clarke, the Game of Thrones star who traded in her fantastical garb for a bunch of guns in Terminator: Genisys, has officially stated that she doesn't plan to return on-screen as Sarah Connor ever again. 

"No," Clarke told ComingSoon.net when they asked if she'd take on the role again. "Can I say that? It's okay. No. Uh-uh. But I have some very different roles coming up."

It seems even the $400 million gross worldwide couldn't stop the 29-year old from terminating all ties with the franchise. Frankly, we don't blame her. 
Donut Wars
The rivalry between Captain America and Iron Man will come to a head when Captain America: Civil War hits theaters on May 6th, but it seems their issues may have carried over into the real world — sort of. While promoting the upcoming film at People, Chris Evans and Robert Downey Jr. had a bit of an altercation over who would consume the last red, white, and blue donut, while co-star Elizabeth Olsen attempted not to crack up in the background. Watch the quick skit above to see the comedic sides to the stars of Civil War. 
It's Just the Beginning for Scarlet Witch
We got our first taste of Elizabeth Olsen's Scarlet Witch in Avengers: Age of Ultron, and though she will reprise the role in Captain America: Civil War, it seems that we won't see the member of #TeamCap at her full potential just yet. While discussing the future of Marvel's film line-up, the Russo brothers brought up Infinity War and what's to come from Scarlet Witch. 
"She is on a growth arc, and it is part of her development," they told ClevverMovies during a press conference. "It is very tricky with powerful characters, because unless they have an internal struggle or a flaw that limits them then they do become limitless, and the storytelling becomes muddled and not very interesting." 
It appears an unforeseen incident in Civil War will cause her to resist her abilities, but 2018's Avengers: Infinity War film will have her going head-to-head with villain Thanos, and she'll be stronger than ever.