The 'Cash Me Ousside' Girl Just Clapped Back At David Spade, And It Wasn't Pretty
"No lie, I thought dis guy was the waiter."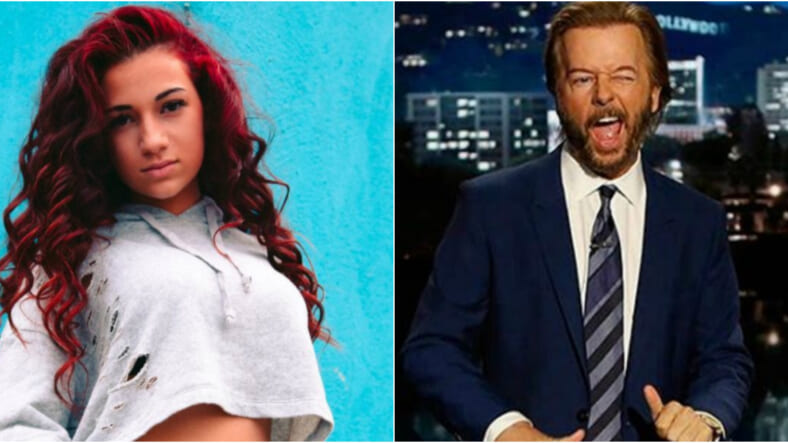 We all know Danielle "Cash Me Ousside" Bregoli loves to argue, so it's no surprise that she's in a petty Instagram feud with comedian David Spade… over who is less famous.
The former SNL star took a swipe at the 14-year old when he posted an Instagram picture of the two of them together with the caption: "How bow dis. (@bhadbhabie is slightly underwhelmed to meet me). Unfortunately, she stopped being famous 5 minutes before this was taken."
" tml-render-layout="inline
Surely he expected her to clap back, because sure enough, she did. She posted the same picture and captioned it: "No lie, I thought dis guy was the waiter."
" tml-render-layout="inline
So yeah, David Spade just got dissed by a sassy child. How bow dah?
But this isn't the first time the infamous teen slammed other celebrities. Just last month, she had a few words to say to us about the very man that made her famous: Dr. Phil.
"Ain't nobody have time for that bald headed bitch. I just saw him on Jimmy Fallon talking all sorts of mess about my mom."
Bald headed bitch, huh? Well, little does she know that bald dudes are actually scientifically proven to be smart and sexy.
Anyway, in a recent video on her YouTube page, she also assumed the role of fashion police and gently critiqued most of the celebrities at the Met Gala, including Kim Kardashian.
"She looks really good actually, I'm not gonna lie. Just a little tubby, but that's okay. Did you see her diaper booty? She must've seen Dream and wanted to be like, 'Oooh twins!'"