Watch Dave Grohl Perform 'Paradise City' With Guns N' Roses Onstage
Just call it Grohl N' Roses.
" tml-embed-width="560″ tml-embed-height="315″ tml-render-layout="inline
Fans at Guns N' Roses' Wednesday concert in Tulsa, Oklahoma got to see two rock superstars for the price of one when GNR brought out Dave Grohl to jam out on "Paradise City." Watch it above.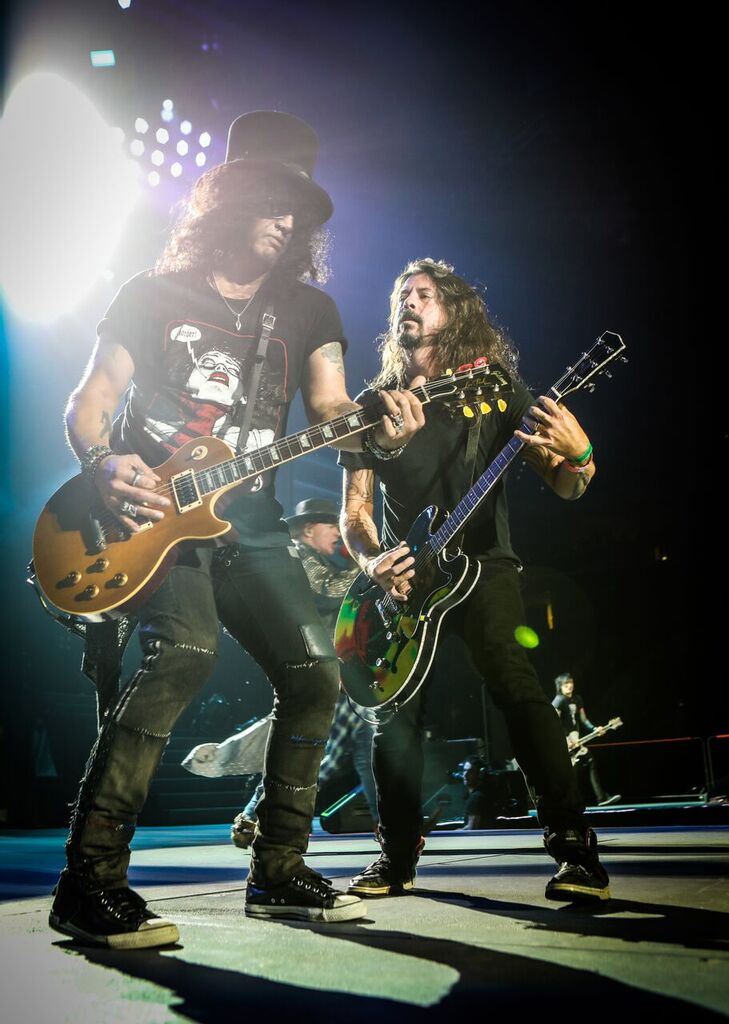 The Foo Fighters frontman gave Slash a hearty bro hug before the GNR guitarist strums the immediately recognizable opening chords of the Appetite For Destruction classic. 
Towards the end of the clip, the two tag team backup vocals beneath Axl Rose's soaring chorus. 
Rolling Stone notes that prior to the performance, Rose gave Grohl major props for lending him the Foo Fighters' gigantic "throne of rock" when Grohl was injured.
Rose also called Grohl "a lifesaver," likely a nod to the singer borrowing Grohl's massive Foo Fighters throne – which Grohl needed to continue touring after breaking his leg in an in-concert accident – when Rose broke his own foot just weeks prior to the Not in This Lifetime tour.
Shows on the ongoing Not in This Lifetime tour are the first concerts to feature the band's classic lineup—Axl Rose, Slash and Duff McKagan—since 1993. 
Check out the rest of their North American dates here:
November 17, 2017 – Las Vegas, NV @ T-Mobile Arena
November 21, 2017 – Oakland, CA @ Oracle Arena
November 24, 2017 – Los Angeles, CA @ Staples Center
November 25, 2017 – Los Angeles, CA @ The Forum  
Meanwhile, kick back with the original "Paradise City" that played on MTV relentlessly back in the day. It still holds up.