Dave Navarro & PADHiA Address PTSD Through Art With 'Duel Diagnosis' Exhibit
Jane's Addiction guitarist Navarro and "Unfuk Yourself" artist PADHiA are collaborating on a new art project.
Dave Navarro is perhaps best known as the guitarist for Jane's Addiction and the Red Hot Chili Peppers, but lately, making art has become as important to him as making music.
"Duel Diagnosis" is Navarro's new project with LA-based artist PADHiA, of "Unfuk Yourself" fame. The mental health-focused duo recently opened an expansive exhibition at West Chelsea Contemporary's 7,800-square foot gallery in Austin, Texas.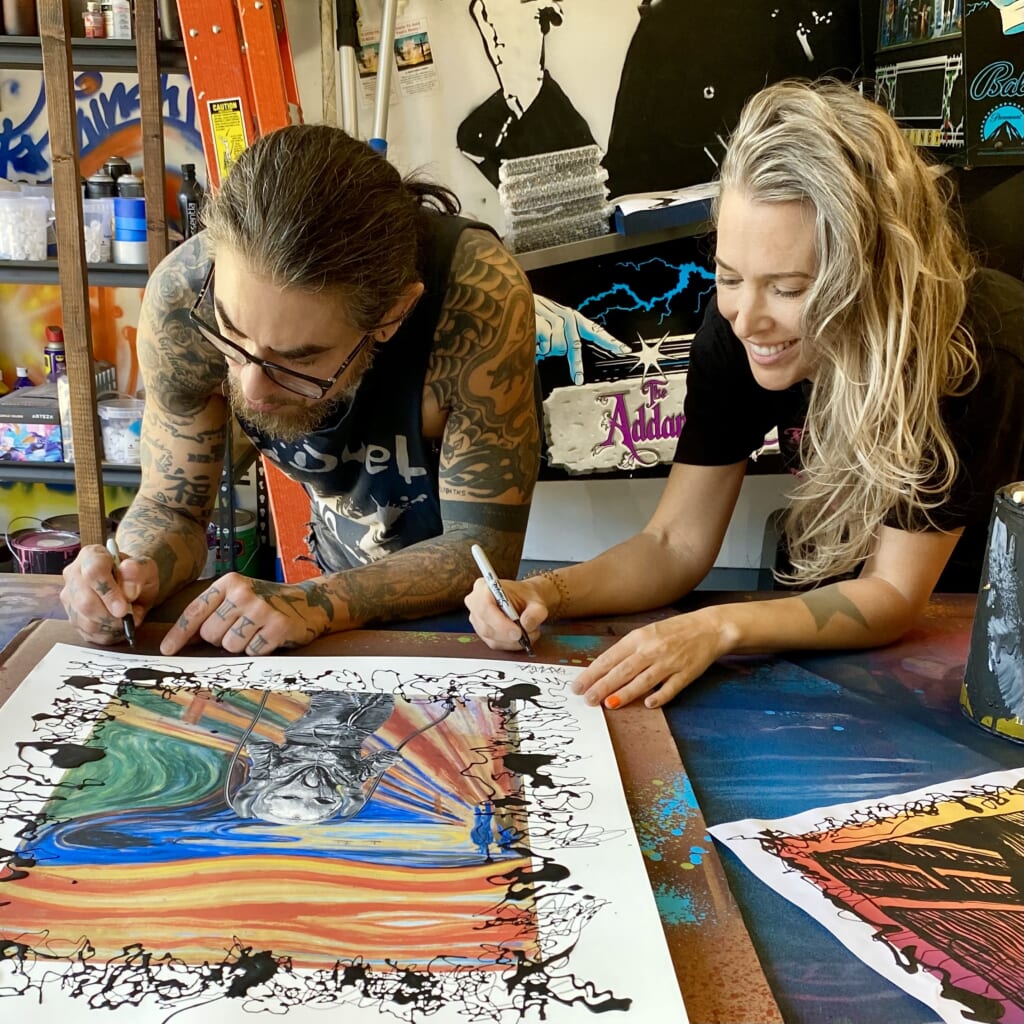 Duel Diagnosis began as an apparel line, but has grown into an entire universe propagated by two central characters–I and i–each wearing gas masks as shields for their inner shadows. The current show features two short films and an immersive installation of over 80 new works, with guest appearances from Al Diaz, the legendary street artist who co-created SAMO with Jean-Michel Basquiat.
Navarro met PADHiA in LA while collaborating with Plastic Jesus, her studio mate at the time. "I would hide when I knew you were coming," PADHiA interjects, as Navarro shares the story. "I was equally as intimidated and enamored by your work," he replies.
The artist bio for Navarro–the longtime host of tattoo artist reality competition series, Inkmaster—states that as "a trauma survivor and sufferer of PTSD, he is motivated to bring awareness to mental health issues and to dispel the often attendant stigma associated with them."
The Duel Diagnosis site further explains how Navarro came to collaborate with artist PADHiA and details their shared experiences with PTSD:
He met PADHiA when he saw one of her Love Me Anyways pieces and reached out. People who relate to that phrase become fast friends, which is exactly what happened. But it wasn't a typical friendship as they both struggle with PTSD and its varietal circus of mental health effects.

Despite enduring long periods of isolation, times of complete darkness due to triggers, and the continual struggle to remain upright on the tightrope act that is navigating life under these circumstances…they somehow managed to maintain a bizarre, beautiful, super ultra-connected yet disconnected friendship.
On view through April 17th, their latest show whisks viewers into Duel Diagnosis with winding walls of neon lights and colorful Rorschachs.
"The main series at the West Chelsea Contemporary gallery right now is 25 paintings of nervous system impulses," PADHiA says. "We're basically translating the subtle frequencies stored within our wiring."
Artworks in this abstract series drip shiny black paint on matte black canvases for neural networks with sex appeal.
"We were working on a piece and [Dave] was drizzling a border around it," PADHiA continues. "He was thinking he was messing it up, because it wasn't very neat. As if raw data from deep within somewhere was just flowing out."
PADHiA compares Navarro's shaking hands to an artistic EKG. This focus on gesture marks a core tenet of abstract expressionism–PADHiA says the work shows we're more than our skin and our identities.
"Inside, I'm this complex set of seven trillion wires that have been programmed and conditioned and molded," she adds.
Across styles, Duel Diagnosis's tone balances nihilism with joy. One diptych reads "Live, laugh, love…die, cry, hate," riffing off the coffee cup phrase to make space for the whole picture.
"We want to keep a sense of humor–it can be even more traumatizing to have a condemning, serious, judgmental tone with these things," Navarro says.
"Just because you have struggles doesn't mean you're worth less as a human. You have a deeper understanding of life and human existence, and you can create some beautiful things."
Their insatiable practice across the walls at WCC proves this fact with intensity that envelopes viewers completely, but bear in mind–there's no need to contort struggle. It's part of the human experience.
"I've spent my entire life trying to live in the world out there, the way that it has been set up for us with all the mechanics of it," PADHiA concludes. "To have people coming into our world and connecting with us on our ground–there's something really soothing and beautiful about that."