David Bowie's Haunting Last Single Was a Carefully Planned "Parting Gift" to Fans
The iconic rock star released a swan song for his career just three days before he died.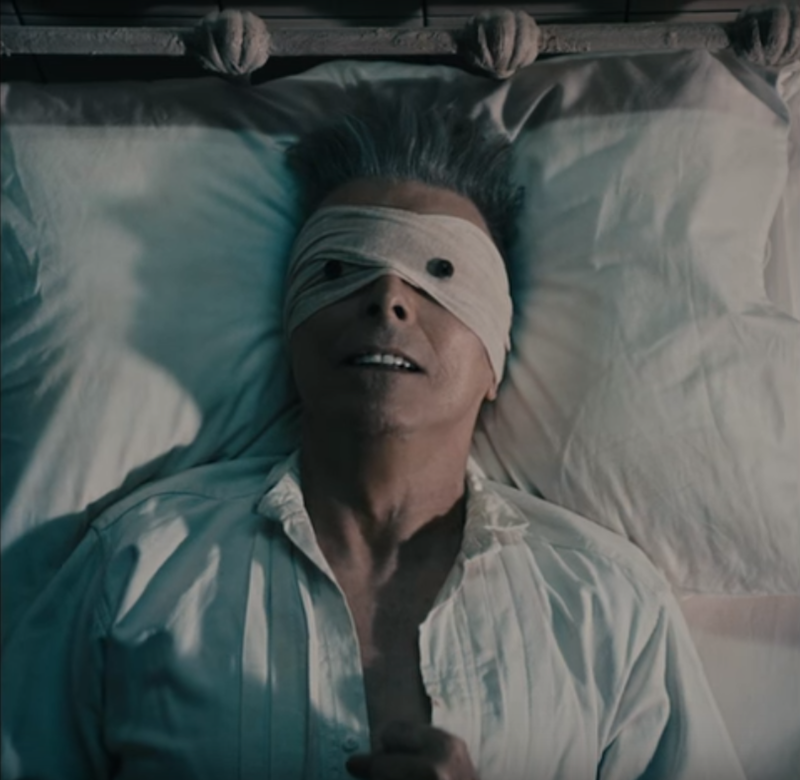 Update, 1:30 pm ET: Tony Visconti, the producer who worked with David Bowie to complete Blackstar, released a statement on Monday confirming that Lazarus,' the haunting single released three days before Bowie's death from cancer, was deliberately created and timed as a "parting gift" for his fans:
" tml-render-layout="inline
Original post: David Bowie knew he was dying. The legendary rock star passed away at age 69 on Sunday after an 18-month battle with cancer, enough time to put his affairs in order and leave one final musical gift to his legions of adoring fans: Blackstar, Bowie's final album, which dropped on his birthday on January 8th.
But did Bowie include a eulogy hidden in plain sight on his final album? Rewatching the video for 'Lazarus,' the first single from Blackstar named for a man resurrected by Christ four days after his dead, it sure seems like it: 
It's not just the gloomy imagery of 'Lazarus' — namely, a weakened Bowie wrapped in up in a hospital bed and the beckoning darkness of his tomb-like closet — but the lyrics that suggest that Bowie intended this to be his swan song. Give them a read below (emphasis ours):
Look up here, I'm in heaven
I've got scars that can't be seen
I've got drama, can't be stolen
Everybody knows me now

Look up here, man, I'm in danger
I've got nothing left to lose
I'm so high it makes my brain whirl
Dropped my cell phone down below

Ain't that just like me?

By the time I got to New York
I was living like a king
Then I used up all my money
I was looking for your ass

This way or no way
You know, I'll be free
Just like that bluebird
Now ain't that just like me?

Oh I'll be free
Just like that bluebird
Oh I'll be free
Ain't that just like me?
'Lazarus' dropped just three days before Bowie passed away. If this was in fact his goodbye to the world, well, it's a passing worthy of the rock icon. Only David Bowie could find a way to turn his death into a piece of art.