Why Denzel Washington and Mark Wahlberg Have No Use For Hollywood Whiners
'Movies are not difficult. Send your son to Iraq–that's difficult.'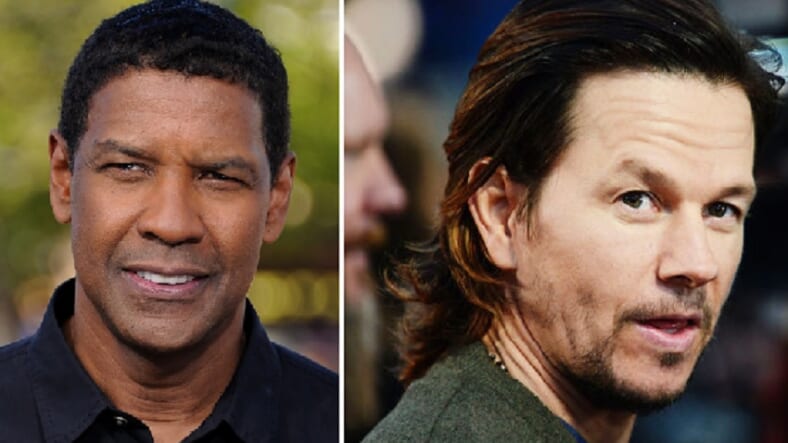 Getty Images
Denzel Washington is an actor's actor, equally at home in an action film or sinking his teeth into an Oscar-worthy drama. Mark Wahlberg is, you know, Mark Wahlberg. These guys have a little more in common than you'd think, though — both seem to think many of their Hollywood colleagues need to shut the hell up about some things, and aren't afraid to say so.
Wahlberg expressed this in no uncertain terms last November regarding stars pontificating about politics. Speaking to Task & Purpose, Wahlberg said that much of Hollywood "is living in a bubble," and are "pretty out of touch with the common person, the everyday guy out there providing for their family."
Washington sounded some similar notes in an interview last month with The Hollywood Reporter in the Facebook video below. 
" tml-embed-width="560″ tml-embed-height="315″ tml-render-layout="inline
Discussing past jobs he'd had such as garbage man and postal worker, Washington said, "They weren't bad jobs." Then he segued into a riff Wahlberg would surely agree with. "Just like people say: 'Oh, the difficulty of making a movie.' I'm like, listen, send your son to Iraq–that's difficult."
"It's just a movie," Washington continued, "It's like, relax. I don't play that precious nonsense. It's like, oh, a movie. Get outta here. Your son got shot in the face? That's difficult. 
"Making a movie is a luxury; it's a gift. It's an opportunity, and most importantly, it's a gift. Obviously, everybody here is talented enough to do that, but don't get it twisted. It's just a movie. It ain't that big a deal."
That's a refreshingly frank perspective from a member of an incredibly pampered community that is often justifiably criticized as being out-of-touch with the audiences who pay for their products. 
Washington is too good an actor to lower himself to politics and Wahlberg has a felony record, so we'll probably never see either guy run for office. But they both have enough common sense we might pay close attention if they ever did.
h/t BroBible