Leonardo DiCaprio, Al Pacino, and Robert De Niro Join Forces For Martin Scorsese's Upcoming Films
The legendary director may even "de-age" De Niro for a role.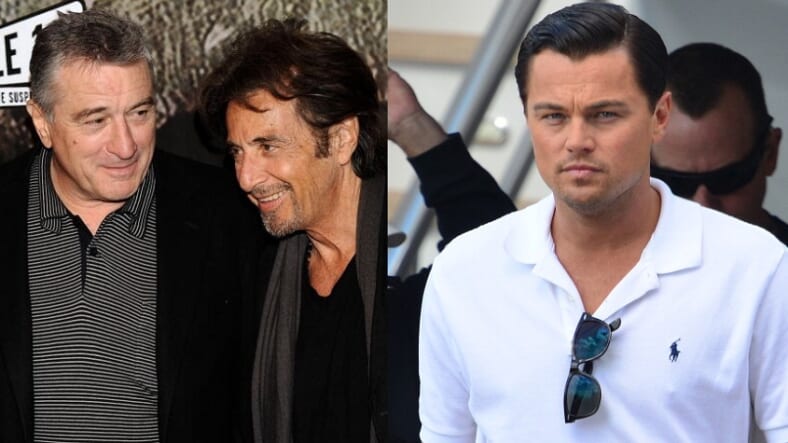 Getty Images
Martin Scorsese is apparently doing the opposite of slowing down in his 70s. Fresh off good reviews for his epic about faith, Silence, Scorsese has his sights set on another long-time dream project, The Irishman. And he's ready to leverage high tech and high-powered acting to do it.
A report in The Playlist indicates the director wants Robert De Niro and Al Pacino for Irishman, a fact-based film about a mob assassin named Frank Sheeran. Additionally, Irishman producer Gastón Pavlovich says Scorsese is reportedly looking into technology that will subtract years from the actors' appearances on screen—something De Niro mentioned over a year ago. 
Scorsese is doubling down on true stories about murder and mayhem with another project, a film version of Erik Larson's fantastic historical true crime account, The Devil in the White City. He'll be joined in that effort by Leonardo DiCaprio, who in his 40s is showing little hesitation in taking on roles where he isn't necessarily the hero or even—as in Wolf of Wall Street—an anti-hero. In Devil, DiCaprio appears set to play one of America's first true serial killers, the brilliant and evil H.H. Holmes, who ran a hotel near the 1893 Chicago World's Fair where he trapped and killed many of his victims. 
The Irishman will likely be in theaters in 2018, and while Devil is still in development, it may premiere some time in 2017.
Given that Scorsese seems at the height of his powers as a director, we can't wait to see what he has in store.