Watch Eddie Murphy & Arsenio Hall Reunite In First Official Trailer For 'Coming 2 America'
Return of the King.
Paramount/Amazon Prime
Over 30 years after his Prince Akeem first came to America, Eddie Murphy is coming back—this time as the newly-crowned king of the fictional African nation of Zamunda, which we can only assume is somewhere near Wakanda.
And this time he's a regent on a mission, Arsenio Hall once again at his side. In fact, Murphy and Hall are apparently about half the cast of the movie, playing multiple roles in a variety of costumes and with makeup that has improved dramatically since Coming To America premiered in 1988.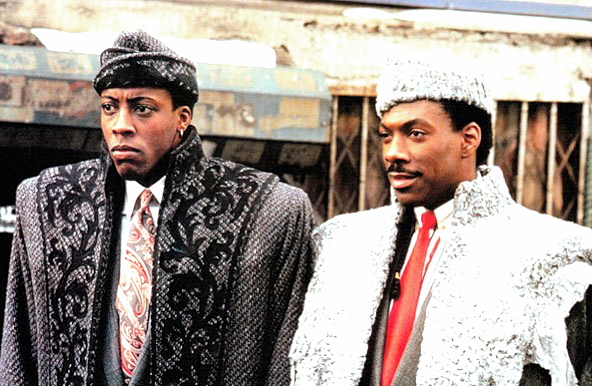 Here's the synopsis for the sequel:
Set in the lush and royal country of Zamunda, newly-crowned King Akeem (Eddie Murphy) and his trusted confidante Semmi(Arsenio Hall) embark on an all-new hilarious adventure that has them traversing the globe from their great African nation to the borough of Queens, New York – where it all began. 
James Earl Jones plays Murphy's father, the King, who in the trailer sends Murphy's Akeem on a mission to the United States to find his male heir, a young man living in Brooklyn, played by Jermaine Fowler.
Akeem and Semmi revisit old US haunts, including the barbershop where the actors also play nearly every old guy in the place, to pretty hilarious effect. 
In addition to Murphy, Hall, Fowler, and James Earl Jones the cast features Leslie Jones, Tracy Morgan, KiKi Layne, Shari Headley, and Wesley Snipes. 
Coming 2 America begins streaming on Amazon Prime March 5, 2021.